SurvivingInfidelity.com Forum Archives
Sometimes for your NB you have to climb a mountain....Literally!
You are not logged in. Login here or register.
She11ybeanz posted 4/21/2013 20:16 PM
So, Yesterday was the Blue Ridge Half Marathon! And, I was SO terrified! Not JUST because I had a hip injury/issue just 3 weeks prior flare up and only got ONE training run of 8 miles in in the 16 days before the race...and NOT only because XWH and MOW were running in it....but also because they revised the last few miles of the course and re-routed it off of the greenway due to heavy rain/possibly flooding over a low water bridge and added an additional 200 feet of elevation gain to a course that already had 3,620 feet of elevation gain (includes a mountain in the 1st 4 miles!

).
So...I found out a day or so before the race when they sent out the bib numbers, that my XWH and MOW were NOT running the half...but were doing the marathon 5-person relay instead...and I was actually pretty relieved...and also slightly disappointed I wouldn't be kicking MOW's butt since we share the same age group!

I pesonally feel like it was a cop out on their part because MOW HATES running against me! She has never beat me in a race and I plan to keep it that way!
So....the race begins and my XWH is apparently the 1st on their team to run and he bolts like he has something to prove and beats me up the mountain. Of course...at first I am a little tiffed by this and my 1st instinct was to catch his fluffy butt...but then I had to remind myself that I am running over twice the distance he is and if I was only running 5 miles, than his pace would be reasonable...but if I attempted to catch him, I would blow MY race! So, I listened to my self-reasoning and just ran MY RACE and didn't worry about what asshat was doing!
I am happy to report that even though I felt my hip around mile 8 on...it wasn't pain.... I was just AWARE of it.
So....my chiropractor asked me what my time goal was for the race (he is an ultra runner) ....and I told him my ultimate goal was 2 hours and 10 minutes! I told him my PR (personal record) in a half marathon was 2 hours and 2 minutes but I knew this one was harder so I didn't expect to break that goal. His exact words were..."So you really think you can run it just a little slower with a mountain in this race?" And, I will have to go back to him and tell him that he was right....I didn't run it in 2 hours and 10 minutes...DAMN IT!
I ran it in 2 hours 11 minutes and 19 seconds!!!



I guess that mountain had to keep me humble!

I finished 22nd out of 69 women in my age group and 349 out of 800 total half marathoners! 130 out of 430 women! Not bad for a gal who just had a baby 8 and a half months ago!

And, the icing on the cake is that my XWH busted his butt getting up the mountain as fast as he could to beat me...only for the other 3 members of his team and MOW to take their sweet time and his relay team ended up almost dead last!!!





GAWD I LOVE KARMA!!!! And, I think she may have been driving the bus that hauled them off the mountain!

And...one last thing...it was such a great humbling and heart-warming experience running with around 1500 people who were all running in honor of Boston! Blue and yellow as far as the eye could see! Suddenly...the race wasn't just about PRs and times...and personal goals! It was about our running family! And, we look out for our own!

[URL=http://s903.photobucket.com/user/She11ybeanz/media/001-1_zpsdec9eae0.jpg.html]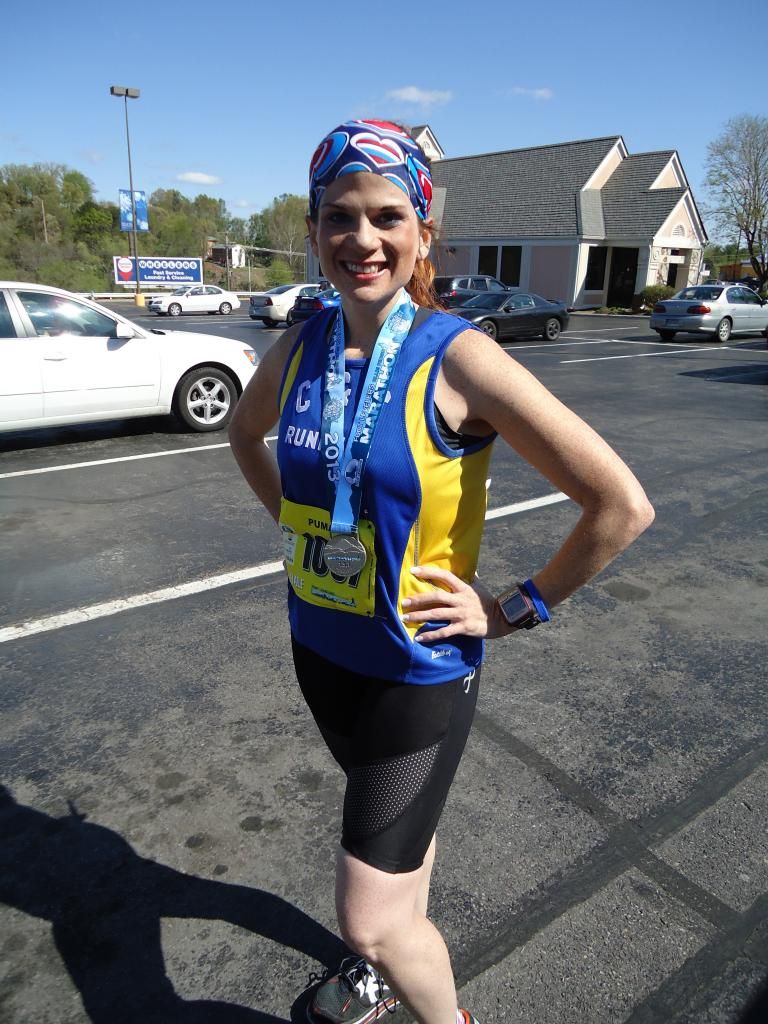 [/URL]
[This message edited by She11ybeanz at 8:20 PM, April 21st (Sunday)]
Sunnie posted 4/21/2013 20:19 PM
way to go Shellybeanz!! Sounds like a tough race! I am sure you will beat your PB on your next half!
She11ybeanz posted 4/21/2013 20:24 PM
Thank you Sunnie!
I think that I might! I think since I was only 9 minutes off of my PR...that if I have a flatter course, that I can break my PR and maybe even break the 2 hour barrier which I have yet to do in a half but am DYING to!! Here's hopin!

Amazonia posted 4/21/2013 20:26 PM
You go Momma!!! And btw - I'd NEVER guess you have a baby looking at you, you're tiny!!
risingfromashes posted 4/21/2013 20:31 PM
You rock!
Be proud of yourself!
Are you feeling ok now that adrenalin has calmed down?
She11ybeanz posted 4/21/2013 21:26 PM
Thank you Amazonia!!!

Took me 6 and a half months to lose the 47 pounds that I put on with little miss Piper!

I'm feeling pretty good! Although my quads are fried today!!! Walking a little funny.....but it was SO worth it!!


Survivor3512 posted 4/21/2013 22:10 PM
Way to go!! That's so awesome!

I am proud of you!
h0peless posted 4/22/2013 00:05 AM
Awesome job! I'm ready to pass out just thinking about running that far, much less over a mountain.
dlmos posted 4/22/2013 08:04 AM
She11ybeanz posted 4/22/2013 08:14 AM
Thank you! I'm glad I have that done so I can relax for a bit! I don't have anymore big races that I want to do until the Fall... there is a Hokie half marathon and the Virginia 10-miler in September and then there is the Marine Corps Marathon at the end of October! That will be my first 26.2 race post baby!

Amazonia posted 4/22/2013 08:17 AM
Are you coming to DC for the Marine Corps Marathon???? That one??? We must get dinner or something! (I volunteer to help you fuel up before the race

)
She11ybeanz posted 4/22/2013 09:25 AM
Okay Amazonia!!! That sounds like a date to me! Man...I'm getting dates left and right this week!


Yes! I will be at the Marine Corps Marathon in DC! I'm excited! The registration closed in 2 hours and 27 minutes! I barely got in!! It was insane!!

Dawnie posted 4/22/2013 10:15 AM
Congrats! And you look great

Bebba1171 posted 4/22/2013 20:51 PM
Way to go Shelly!
Going to be in your state for a few hours tomorrow - Manassas..
Hope I don't make a Manassas out of myself!