SurvivingInfidelity.com Forum Archives
There Was a Bear on My Bed.....
You are not logged in. Login here or register.
SisterMilkshake posted 4/22/2013 11:56 AM
this morning. At least, I was dreaming there was.
After my husband left for work this morning I fell back asleep. This is when I have the oddest and most vivid dreams.
Anyway, there was a bear asleep at the bottom of the bed on my husband's side. (BTW, we watched Life of Pi yesterday.) I didn't know what to do! I was pretty scared.
Then I got the brilliant idea to ask my SI friends how to get the bear off the bed and out of the house safely for everyone. As I was getting out of bed to come and post I woke up. I looked at the bottom of the bed to see how big the bear was so I could tell you all how big it was.
No bear! Just husband's dark thick, fleecy robe in a pile.
I was very disoriented.


MovingUpward posted 4/22/2013 11:57 AM





Kajem posted 4/22/2013 12:15 PM


jo2love posted 4/22/2013 12:22 PM


gahurts posted 4/22/2013 13:33 PM


Are you channeling Goldilocks?
Nature_Girl posted 4/22/2013 13:50 PM
TrulyReconciled posted 4/22/2013 15:03 PM
Something like this?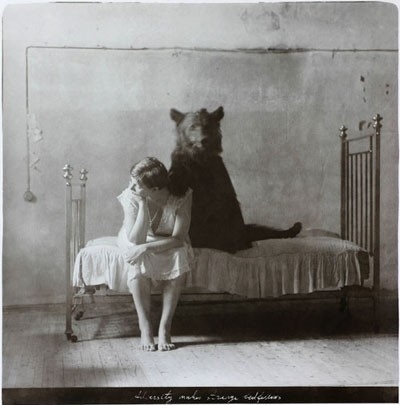 SisterMilkshake posted 4/22/2013 18:40 PM
TR, I am kind of creeped out that you have a picture of me and the bear!



I like how I didn't want to call 911, the police, the DNR, or Animal Control. My first thought was SI! All the good people here always know what to do.
aLadypilot posted 4/22/2013 18:47 PM
Love this!

[This message edited by aLadypilot at 6:47 PM, April 22nd (Monday)]
Amazonia posted 4/22/2013 19:47 PM


Once I had myself fully convinced that there was a man standing in front of the door in the back of my bedroom. I laid there half asleep trying to pretend I was sleeping for like an hour before enough light came in the window for me to realize it was just a pair of jeans hanging on a hook

Rebreather posted 4/22/2013 21:00 PM
LOL! That's awesome.
I wonder what our advice would have been? Leave the bear? Or give him a chance to prove himself worthy of being on your bed?
k94ever posted 4/23/2013 07:12 AM
The bear would have to give up ALL it's passwords and attend IC to find out what was broken inside it that it allowed it to crawl in your bed and sleep with you.
k9
Amazonia posted 4/23/2013 09:04 AM



TrulyReconciled posted 4/23/2013 14:10 PM
painpaingoaway posted 4/23/2013 18:46 PM
Haha! Sister, you crack me up.
But guess what? There really is a bear in my bed every.single.night. Yep, he's that hairy.