SurvivingInfidelity.com Forum Archives
Need help NB peeps! Maybe more a question for the guys....
You are not logged in. Login here or register.
Pages: 1 · 2
She11ybeanz posted 4/24/2013 13:32 PM
Okay....so I have a 1st date tomorrow night...and its a dinner date! I haven't been on a date in FOREVER!!! He just sent me a message and is picking me up around 6ish and wants to take me to a new Lebanese restaurant downtown.... it sounds fairly nice! (not overly fancy.....cause they do sell fries there!)

So...stupid question I guess! I have NO CLUE what to wear??!!! A sundress....or maybe just jeans and a nice top?? I don't want to overdress or underdress....EEK! Do guys care? Are there turnoffs as far as what a date wears for that token "1st impression"..... I need help!
I'm so nervous!!!!












This is SO new territory for me!!! #Rusty

[This message edited by She11ybeanz at 1:32 PM, April 24th (Wednesday)]
nowiknow23 posted 4/24/2013 13:35 PM
Where something that will help you feel comfortable and confident. Don't do something that isn't YOU.
For me, that would likely be jeans, a cute top, and sandals with a heel. Everyone's different, however. So do "you."

Amazonia posted 4/24/2013 13:36 PM
Wear something that you are comfortable in, but that also makes you feel confident. You know the kind of clothes I mean - something that when you put it on, you kind of strut a little because you know you look good! But no itchies or too tight so you're fidgeting or worrying about fidgeting during the date.

ps - yummmmmmmmy lebanese. Please promise me you won't order fries.


[This message edited by Amazonia at 1:37 PM, April 24th (Wednesday)]
She11ybeanz posted 4/24/2013 13:38 PM
Hmmm....I'm thinking that too! The jeans and cute top idea sounds like me too! I think you are on to something there! Plus, I have the best perfume on the planet....and always get conpliments on it. I know how to smell AWESOME for a date! hehehe! And, just make sure my hair looks good! That's probably my best feature! Long auburn hair! They say to accentuate your best features!

She11ybeanz posted 4/24/2013 13:39 PM
LOL!!! What's wrong with fries??? Besides that they will remain glued to my butt long after the date ends....






turned123 posted 4/24/2013 13:40 PM
I think if you take the time to show you care about your appearance the rest doesnt matter. I agree go for comfort. Be yourself and have fun!!! You have already impressed him enough to press for a date so there is no preasure

fireproof posted 4/24/2013 13:54 PM
Jeans sound cute!

Have fun!
I would suggest if it is a first date either meet him there or have him pick you up from a shopping area near your home.
Even with the safest guy you don't want him knowing where you live on the first few dates.
Spirit13 posted 4/24/2013 14:11 PM
Dress a smidgen down. I found when I was dating that at first I had a tendency to be ever so slightly over-dressed at first dates. I would be just a little more "dressy casual" than the guy I was meeting and I don't think it served me well. I consulted with a friend and we picked out some outfits that were more casual, but still nice. I did much better with this. It was funny because my SO told me the "t shirt that fit just right across your chest" was a big seller on the first date. LOL. guys like t-shirts! who knew?
At any rate, looking too dressed up makes you look too eager. Got to play it cool....

Amazonia posted 4/24/2013 14:12 PM
There's nothing wrong with fries, there's just nothing lebanese about them!

She11ybeanz posted 4/24/2013 14:17 PM
Okay....so paranoia or red flag? My best friend looked up this new restaurant and said it shows on their webpage that they do not open until May 6th! When I told him this via a message, he said he knows the guy (that owns it I guess) and that he thought they had opened, but would ask him.....
Hmmm....now my best friend has me worried I have a date with a serial killer....
Hopefully, he just wants to impress me??

Kajem posted 4/24/2013 14:37 PM
shelly,
When I worked in the restaurant business we had 'soft' openings.. we opened our doors to the public for about a month to work out bugs, deliveries, staff etc...
when a restaurant opens the foodies show up and review.. you want all the stuff that can go wrong over with before the grand opening and the foodies show up.
Then held the grand opening with publicity etc...a month later.
This may be the case with this restaurant.
She11ybeanz posted 4/24/2013 14:42 PM
Thank you Kajem....
That makes me feel more at ease!!!

She11ybeanz posted 4/24/2013 15:36 PM
Okay....red flag gone...
He just sent me a message saying I was right...that it hadn't opened yet and he knew of a nice little cozy Thai restaurant nearby me we can go instead!


JessicaFL127 posted 4/24/2013 16:47 PM
I have a good feeling about this guy, Shelly.

And I second the jeans and sandals with a cute top, probably a light to medium blue based on your hair and skin tone. And slight tj- which perfume? I am nearly out and I buy my own mother's day gifts....

permanentpain posted 4/24/2013 16:53 PM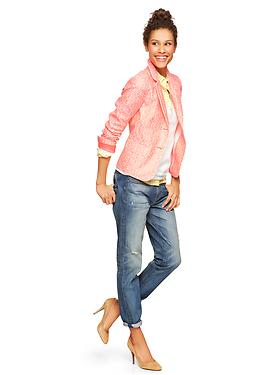 permanentpain posted 4/24/2013 16:54 PM
Something like that, but skinny jeans... I think its cute and you can dress it up or down. Good luck on the date, and please the name of your perfume

[This message edited by permanentpain at 4:55 PM, April 24th (Wednesday)]
5454real posted 4/24/2013 17:01 PM
It's been a while, but, the most important thing a woman can wear is CONFIDENCE!
Good luck
Survivor3512 posted 4/24/2013 18:32 PM
Comfortable and confident! Whatever that is for you! And have fun!! I'm so excited for you. :)
She11ybeanz posted 4/24/2013 18:46 PM
My TWO favorite perfumes that you can never go wrong with are:
DKNY's Pure!
And
Ralph Lauren's "Always yours Romance"
Everytime I wear one of these I get compliments! My best friend's husband told me the last time I was over to their house that I smelled "freakin fantastic"

I've even had straight men tell me I smelled fabulous!






[This message edited by She11ybeanz at 6:47 PM, April 24th (Wednesday)]
JessicaFL127 posted 4/24/2013 20:10 PM
I've had the second but not the first. Sounds like a plan, thanks! And have a great time!

Pages: 1 · 2