SurvivingInfidelity.com Forum Archives
thermostat wars, spring edition
You are not logged in. Login here or register.
authenticnow posted 5/29/2013 19:59 PM
I like fresh air. I don't even mind being a little warm. Today was the first day of no rain and we got to open the windows a little.
Then LD came home from work.
"It's hot, there's no air, it's so muggy! Turn on the air, how am I going to sleep?"
AC is on. I'm cold

.
I want my windows and fans.
We are thermostat opposites!
What to do??

MovingUpward posted 5/29/2013 20:04 PM
Lucky2HaveMe posted 5/29/2013 20:08 PM
We are the same way. Our bedroom is like a meat locker! I just bundle up. Tho we have just a window unit so I keep the window open my my side of the bed... My own little civil disobedience

nowiknow23 posted 5/29/2013 20:09 PM
So hard to get to common ground when it's warmer. Winter is easy, comparatively speaking.
I'm with LD on this one. I need AC to sleep. But I'm also with you in that I need my fans to sleep. So I guess I'm no help at all.

metamorphisis posted 5/29/2013 20:22 PM
I like the house colder than everyone else around here.

jrc1963 posted 5/29/2013 20:27 PM
I want to be cold all the time in the summer and warm all the time in the winter...
But it cost $$$ so, I'm cold all winter and hot all summer. *sigh*
jo2love posted 5/29/2013 20:52 PM
How about you open the windows and give LD a chillow.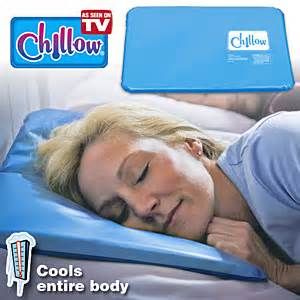 [This message edited by jo2love at 8:52 PM, May 29th (Wednesday)]
jrc1963 posted 5/29/2013 21:18 PM
I had a chillow... it leaked
authenticnow posted 5/30/2013 05:07 AM
I must go chillow shopping today!!!
Love it!

So, I went into the room last night and it was freezing and the fan was on in addition to the AC. I lowered the fan and he gave me a look. I said, "I'm lowering the fan it's freezing in here!"
Grumble grumble goodnight I love you.


gahurts posted 5/30/2013 08:18 AM
I'm with you AN. I love having the windows open. But down here we only have a few weeks before the humidity comes in and we have to close up again. And my windows don't behave right so I always have a hard time getting them buttoned up right. I'd rather sleep with it a little warm than have it too cold.
Lalagirl posted 5/30/2013 08:27 AM
sleep outside.


It's so damn humid where I live, we have no choice but to turn on the A/C...and run the fan. But I love our fan - the drone puts me to sleep.
simplydevastated posted 5/30/2013 08:38 AM
Yeah, we have thermostat wars here too. I like being warm so the heat is set probably too high in the winter. The summer heat doesn't bother me and I never or hardly ever run the ac. Except at night, that's when we're finally on common ground. I love a cold room to sleep, then I pile on covers.
I've never heard of a chillow.

TrulyReconciled posted 5/30/2013 10:15 AM
Don't.Go.There

sad12008 posted 5/30/2013 10:35 AM
I battle with myself this time of year more than anyone; I'm the one wanting to keep the giant uptick in electrical use held off as long as possible, yet I'm also the one who doesn't tolerate heat AT ALL. Thus far, willing the weather to stay cool and crisp has been unsuccessful. A bummer, because that's when I sleep the best!

I am no fan of heat pumps, because the temperature seems to swing more, from too chilly to too warm. Not a recipe for restful slumber!
Crescita posted 5/30/2013 11:39 AM
SO and I are more compatible in the summer, he tries to keep the bills low and I love the heat. In the winter I start my love affair with the electric blanket.
idiot85 posted 5/30/2013 11:44 AM
you're all show-offs with your need for air con...

It's 14C outside right now... *sigh*
Amazonia posted 5/30/2013 11:49 AM
Living alone is glorious. Just sayin'

Clarrissa posted 5/30/2013 17:52 PM
My H likes it chilly but then he *does* have more "insulation" than I do. I start getting chilly when it hits mid 50s. That's jacket weather for me. But we've managed to compr8mise in the winter. A little too cold for me, a little too warm for him. In the summer, the AC is turned on when temps hit mid 70s and stays on most, if not all night. I just pile on the blankets if it gets too cold for me... Lord knows I have enough of them.