SurvivingInfidelity.com Forum Archives
What Should I Do Tonight?
You are not logged in. Login here or register.
Pages: 1 · 2
ajsmom posted 8/12/2013 13:27 PM
Today is my 24th almostversary and Iím trying to figure out what to do with myself this evening. Though Iím holding up pretty well today (work will do that for ya) I know later in the evening is when itíll get tough.
The last thing I want to do is go all Lindsay Lohan on a bottle of Tanqueray and wake up with a headache tomorrow. This isnít my first rodeo with this date, but for some reason I find myself in a funk.
We had a nice tradition of heading to the restaurant owned by the folks who put our reception together for our annual anniversary dinner. Weíd plan for it and spurge and it was always quite nice, and 9 times out of 10, these friends would join us for dessert and/or a night cap. I thought about going there for some cocktails and appetizers, but technically he got them in the divorce (he helps their son coach a basketball team) and it might look funny with me being there alone as itís a little late to round up a peep to join me.
So friends, should I meet up with some pals for the weekly Monday Night 45Ę Wing Night and some brewskiís (after all, Leineís Summer Shandy season is almost over) at the local watering hole just to be with people ... OR ... should I head to the grocery store on the way home, grab a nice steak, hit up the Redbox, put on my uglies and just chill over a good dinner and relax?
Or???...
AJ's MOM
[This message edited by ajsmom at 1:28 PM, August 12th (Monday)]
Amazonia posted 8/12/2013 13:33 PM
I vote that you look up the nicest massage place in town and book one for tonight.
nowiknow23 posted 8/12/2013 13:38 PM
I vote that you look up the nicest massage place in town and book one for tonight.
If you do, be sure to ask for Sven.

Are you feeling social? Uncertain? I think you should plan yourself space and comfort so you can take whatever comes without concern or embarrassment.
And they do sell Leine's at the grocery store, you know. You can get the summer shandy AND the nice steak.

gma56 posted 8/12/2013 13:39 PM
Go with the friends if you're up to it. You'll have a few laughs and that is always a good thing.


Gma
Crescita posted 8/12/2013 13:40 PM
I'd do the wing night, but you also need to reclaim that anniversary spot. It will continue to haunt you until you make some new memories there. Maybe set something up to today to go reclaim it next week.
HURTAGAIN1981 posted 8/12/2013 13:45 PM
I vote going for a few drinks with friends. It will eliminate any chance of you getting caught up in your thoughts if you stay home. Go out, have fun and forget. The day will soon be over and it will be tomorrow before you know it.
persevere posted 8/12/2013 13:46 PM
I think I'd make myself join friends if I was even slightly inclined. You'll laugh, have some fun, and I think it will help cushion the impact.
I've done the Lohan thing too, and especially on dates like this, always regretted.
((ajs))
burnt_toast posted 8/12/2013 15:29 PM
Why not combine the massage and the friends suggestions and book a day at the spa with a couple of GFs?
nutmegkitty posted 8/12/2013 15:44 PM
If I were in your shoes, I'd head to the local place to be among friends.

Alternately, a massage or mani/pedi is a nice way to relax and treat yourself.
gypsybird87 posted 8/12/2013 15:50 PM
This may sound weird, but whichever you feel more inclined to do, do the opposite.
For me at least, I've found that the times I don't feel like being with people are the times I really should... because if I follow my inclination and stay home alone, then I have a bad night. Emotional, lonely, pity party etc. Ugh.
Times I'm eager to be with people are usually okay, though sometimes it can get overwhelming and I feel drained, like the effort of being "up" and "on" is too much. If you go out be sure you have the option/ability to cut the night short if you need to (ie- drive your own car vs riding with a friend who may want to stay out later).
Whatever you decide, hope you have a wonderful night!

FaithFool posted 8/12/2013 16:28 PM
Wings, beer, friends.
And make a plan to go have dinner at that other place another night.
Time to reclaim.
NoTriangles posted 8/12/2013 22:14 PM
I hope you had a beautiful evening of friends and peace and 'self'.

hexed posted 8/13/2013 00:06 AM
Thinking of you tonight. Some days are just hard no matter how much time has passed. I hope you've found some peace and perhaps a little happy tonight
nowiknow23 posted 8/13/2013 07:30 AM
Thinking of you this morning, ajsmom.

ajsmom posted 8/13/2013 08:44 AM
I chose the steak and movie.
As the afternoon wore on, I just felt like not being around people. The place we go is busy and loud (especially with cheap wings as the draw) and I knew I'd get "Gee, what's wrong, AJ's Mom?" all evening. You all know how difficult it is to retell your story over and over.
I headed to the grocery store and bought a nice beef tenderloin and grilled it myself. Rico always had the grilling duties, so it was a wee bit intimidating. Yet, after Googling "how long to let coals get ready on a grill"

I was ready.
Ta da!: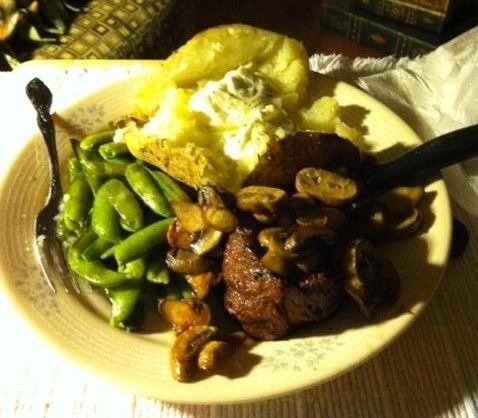 I picked up a Redbox movie (Admission with Tina Fey and Paul Rudd - pretty good, actually) and totally chilled.
I made it. I didn't cry, nor think about him/us much and here I am - a new day in front of me.
Thanks for all the hugs and support, peeps. I swear, this is the best community to be a part of despite how I got here.

Amazonia posted 8/13/2013 08:47 AM

nowiknow23 posted 8/13/2013 08:57 AM

That dinner looks AMAZING. Well done, you!
ajsmom posted 8/13/2013 09:01 AM
Thanks!
I sent a photo of it to AJ and he responded" "way to own it :) "

I learned a bit too. I used so much charcoal, I could have grilled a whole cow.
So, now I know...

FaithFool posted 8/13/2013 09:03 AM
That steaks looks fantastic.

NoTriangles posted 8/13/2013 09:19 AM
Yum!! Glad you took care of you...

Pages: 1 · 2