SurvivingInfidelity.com Forum Archives
Bacon
You are not logged in. Login here or register.
Nature_Girl posted 8/27/2013 22:40 PM
I'm really craving it right now. Like, bad. Want some. Want it. Want.
Bacon. OMG, bacon. Bacon, bacon, bacon.
That is all.
purplejacket4 posted 8/27/2013 22:58 PM
How come no one every craves eggs or ham?
I personally crave Lays Wavy Potato chips. Ah, the carbs. The salt. Perfection.
Jrazz posted 8/27/2013 23:02 PM
Had bacon last night. Feels like it has been years.

feelsgaslighted posted 8/27/2013 23:20 PM
click4it posted 8/27/2013 23:38 PM
Purple I crave eggs a lot.

Don't care for bacon.

InnerLight posted 8/28/2013 00:10 AM
It's called the gateway meat for a reason!

meaniemouse posted 8/28/2013 00:16 AM
You guys are killing me. I had to stop looking at recipes on Pinterest and I come here as a healthy alternative and now all I can think about is hitting IHOP for bacon and eggs.

Nature_Girl posted 8/28/2013 00:29 AM
Chips! In a perfect world I'd eat some Lays regular potato chips, some nacho cheese Doritos, some Fritos, and maybe some BBQ chips.
But first I'd really like to have that bacon.
Or if I can't have the bacon, maybe one of those hams steaks they serve for breakfast sometimes. You know the ones? With maple syrup. Please.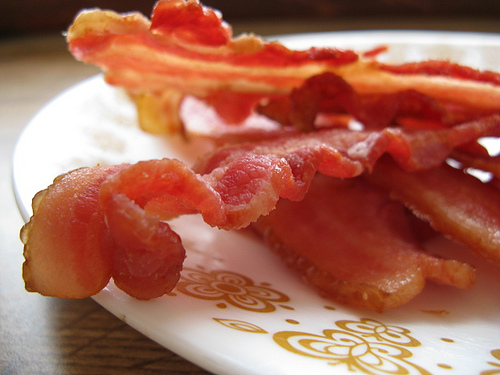 [This message edited by Nature_Girl at 12:34 AM, August 28th (Wednesday)]
RyeBread posted 8/28/2013 11:26 AM
They just had Baconfest here where I live this past weekend. Bacon eating contests, multiple vendors with different flavors of bacon, live bands, beer....ya, bacon is definitely worth celebrating

JanaGreen posted 8/28/2013 11:41 AM
I love it crispy!
Me too! No bendy bacon.
confused615 posted 8/28/2013 11:44 AM
I've recently discovered bacon wrapped hot dogs..I know they've been around for awhile,but they are new to *me.*
O.M.G.
I usually don't like hot dogs..now I want them a few times a week.
SO good.
I bought some Ruffles bacon and cheddar chips a few weeks ago..they were nasty.
So..I stuffed a baked potato with cheese and bacon..MUCH better.
O.M.G. Im going to grill some bacon wrapped hot dogs for dinner tonight...kids will be all "again??" But..who cares..right?
Bacon.

Rebreather posted 8/28/2013 12:10 PM
Breakfast burrito. From Super Burrito. Now. RIGHT NOW!!
Want.
Tred posted 8/28/2013 12:12 PM
We love to make bacon wrapped grilled jalapenos stuffed with seasoned chicken breast and onions. Yummmmm....
Jennifer99 posted 8/28/2013 12:14 PM
I crave broccolli. Can't eat it but I want it always.
How the heck do you spell broccoli? Ah there you go.
InnerLight posted 8/28/2013 15:16 PM
A wine bar I go to once in a blue moon has a fav appetizer: dates stuffed with goat cheese and wrapped in bacon. I'm salivating just thinking of them.
Bacon is way healthier than chips. So if health is on yr mind go for the bacon.
Surprisingly bacon is high in monounsaturated fats, a good fat.
Nature_Girl posted 8/28/2013 17:32 PM
So bacon is a health food???
This is heaven!