SurvivingInfidelity.com Forum Archives
Fashion help again please? Shoes
You are not logged in. Login here or register.
JanaGreen posted 10/2/2013 13:20 PM
OK help the clueless again.
This is the dress I got for our fancy dinner Friday: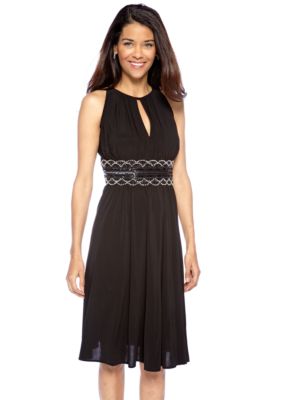 Let's all take a moment and pretend I look like that model in it.

And I know that really high heels would look awesome with this, but I'm awkward at best in heels and paired with wine really high heels would be dangerous.
I just found some pretty heels that I can actually walk in easily and that are comfy! Here they are:
Would these look ok with my dress or do I really need black? The shoes are darker in person than in that pic - more pewter than silver. I also bought a chunky pewter bracelet to wear.
Also, my toenails are blood-red. What color fingernails would look good?
ETA: Please and thank you!
[This message edited by JanaGreen at 1:41 PM, October 2nd (Wednesday)]
thisissogross posted 10/2/2013 13:38 PM
Sounds like a go to me Jana. If you don't want to do red nails to match your toes french is always an easy option and that with red is sort of a classic combo (I was a manicurist for a decade, super popular 'safety' combo). Although, with all those metallic tones and considering the time of year, you could go with bold metallic shades or glossy black if you're feeling witchy poo (I always do in october). Hope you have all kinds of fun.
[This message edited by thisissogross at 1:39 PM, October 2nd (Wednesday)]
JanaGreen posted 10/2/2013 13:43 PM
Thank you for your professional opinion! :) I am currently kicking myself for not purchasing this kickass sparkly pewter polish I saw at Charming Charlie's when I got my jewelry. Do you think that would look good? I love metallic or sparkly polish best. Also was thinking maybe something funky like that crackle polish? I like polish that hides chips/smudges.
tushnurse posted 10/2/2013 14:12 PM
I would say those shoes are darling and practical. A perfect match for that dress too.
Have FUN!!!
scarredforever posted 10/2/2013 14:33 PM
Gorgeous! Shoes are perfect with the dress. I would go with a nude polish for your fingernails. Maybe a sheer sparkle to it.

Sad in AZ posted 10/2/2013 15:43 PM
I think they're perfect too

(and I love the idea of black-painted toenails)
JanaGreen posted 10/2/2013 15:53 PM
I got a pedi today - red - and the polish disguises my poor damaged second toenail on my right foot that keeps, er, falling off.

Hazards of runnning. So gross.