SurvivingInfidelity.com Forum Archives
N.F.L. Pigskin Picks - Week 9 Results; Week 10 Games
You are not logged in. Login here or register.
ajsmom posted 11/5/2013 16:19 PM
Hey there, pigskin prognosticating peeps.
The update is going to be a wee bit late.
Apparently Photobucket has chosen today as their time for "routine" maintenance

and it's where I link the standings and other assorted goodies for you all. I haven't been able to get logged in all afternoon.
I'll keep checking periodically and hopefully they'll have their issues fixed soon.
If it's still down tomorrow morning, I'll figure something else out.
Just call me MacGyver!

The Commish
MissesJai posted 11/5/2013 17:40 PM
alright now MacGyver! You'll have to figure something out using a cubicle clip, white out, and the lead of a mechanical pencil. Get to work!
ajsmom posted 11/6/2013 08:41 AM
Well, that was one crazy making week indeed in the NFL, what with drama galore from a win by a safety to two coaches going down for health reasons to upsets and almost upsets capped off by a franchise QB injured on the opening drive of the game in the NFL's oldest rivalry. Oh, and a little bullying thrown in to boot.
The Dolphins won by a walk-off safety for only the third time in NFL overtime history on Thursday night, ending their 4 game losing streak. I take back all (well maybe almost all) of my comments about Thursday night games sucking – at least for now – cuz this one was good! The win proved to be the only good news the team would have as the true reasons offensive tackle Jonathan Martin's abrupt leaving of the team started coming to light. It's looking like Richie Incognito's days with Miami are over and quite possibly his NFL career. Looks like the powers that be will be very busy unearthing an iceberg in Miami as this story unfolds and news of what went on behind the scenes comes to light. I guess bullies come in all sizes. And ages. Thanks to the Kansas City defense, the Chiefs remain unbeaten despite Buffalo taking a 10-3 lead into halftime. As booger bear so deftly pointed out in last week's thread, Sean Smith came up with a booming "ENDZONE to ENDZONE !!!!!!!!!! B-A-B-Y!" 100-yard interception return touchdown in the third quarter. That run, a fumble return back for another score and the magical toes of Ryan Succop with three much needed field goals made the victory possible. Notice there weren't any offensive scores there folks – if this streak is to continue, that's got to happen as their schedule moves forward.

Dayem. Just as I started to trust San Diego in my picks again, the Chargers managed to blow all the joy of their 4th quarter field goal to tie and force OT by letting the Redskins command the ball in the fifth quarter. Not only did Washington win the coin toss, but they were able to run down the field finishing the game with a TD toss to end it. With usual losers Miami, Tennessee and the Jets all winning, that could be the dagger for the Chargers Wild Card hopes. Speaking of forks in done meat, the Falcons season surely is, thanks to Carolina's Sunday throttling. Despite the loss, Matt Ryan was 20 for 27 with 219 yards, tossing them short and sweet (though, yes, he did have three INT's). It's really a shame he doesn't have what he needs to get the job done though, at least on those days when he is more consistent that is. The game also saw the end of Cam Newton's month-long INT drought go out the window, as he tossed two on a day he went 23 for 37 with 249 yards, with two TD's and ground yards of 22 on five scrambles.
Chris Johnson had a chance to blaze his former head coach, Jeff Fisher, racking up 170 yards on 23 carries for the Titans, while the St. Louis defense let 14 points go on the tally for Tennessee and their win. Proving that there are others in the league with anger issues, Rams defensive end William Hayes was so upset at the loss he smashed a mirror in the locker room after the game, requiring stitches to close a gash in his hand. Passion? Stupidity? Most likely a mix of both. Despite being 10.5 point favorites and playing at home, Tony Romo still tried to give another game away, this time against the Ponder led Vikings. Sure, Romo led a 90-yard march down the field for the win, but before that, he was all Romo, thowing two red-zone INT's then another one at his own 41 yard line with 4 minutes and change left in the game. Luckily for him, the defense held , forcing the Vikings to punt to set up the Cowboy's game winning drive. Adrian Peterson seems to have his head back in the game, pulling off this beauty of a 4th and 1 touchdown run with a couple of Cowboys as carry-on luggage.

Go three and out too often and out you'll be, as the Saints learned in a stunning (? – yeah, sure) upset loss to the Jets. Yes, the JETS. Those Jets. Unfortunately being 3 for 11 tries on third down did a big part to take the Saints down along with a strong tenacious Jets front line in "Ryan Bowl – 2103." The win gave Rex a 7-10 edge in matchups against his twin brother Rob, the Saints defensive coordinator. Certainly losing Darren Sproles to a concussion in the first quarter didn't help the Saints, who seemed to struggle all day with their timing, having to use three timeouts in the first quarter alone. With Carolina's big win, the Saints better get their act together and stop this two-game loss skid. Another of the upsets (? – hmmm…ok) was Baltimore's loss to the Browns. I say that tongue in cheek as it's hard to believe the reigning Super Bowl champs are stinking the place up so badly lately and when they lose, it's more like "Meh" than "WHAT???". Playing in his second start for the benched Brandon Weeden, Jason Campbell shook off a rib injury and completed 23 of 35 passes for 262 yards. Looks like Cleveland finally has their starter.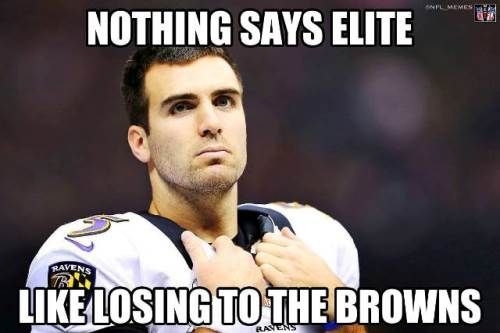 Seattle set a couple of franchise records in the days' biggest almost upset, where Seattle managed to come from WAY behind to pull out the win against the Buc's. Yes, the Buccaneers. Those Buccaneers. I saw Wilson do this quite a bit at Wisco – overcome big point deficits, yet one has to wonder when that charm will wear off, Sunday's being a 21 pointer and all. With this win, the Seahawks have tied their own record of their 12th straight home win along with Wilson now a perfect 12-0 at home as the starter. Meanwhile, in Houston, the Texan's huge 21-3 halftime lead was whittled down to a loss after head coach Gary Kubiak collapsed at halftime on his way to the locker room, having had as was later diagnosed, a "mini" stroke. No doubt seeing your coach go down did some damage to the Texans as they unraveled and quickly, allowing Andrew Luck the come from behind chance by throwing three second-half touchdown passes to T.Y. Hilton. If you're counting Luck out in come from behinds, stop, because he has now amassed 10 game-winning drives in the fourth quarter or overtime, the most in a quarterback's first two seasons since 1970. Our thoughts and prayer go out to coach Kubiak whose slated return to the helm is unknown.
There were also a couple of good old fashioned shoot-outs, with the Patriots dismantling the Steelers with a vintage Tom Brady performance of 23-of-33 for a stunning 432 yards and four touchdowns for a final blowout of 55 - 24. Is his hand really healed that well or are the Steelers really that bad? Well, let's analyze this by the numbers, shall we? The Patriots are leading the race this season with their 55 points being the most scored in a game this year – and the most against the Steelers . Their 610 total yards were the third most in NFL history – and the most ever allowed by the Steelers. Said head coach Mike Tomlin (who looked undeniably p-o'ed all afternoon) "We are going to comb through this with a fine-tooth comb and those people who are lacking effort won't be playing. It's just that simple." Well apparently that will leave few players wearing the old black and yellow. The second shoot-out was the Eagles/Raiders game in which previously concussed QB Nick Foles threw for a near perfect 22-of-28 for 406 yards including 7 TD's – putting himself in an elite group of QB's to hit seven TD's in a game. Dude was simply on fire, missing little and getting tons of support from his offensive line. Despite this incredible showing, Chip Kelly hasn't named Foles as the starter for next week. Cuz, you know, Vick's hammy might be all fixed and stuff.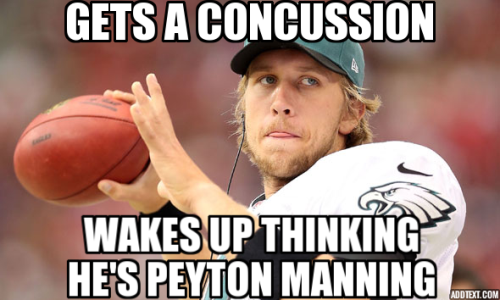 There are those living in the land of cheddar who have often wondered why the Packers don't put much emphasis on good back-up QB's. I guess when you have Ironman Favre around for many years who would play regardless of level of injury as long as there was sufficient duct tape around to patch it up, it wasn't really a problem. Well, it is now, as evidenced by Aaron Rodgers getting knocked out of Monday night's game with a fractured collarbone (in Rodgers own words "a significant injury") forcing the Pack to start Seneca Wallace. The injury let the Bears have their way with their own back-up at the helm, Josh McCown, who though wasn't exactly Rodgers'ish with going 22 for 41 for 272 yards, but he did enough to keep the Green Bay defense on the field tiring those poor boys out. Looks like Aaron will be out a minimum of six weeks - which could very well spell doom for the Packers playoff hopes given all their other injuries.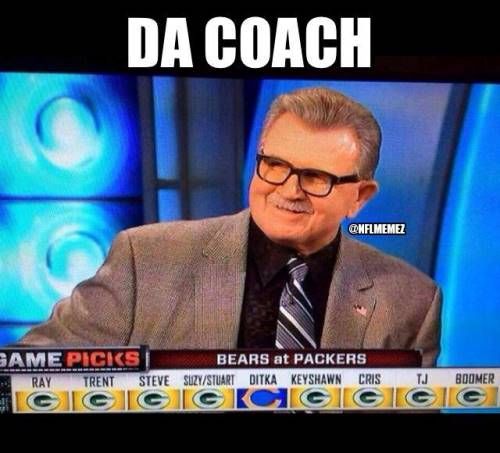 I'd be remiss as a lifelong Broncos fan not to send prayers and good thoughts out to Broncos head coach John Fox as he recovers after successful heart valve replacement surgery. Defensive coordinate Jack Del Rio will take over for Fox in his projected several weeks' absence.
Oh, and booger bear – this one's for you: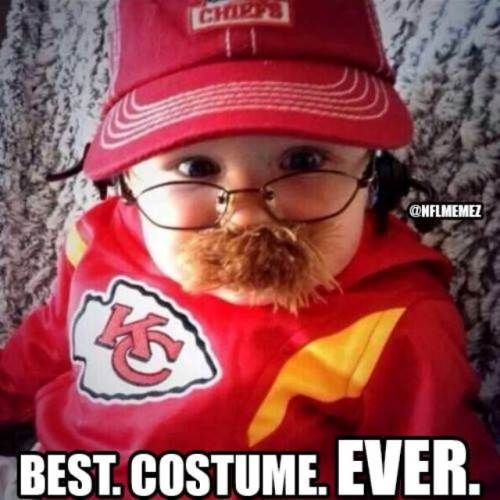 It looks like the upsets played a big role in scoring this week, what with that and just 13 games to get accurate. Leading the way in first place with 9/13 correct for Week 9 is our pal tesla!
WOO HOO!!! WAY TO GO tesla!!!

With 8/13 correct, we have lingerdog, who with his SPOT ON THE NUMBER tie-breaker of 47 just edged out JustmeVA (and yes, you do know what you're doing, pal

) for second place. JustmeVA and purplejacket4 tied for third with their 8/13 correct picks and the same tie-breaker of 32. A bunch of Elway pickers (that's 7 for you un-versed uniform number followers) command fourth and fifth places respectfully with eerily matching tie-breaker picks as well. Cue the freaky music. Congrats out to Chico and scared&stronger with 7 and 35 as their numbers and a tie for fourth, and kernel and Manningup26 with 7 and 32 to tie for fifth. Rounding out the top ten we have four players with 6/13, including Yme in sixth, MissesJai in seventh, Yours Truly in eighth and dirk pitt in ninth. That leaves ray-ray and booger bear holding up the bottom of the weekly standings with 5/13 correct for tenth and eleventh place respectfully.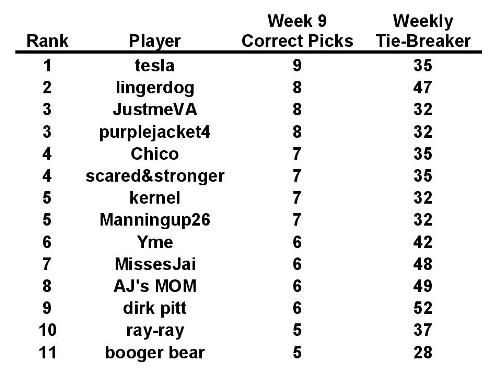 The race for the coveted prize of ever important bragging rights continues, as we now have two players in strong contention. Congrats to purplejacket4 and MissesJai who each have 85 correct picks for first and second (pj4's a better tie-breaker picker apparently) place. This week's winner, tesla, is comfortably in third and well within striking distance with 84, Yme is in fourth with 83, kernel is in fifth with 83, while a bunch of folks each slipped a bit – in fact just one spot each – to make up our top ten. With 80, lingerdog and JustmeVA share the same points but again, linger's awesome right on tie-breaker of 47 gives him the edge for sixth over Justme's seventh place, while ray-ray is now in eighth, Yours Truly in ninth and booger bear in tenth.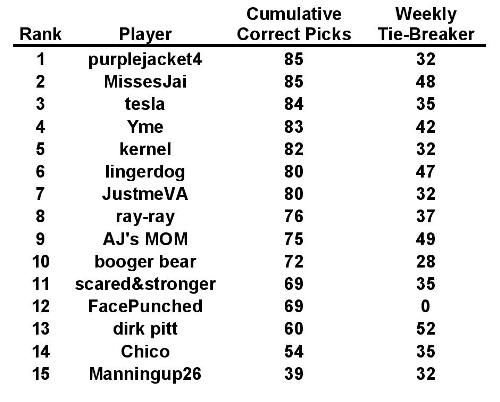 Here's this week's matchups – we've got us some good games, folks!
N.F.L. Games – Week 10
Thursday, November 7th
7:25PM CT
Washington at Minnesota
Thursday's pick due by 5 PM CT Thursday, November 7th
Sunday, November 10th
NOON CT
Seattle at Atlanta
Detroit at Chicago
Philadelphia at Green Bay
Jacksonville at Tennessee
St. Louis at Indianapolis
Oakland at NY Giants
Buffalo at Pittsburgh
Cincinnati at Baltimore
3:05 PM CT
Carolina at San Francisco
3:25 PM CT
Denver at San Diego
Houston at Arizona
7:30 PM CT
Dallas at New Orleans
Monday, November 11th
7:30 PM CT
Miami at Tampa Bay – TIE-BREAKER GAME
Teams on Bye Week: Cleveland, Kansas City, New England, NY Jets
Sunday and Monday picks are due by 11 AM CT Game Time, Sunday, November 11th
Good luck, everyone! Have fun!

The Commish
ray-ray posted 11/6/2013 16:38 PM
Congrats tesla!
Washington
Seattle
Detroit
Green Bay
Tennessee
Indianapolis
NY Giants
Pittsburgh
Baltimore
San Francisco
Denver
Arizona
New Orleans
Miami 39
Jen posted 11/6/2013 17:47 PM
N.F.L. Games – Week 10
Thursday, November 7th
7:25PM CT
Washington
Thursday's pick due by 5 PM CT Thursday, November 7th
Sunday, November 10th
NOON CT
Seattle
Detroit
Green Bay
Tennessee
Indianapolis
NY Giants
Pittsburgh
Baltimore
3:05 PM CT
San Francisco
3:25 PM CT
San Diego
Houston
7:30 PM CT
New Orleans
Monday, November 11th
7:30 PM CT
Tampa Bay – 23 TIE-BREAKER GAME
Teams on Bye Week: Cleveland, Kansas City, New England, NY Jets
Love it!!!!!!! He is too cute

Manningup26 posted 11/6/2013 18:39 PM
Minnesota
Seattle
Detroit
Philadelphia
Tennessee
Indianapolis
NY Giants
Buffalo
Cincinnati
San Francisco
Denver
Arizona
Dallas
Miami – 33
kernel posted 11/6/2013 19:03 PM
Washington
Seattle
Detroit
Green Bay (let's go Seneca!)
Tennessee
Indianapolis
NY Giants
Buffalo
Cincinnati
Carolina
Denver
Arizona
New Orleans
Monday, November 11th
Tampa Bay – 35 (they have to win sometime, right?)
scared&stronger posted 11/6/2013 19:30 PM
Washington
Sunday, November 10th
NOON CT
Seattle
Detroit
Green Bay
Tennessee
Indianapolis
NY Giants
Pittsburgh
Cincinnati
3:05 PM CT
Carolina
3:25 PM CT
Denver
Arizona
7:30 PM CT
New Orleans
Monday, November 11th
7:30 PM CT
Miami 35

lingerdog posted 11/6/2013 19:31 PM
Washington
Seattle
Chicago
Philadelphia
Tennessee
Indianapolis
NY Giants
Pittsburgh
Cincinnati
Carolina
Denver
Arizona
New Orleans
Miami 37
ETA: Congrats Tesla!!!
[This message edited by lingerdog at 8:18 PM, November 6th (Wednesday)]
JustmeVA posted 11/7/2013 07:01 AM
N.F.L. Games – Week 10

Washington
Seattle
Chicago
Philadelphia
Tennessee
Indianapolis
NY Giants
Pittsburgh
Cincinnati
San Francisco
Denver
Arizona
New Orleans
Miami 36pts – TIE-BREAKER GAME

purplejacket4 posted 11/7/2013 13:02 PM
ajsmom posted 11/7/2013 13:06 PM
Tonight's game:
Washington
BBL with the rest.
AFrayedKnot posted 11/7/2013 15:49 PM
MissesJai posted 11/7/2013 16:54 PM
FACK!
Oh well..
Washington - bbl w/rest (FACK AGAIN!)
Seattle
Chicago
Philadelphia
Tennessee
Indianapolis
NY Giants
Pittsburgh
Cincinnati
San Francisco
Denver
Houston
New Orleans
Miami – 41

[This message edited by MissesJai at 12:21 PM, November 8th (Friday)]
tesla posted 11/7/2013 17:23 PM
Minnesota
Seattle
Detroit
Green Bay
Tennessee
Indianapolis
NY Giants
Buffalo
Cincinnati
San Francisco
Denver
Arizona
Dallas
Tampa Bay – 21

purplejacket4 posted 11/7/2013 18:04 PM
Thursday, November 7th
7:25PM CT
Washington
Thursday's pick due by 5 PM CT Thursday, November 7th
Sunday, November 10th
NOON CT
Seattle
Detroit
Green Bay
Tennessee
Indianapolis
Oakland
Pittsburgh
Cincinnati
3:05 PM CT
San Francisco
3:25 PM CT
Denver
Arizona
7:30 PM CT
New Orleans
Monday, November 11th
7:30 PM CT
Miami – 40

dirk pitt posted 11/7/2013 18:33 PM

Sunday, November 10th
NOON CT
Seattle
Detroit
Green Bay
Tennessee
Indianapolis
NY Giants
Pittsburgh
Cincinnati
3:05 PM CT
San Francisco
3:25 PM CT
Denver
Houston
7:30 PM CT
Dallas
Monday, November 11th
7:30 PM CT
Miami 52 pts – TIE-BREAKER GAME
Teams on Bye Week: Cleveland, Kansas City, New England, NY Jets
Yme posted 11/10/2013 06:03 AM
Seattle
Detroit
Green Bay
Tennessee
Indianapolis
NY Giants
Pittsburgh
Baltimore
San Francisco
Denver
Arizona
New Orleans
Tampa Bay
42
ajsmom posted 11/10/2013 07:54 AM
Spending the day with my boy and taking his picks to go with my loss on Thursday with Washington:
Seattle
Detroit
Green Bay
Tennessee
Indianapolis
NY Giants
Pittsburgh
Cincinnati
San Francisco
Denver - GO BRONCOS!!!
Arizona
New Orleans
Miami - 42
AFrayedKnot posted 11/10/2013 08:10 AM
Seattle
Chicago
Philadelphia
Tennessee
Indianapolis
Giants
Pittsburgh
Baltimore
San Francisco
Denver
Arizona
New Orleans
Tampa Bay 36