SurvivingInfidelity.com Forum Archives
Mod, pm me please
You are not logged in. Login here or register.
Helen of Troy posted 11/14/2013 08:02 AM
MovingUpward posted 11/14/2013 08:17 AM
The mods have been alerted to your request one should be here shortly.
Deeply Scared posted 11/14/2013 08:19 AM

Gotmegood posted 11/20/2013 15:27 PM
I am looking for threads dealing with WH and young prostitute. He's 64; prostitute 20 yrs old. The different pain of finding out what I thought was loving husband searched for, linked with, and paid for sex with a 20 yr old prostitute.
Also, I don't quite see how to start my own thread on this subject. Thank you
MovingUpward posted 11/20/2013 16:18 PM
Welcome Gotmegood
To start a your own thread you can go to the forum appropriate for your topic. From what you posted I would say that either Just Found Out or General is appropriate.
when you have that forum open you should see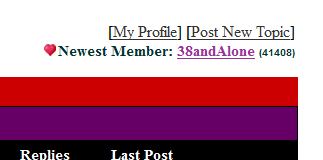 Near the top right, choose Post New Topic and you are set to go