SurvivingInfidelity.com Forum Archives
N.F.L. Pigskin Picks - Week 15 Results; Week 16 Games
You are not logged in. Login here or register.
ajsmom posted 12/17/2013 15:00 PM
As it's said, "The bigger they are…" really held true as crunch time in Week 15 saw some of the Sequoia's in the league fall to opponents hungry to grab some of the remaining playoff spots still up for grabs. Flaws on both sides of the ball and sloppy play of those teams first thought destined for undefeated seasons and freight trains toward their opponents immerged loud and clear.
We waved a fond adieu to the final Thursday night game of the season to witness a scrappy San Diego team hand it to Denver and keep their own Wild Card hopes alive. In an uncharacteristic loss at home, the Broncos defense was horribly ineffective at stopping the run and containing Philip Rivers, despite warmer temperatures than played in during their win against Tennessee the week prior. Clock control was key in the Chargers win as Peyton spent the majority of his time on the sideline with way too many three and outs, and once on the field seemed to always be scrambling for better field position. Despite the loss, Denver secured their playoff spot and thanks to the Patriots loss, still have a shot at home field advantage. None of the professional football playing Manning's' walked away happy this weekend, as the Giants got embarrassingly donut holed by Seattle, thanks in large part to Eli's 5 – count 'em -FIVE interceptions on the day. Losing Victor Cruz to a concussion early in the third quarter didn't help nor having the misfortunate of playing against Russell Wilson and the best road team in Seattle history. Something incredibly bad would have to happen to not see the Hawks SBXLVIII bound.

Having already clinched the AFC South divisional title, the Colts still have something to prove if they are going to stay for long in the playoffs this year. They used their Sunday outing against the Texans to do a little momentum building into their final games against the Chiefs and the Jags, one of those games should be won handily at the very least. The Texans at 2-12 finish out the year with Denver and Tennessee, games which should all but guarantee them the number one pick in the draft. Despite Nick Foles throwing a career-high 428 years and three touchdowns, the Eagles fell to a non-AD and Tony Gerhart Vikings squad in which third-stringer Matt Asiata rushed for three TD's – his first in the NFL. The win snaps Philly's five-game winning streak.
The Patriots loss came at the hands of the Dolphins, who took full advantage of yet another late Patriots start to stave them off on a Ryan Tannehill 25 for 37, 312 yards, three touchdowns, and no INT performance. The win keeps Miami in the Wild Card race, if they can win out against Buffalo and the Jets. It was all Jamaal Charles in the Chiefs smack down of the Raiders as he finished out an incredibly productive day while tying a franchise record with five touchdowns. Woe must be Matt McGloin who managed to toss four picks with the fifth miscue of his being a turnover on a strip-sack. The win allows the Chiefs a Wild Card spot at the very least but would need some additional Denver losses to take over first in the AFC West. I hate to say an unlikely scenario given Denver finishes with the Texans then the Raiders, while Kansas City faces the Colts than those scrappy Chargers, but if I've learned anything this season, it is that there is true truth in the saying "Any Given Sunday."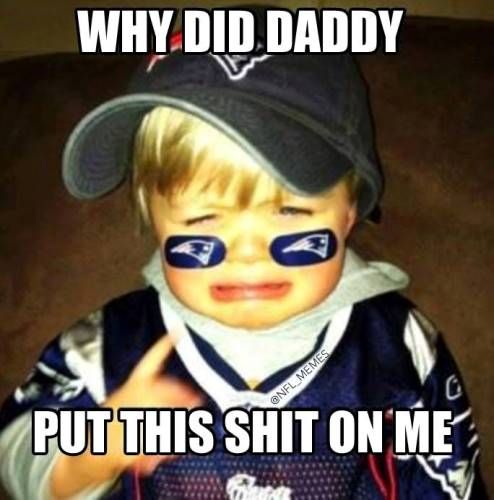 Where Seattle won big, Drew Brees tossed two INT's in his first two possessions to give the Rams enough fuel to embarrass the Saints on the road. I swear…get 'em outta that dome and it's like they're surrounded by kryptonite. To add insult to injury, Drew finished the day getting sacked four times but worse yet, the loss took away the Saints opportunity to clinch a playoff spot and it puts their first-round bye hopes in jeopardy with a now hot again Carolina team breathing down their backs and tied for first in the NFC South. In his bid to be the second NFL coach canned this season, Mike Shanahan decided without success to go for two with 12 seconds left instead of kicking the game tying extra point to send their game against Atlanta into OT. Yet RG3 gets benched. Go figure. In all, Atlanta was able to score 20 points off of 7 – count 'em – 7 Redskin turnovers. Which is amazing. Not the number of turnovers so much but that the Falcons were actually able to score on them.
The first quarter in the Bears vs. Browns game seemed all too strikingly Cutler familiar, what with Jay tossing two INT's as he came back from a four-week injury hiatus, replacing a hot Josh McCown – hot as in 13 TD's with 1 INT this season hot. The win puts the Bears on top of the NFC Central division, with a small edge over the non-Aaron Rodgers resurging Packers squad. After an embarrassing loss last week to the Saints, the Panthers used their game against the Jets as a warm-up for Sunday's rubber match. Hoping to get to their first postseason since 2008, Cam Newton threw for 273 yards with one TD, while the strong and ever-present Carolina D did their job, notably Captain Munnerlyn (snort – love that name) contributed with two sacks and a returned interception for a touchdown.
San Francisco continues its winning streak, now at four in a row, as they played the hapless Buc's onto keeping their playoff hopes alive. Vernon Davis caught a TD pass in his fifth straight game, while Michael Crabtree caught his first one from returning from injury. Even a reverse on a kickoff was bumbled by Tampa Bay whose coach should be sent packing at the end of the season if not sooner. It was Buffalo 27-20 over the Jags. EJ Manuel managed to overcome his worse NFL performance from last week by getting his first win in five road starts. So, there's that.
The Steelers managed to inch toward overcoming yet another losing season by coming out strong and staying there in their win over Cincinnati. Big Ben opened with a perfect 12 for 12, finishing the game with hitting 20 out of 25 for a total of 191 yards, while the Steeler's D managed to sack Andy Dalton eight times. The loss denies Cincy the right to claim a Wild Card spot this week, and spoils their three-game winning streak. We had several good close games with awesome finishes, but none tasted as good (at least for this Cheesehead) as the one in Dallas where once again, Tony Romo managed to choke away a huge lead and end a game – yet again – with an INT. Down 23 points at the half, Matt Flynn threw four TD's (Aaron who? Just kidding…) while Romo tossed an interception in the final 3 minutes of the game giving the Pack the go-ahead score. But wait…there's more! – because one wasn't quite enough, he tossed yet another to allow Green Bay to sit on the ball (kinda what the 'boys should have done the first time, but I digress) to run out the clock and win by 1. The win puts the Packers one game behind the Bears for the NFC North title and breathed in huge wind to keep their playoff hopes alive. Now, if #12 would just come back…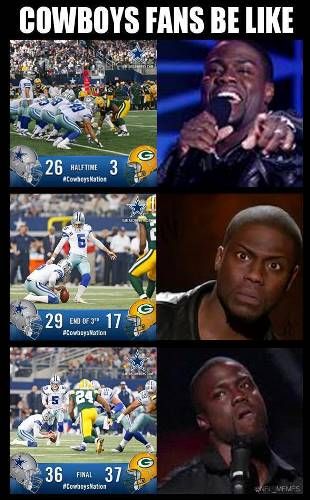 The Cardinals needed their own kind of miracle for victory over the Titans, when despite a 34-17 lead and scoring 21 unanswered points in the second half, the Titans came back with 17 points with just 3:20 left in the game. Jay Freely kicked the game winning 41-yard field goal in OT, allowing Arizona a chance of a Wild Card spot. Think about that for a minute – they were one kick away from being the Cowboys. Speaking of kickers, let's hear it for Justin Tucker who accounted for all of Baltimore's 18 points in last night's game against the Lions. With just two minutes to play, Detroit went up by one with the Ravens chances of defending the Lombardi trophy on the line. With field goals of 49 and 53 already hit by Tucker in the game, surely Harbaugh would go for a 61-yarder on a 4th and 8, right? Seems logical. Here's the result, up close and personal:

The game winner was the longest in Ravens history and was just shy of Matt Prater's 64-yard NFL record set last week.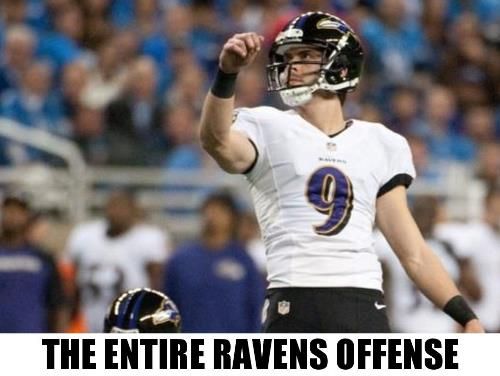 This week showcased the players who were willing to take some risks and go with upsets against those who played it safe (Yours Truly included) as we head into the final two weeks toward picking our champion.
Congrats and hats off to Chico, Yme and ray-ray who all picked 11/16 teams correctly. However, the player with the closest tie-breaker of 35 – just one over the actual final MNF score of 34 – is our pal Chico who earns this week's bragging rights.
Woo Hoo!!! CONGRATS, CHICO!!!! WAY TO GO!!
The tie-breaker then gives second place to Yme and third to ray-ray. A couple of pickers had 10/16, so give it up for kernel and scared&stronger who not only both had the same number of winning picks but both picked a tie-breaker of 35 to tie for fourth. Taking fifth place with 9/16 is dirk pitt, while tesla, also with 9/16 landed in sixth. Manningup26, booger bear and Yours Truly all had half the games right for seventh, eight and ninth place, respectively, while four players – lingerdog, MissesJai, purplejacket4 and JustmeVa had 7/16 for tenth – twelfth place, with an 11th place tie with MissesJai and pj4.

It truly is getting down to the wire and there was some elbow throwing going on among the leaders with just a 5 point spread for first through fifth place. Jumping up a spot to take over first is kernel who has 138 total points thus far, while tesla jumped up two spots to take over second with 137. Also with 137, MissesJai dropped down two spots to third while lingerdog slid down one spot to end up in fourth with 135. Also with 135 and jumping up one spot is ray-ray while last year's Champion, purplejacket4 slid down one spot to sixth with 134. Seventh through tenth place remained the same, with Yme at 132, JustmeVa with 128, Yours Truly with 120 and scared&stronger with 119.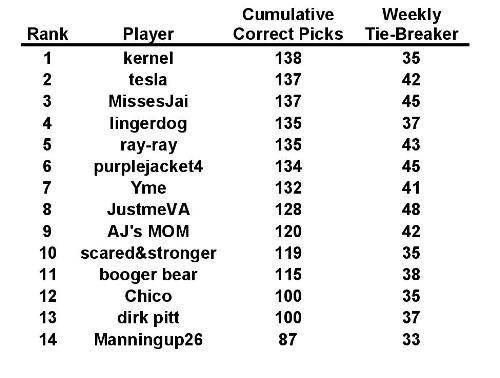 Besides action on the gridiron, these next two weeks are posed to bring some big time action to our pool with only 32 points up for grabs. If there was ever a time to be ultra-careful in making your picks and hitting the most accurate tie-breaker, now is it!
PLEASE, PEEPS – REVIEW YOUR PICKS ONCE YOU POST THEM TO YOUR THREAD TO ENSURE YOU HAVE A PICK FOR EACH GAME AND YOUR TIE-BREAKER FOR THE GAME SPECIFIED.
Try as I might to catch errors, oftentimes it is not in enough time to catch you via PM to correct your picks and I'd hate to have an oversight 86 you out of winning.
Don't forget - you'll have more time to prognosticate over your picks as we get to put Brad Nessler and Mike Maydock in a box for a few months.


N.F.L. Games – Week 16
Sunday, December 22nd
NOON CT
Miami at Buffalo
Minnesota at Cincinnati
Indianapolis at Kansas City
Tampa Bay at St. Louis
Cleveland at NY Jets
Dallas at Washington
New Orleans at Carolina
Tennessee at Jacksonville
Denver at Houston
3:05 PM CT
Arizona at Seattle
NY Giants at Detroit
3:25 PM CT
Pittsburgh at Green Bay
Oakland at San Diego
New England at Baltimore
7:30 PM CT
Chicago at Philadelphia

Monday, December 23rd
7:30 PM CT
Atlanta at San Francisco – TIE BREAKER GAME

ALL picks are due by 11 AM CT Game Day, Sunday, December 22nd

Good luck, everyone! Have fun!

The Commish
purplejacket4 posted 12/17/2013 17:31 PM
Sunday, December 22nd
NOON CT
Miami
Cincinnati
Kansas City
St. Louis
NY Jets
Washington
Carolina
Tennessee
Denver
3:05 PM CT
Seattle
Detroit
3:25 PM CT
Pittsburgh
San Diego
Baltimore
7:30 PM CT
Chicago

Monday, December 23rd
7:30 PM CT
San Francisco – TIE BREAKER GAME 50
MissesJai posted 12/17/2013 18:09 PM
These upsets are rather upsetting...

Buffalo
Cincinnati
Kansas City
St. Louis
NY Jets
Dallas
Carolina
Tennessee
Denver
Seattle
Detroit
Pittsburgh
San Diego
New England
Philadelphia
San Francisco – 45

Jen posted 12/17/2013 19:32 PM
but if I've learned anything this season, it is that there is true truth in the saying "Any Given Sunday."



N.F.L. Games – Week 16
Sunday, December 22nd
NOON CT
Buffalo
Minnesota
Kansas City
St. Louis
NY Jets
Washington
New Orleans
Jacksonville
Houston
3:05 PM CT
Seattle
NY Giants
3:25 PM CT
Green Bay
San Diego
New England
7:30 PM CT
Chicago
Monday, December 23rd
7:30 PM CT

San Francisco – 42 TIE BREAKER GAME
ALL picks are due by 11 AM CT Game Day, Sunday, December 22nd
kernel posted 12/17/2013 20:26 PM
Buffalo
Cincinnati
Kansas City
St. Louis
NY Jets
Dallas
Carolina
Tennessee
Denver
Seattle
Detroit
Green Bay
San Diego
New England
Philadelphia
San Francisco – 42

Yme posted 12/20/2013 20:21 PM
Miami
Cincinnati
Kansas City
St. Louis
Cleveland
Dallas
Carolina
Tennessee
Denver
Seattle
Detroit
Green Bay
San Diego
Baltimore
Philadelphia
San Francisco
40
lingerdog posted 12/21/2013 06:41 AM
Congrats Chico!!!
Miami
Cincinnati
Indianapolis
St. Louis
NY Jets
Washington
Carolina
Tennessee
Denver
Seattle
Detroit
Green Bay
San Diego
Baltimore
Philadelphia

San Francisco 33
scared&stronger posted 12/21/2013 18:12 PM
Sunday, December 22nd
NOON CT
Miami
Minnesota
Kansas City
St. Louis
Cleveland
Washington
New Orleans
Tennessee
Denver
3:05 PM CT
Arizona at Seattle
Detroit
3:25 PM CT
Pittsburgh
Oakland
New England
7:30 PM CT
Philadelphia

Monday, December 23rd
7:30 PM CT
San Francisco - 35

Manningup26 posted 12/21/2013 18:17 PM
Buffalo
Cincinnati
Kansas City
St. Louis
Cleveland
Dallas
Carolina
Jacksonville
Denver
Seattle
Detroit
Green Bay
San Diego
Baltimore
Chicago
San Francisco – 33
ray-ray posted 12/21/2013 20:15 PM
Congrats Chico
Miami
Cincinnati
Kansas City
St. Louis
Cleveland
Washington
New Orleans
Tennessee
Denver
Seattle
Detroit
Pittsburgh
San Diego
Baltimore
Chicago
San Francisco 42

ajsmom posted 12/22/2013 06:08 AM
Miami
Cincinnati
Kansas City
St. Louis
NY Jets
Dallas
Carolina
Tennessee
Denver - GO BRONCOS!!!
Seattle
Detroit
Green Bay
San Diego
Baltimore
Philadelphia
San Francisco - 42

tesla posted 12/22/2013 07:46 AM
Miami
Cincinnati
Kansas City
St. Louis
NY Jets
Dallas
Carolina
Jacksonville
Denver
Seattle
Detroit
Green Bay
San Diego
Baltimore
Philadelphia
San Francisco – 38