SurvivingInfidelity.com Forum Archives
Hockey heros (pics with my kids)
You are not logged in. Login here or register.
stroppy_wanadoo posted 12/18/2013 09:02 AM
Just had to share some photos of my hockey obsessed kids. We are lucky to have an AHL team in our town, and they had a special event for season ticket holders last night. Could not have met a nicer group of young men who were great with the kids.
DD12 has been in luuuuuuv with one for two years and finally got her picture with him.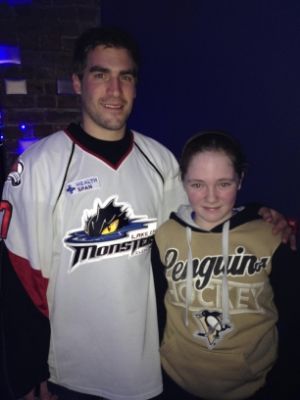 DS9 wanted to talk all about hockey fights and injuries from errant pucks.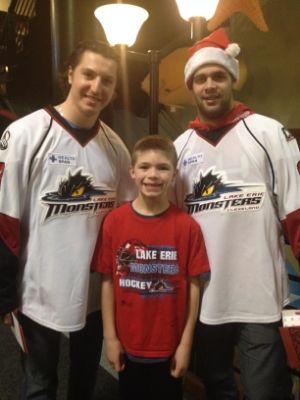 And while the AHL team is cool, DD REALLY saves her passionate love for the Pittsburgh Penguins and Sid the Kid Crosby. She carried that theme into our Christmas cookie decorations.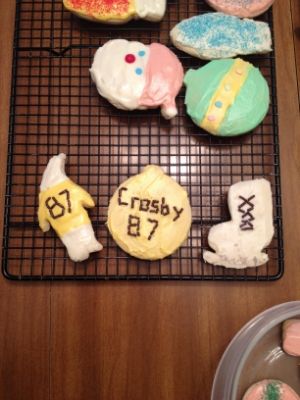 Never in my life would have guessed we'd become a hockey family, but I love it!
[This message edited by stroppy_wanadoo at 9:03 AM, December 18th (Wednesday)]
Crescita posted 12/18/2013 09:40 AM
Awesome! I used to love meeting hockey players when I was a kid. The humility in the sport is unparalleled.
wifehad5 posted 12/18/2013 10:13 AM

Whalers11 posted 12/23/2013 12:17 PM
This is awesome!
I am a season ticket holder for my local AHL team and the boys are so nice/cute (and waaayyy too young for me).

solus sto posted 12/23/2013 13:11 PM
There are no better heroes than hockey players, IMO. They are humble and hard-working and embody teamwork in a way that is unequaled. (And there are lots who are drool-worthy, too. Not that that informs my opinion. Much.)