SurvivingInfidelity.com Forum Archives
I've lost my minion!!!!!
You are not logged in. Login here or register.
MovingUpward posted 12/27/2013 14:50 PM
It's only the third day of Christmas.

Well onto New Years I guess.
Who's drinking?
Aubrie posted 12/27/2013 14:54 PM
Oh darn. Sorry about that Moo. I think the Minion thing should be a permanent fixture.
I'm kinda pumped about the New Year decor since we had Christmas till like....February last year.

Who's drinking?
I've got cold meds and a Coke.

broken2 posted 12/27/2013 14:57 PM
Oh, I'd love to have a,....big girl beverage, but right now I must just resort to water. Maybe later I'll switch to something else.
LosferWords posted 12/27/2013 15:20 PM
Is this your Minion, Moo??
I am always up for an adult beverage. What are we having?

StillLivin posted 12/27/2013 15:40 PM
nowiknow23 posted 12/27/2013 15:56 PM
Yes, please!
kernel posted 12/27/2013 16:05 PM
Count me in for a margarita! And I wish I had a few minions to shovel snow...
caregiver9000 posted 12/27/2013 16:07 PM
The Moo Minion is perfect!!!
mmmmmmm margarita.....

gahurts posted 12/29/2013 08:39 AM
Moo, Is there a way you can incorporate the moo minion into your sig? That would be way cool.
Jrazz posted 12/29/2013 23:40 PM
jo2love posted 12/30/2013 10:59 AM
Too cute. Jrazz, you totally owe him 2 treats after dressing him up.

We are watching Despicable Me 2 today. Yay minions!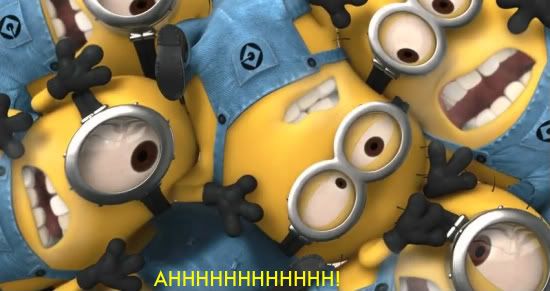 Moo, this minion stole your mug.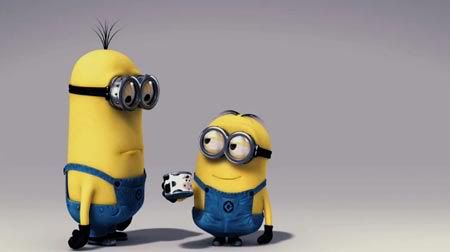 MovingUpward posted 12/30/2013 11:06 AM
Me-llama-lama-ding-dong, [serious] who cares. Let's go.
persevere posted 12/30/2013 20:12 PM
I massively love minions.

gonnabe2016 posted 12/30/2013 22:38 PM
I think minions are creepy as hell.....although Jrazz's dog minion was totally adorable. But a dog dressed up as a minion is completely different than a minion dressed as a minion, kwim?
Point is, Moo. I'm glad that the minions are gone! They rank very, very high on my *ick* scale...
jo2love posted 12/30/2013 22:39 PM