SurvivingInfidelity.com Forum Archives
N.F.L. Pigskin Picks - Week 17 Results - A Champion Is Crowned!
You are not logged in. Login here or register.
ajsmom posted 12/30/2013 15:03 PM
…and then there were 12…and now there is 1.
With playoff hopes on the line, the twenty teams still in contention for a berth to play football into January were reduced to the twelve that either had skill, luck or a little bit of both on their sides as the last spots open to grab were snapped up and those teams earning a bye week fell into place. Some players and coaches walked away happy while other coaches have been victim to or are waiting for the proverbial curtain to fall on their current coaching gigs.
In the AFC, it took Peyton Manning half a game to set yet another NFL record and assure the Broncos of home-field advantage through the playoffs. Finishing near perfect with 25-28 and 266 yard with 4 TD's, he wrapped up the season with 5,477 passing yards and 55 TD's, eclipsing Drew Brees's 2011 record of 5,476 yards. Come next weekend, the Broncos will face the lowest winning seed in the AFC Wild Card round. The Patriots faced the elements in a steady downpour most of the day to hold off the Buffalo Bills, giving them the second seed spot in the AFC and their first round bye. Unfortunately for the Bills, the loss registers as their 14th straight season to miss the playoffs, a league record.
In the NFC, the Seahawks find themselves that much closer to vying for the Lombardi trophy, with a blow-out win against the Rams and are now the NFC West champs to boot. The win secured their first round bye and that incredibly loud home-field advantage against Green Bay, New Orleans or San Francisco, teams they are a total of 4-0 against at home. Seeing the last time they had the advantage at home in 2005 they managed to make it to the Super Bowl, don't discount that 12th man theory too quickly. It's been a five-year playoff drought for the Panthers who managed to stave off the Falcons and swipe the NFC South division title away from the Saints. Poor Matt Ryan got sacked a total of nine times, four of them coming at the hands of Greg Hardy. Carolina as second seed will play the highest winning seed from the NFC Wild Card Round.
Speaking of, the Wild Card rounds for both conferences had their final spots filled with some high adrenalin excitement. In the AFC, those pesky Chargers, (my own personal picking nemesis for the season), managed to have all the planets align in their victory over the Chiefs in an overtime win by a field goal, the Chargers only lead of the day. The win puts the Chargers up against the Bengals this weekend who eliminated the reigning Super Bowl Champion Ravens on the heels of Joe Flacco's three INT performance. The Colts needed the highly unlikely scenario of losses by both New England and Cincinnati as well as their win against Jacksonville to claim the second seed spot. Denied the downfall of the Patriots and Bengals, they will end up playing Kansas City at home on Saturday afternoon. Hopefully the Jags can find some relief for what's ailing them in the upcoming draft after finishing with a second straight season low rushing total of 1,260 yards. Yep. That's for the whole season.
The real explosions took place in the NFC, where despite a 10-6 record which usually gets a team into the playoffs, the Arizona Cardinals were sent packing by the 49'ers. The game was won on a kick, from 49'ers kicker Phil Dawson, who missed after 27 successes in a row with a 24-yard poocher, but who rallied nicely to hit from 56 and 40 yards with under two minutes left in the game to seal the win. Winning their sixth in a row, the Niners now face the Packers in their Wild Card match next Sunday. With everything to prove and everything to lose, the Packers rode into Soldier Field hell bent on righting the ship that went so woefully wrong back in November when Aaron Rodgers broke his collarbone on a sack play. Riding the momentum of back-up QB Matt Flynn's recent performances, Rodgers cleared away the expected early game rust (including two extremely unusual INT's ) to knock the Bears out of contention and throwing a little payback their way on the road to facing San Francisco next Sunday. In the final minute, Rodgers found the also-injured-and-just-back-to-playing Randall Cobb open to cap off the 48-yard TD needed for the win and the NFC North championship. It's hard to say how long the Pack are going to last with a less than stellar defense which should make Sunday's match-up one heck of a good one against the Niners. The dude gets our gif of the week – welcome back, #12.

ETA: Check out this version as well: https://www.youtube.com/watch?v=JfCf0EPp5WM

Drew Brees worked tough on Sunday, passing for four TD's while running for another score as the Saints clinched a Wild Card spot but were denied the NFC South champ caps thanks to the Falcons loss to the Panthers. Brees also managed to end the season with 5,000 yards for an unprecedented fourth time. Known for always playing better at home, the Saints will be in uncomfortable territory having to get to the Big Game via the road. Asked what the team would have to do to win in unfamiliar territory, you have to love Brees's response: "There's three main things we need to do," Brees began. "We're going to change up the Gatorade flavor, we feel good about that. We're going to change our travel sweats. We're going to change, at the hotel, the beefy mac (and cheese) recipe the night before, just kind of give it a little extra kick. We feel like those three things are going to help pull us through." Then there's the Cowboys. Oy, vey, the damn Cowboys! Kyle Orton decided to channel Tony Romo who is out as he recovers from back surgery, by tossing the game ending INT with just under two minutes left in the game (for which a field goal was simply necessary for the win) against the resurgent Eagles, blowing their chances – yet again – for a playoff berth. For the past three straight years the Cowboys have only managed 8-8 records AND have lost in week 17 with a chance to go to the playoffs on the line. If nothing else, they're consistent. Hats off to rookie NFL coach Chip Kelly, who managed to take a 4-12 Eagles team to a 10-6 playoff team and the NFC East division title. Not bad for a newbie. Not bad, indeed.
For those of you with sideline pools on coaching firings, here are the victims of Black Monday who received their walking papers, accurate as of 3PM CT today. Say goodbye to the likes of: Leslie Frazier – Minnesota; Mike Shanahan – Washington; Gary Kubiak – Houston; Rob Chudzinski – Cleveland; Jim Schwartz – Detroit and Greg Schiano – Tampa Bay. Those coaches still sitting ever so not pretty on the chopping block: Joe Philbin – Miami; Mike Munchak – Tennessee; Jason Garrtett – Dallas and Dennis Allen – Oakland. Ya gotta win in this league to stick around, folks. Congrats to Rex Ryan, who despite an even 8-8 record was signed to coach through 2014.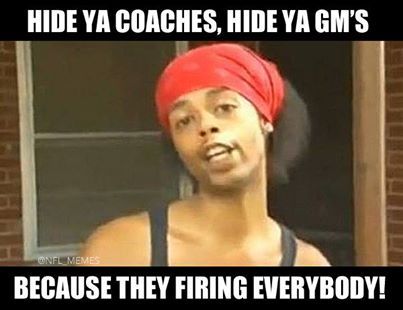 Alrighty then…onto the crowing of our champion, but first, let's see how everyone fared in the final week of the season. Coming in first place with 14/16 correct picks, hats off again to MissesJai who also hit the tie-breaker spot on with a guess of 46 total points.

Woo, Hoo!!! Way to go, MissesJai!!!

Three players managed to get 13/16 correct, starting with Chico who took second place, last year's champion purplejacket4 who landed in third, and Yours Truly who ended up in fourth place. Coming in fifth through seventh place were a group of 12/16 correct pickers – kernel, ray-ray, Yme and lifetime Chiefs fan, booger bear. In eighth place we have scared&stronger with 11 correct, while lingerdog, also with eleven correct, ended up in ninth place. Manningup26 took tenth place with 9/16 correct, while our pal tesla was unable to make her picks prior to the deadline.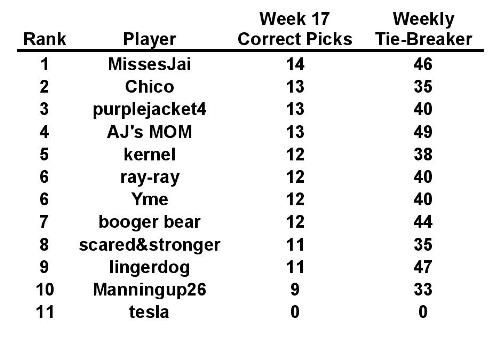 Drum roll please…here's the news you've all been waiting for! It was a close race all season and an even closer race as we got down to the wire between our winner and second place finisher. The scores have all been tallied and checked twice, so let's all give MissesJai a sterling round of applause for becoming our 2013 S.I. – N.F.L. Pigskin Picks Champion with 165 correct cumulative points!!! With a total of 255 total points to get, that's a whopping 65% accurate prognostication rating, my friends!!!
Outstanding job, MissesJai!!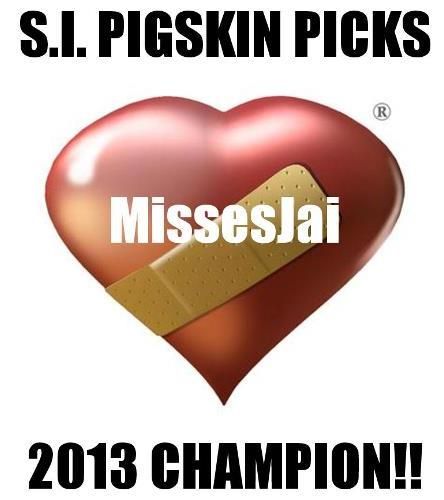 Coming in second with 163 total points, let's hear it for kernel who fought hard to the finish of this very tight race. Coming in third with 157 total points, applause, please, for our reigning champion, purplejacket4. Taking fourth place this year is lingerdog with 155, while ray-ray landed in fifth with 154 total points. Yme was able to capture sixth place with 152 total points, while tesla scooped up the Elway spot with 147. Yours Truly ended up in eighth after many weeks in ninth with 144, while scared&strong with 138 and booger bear with 134 rounded out the top ten, landing in ninth and tenth place respectively. JustmeVA and newcomer Chico took eleventh and twelfth place, with JustmeVA ending up with 128 points and Chico with 113. Late starters Manningup26 and dirk pitt ended up with 105 and 100 points and the final two spots in the pool.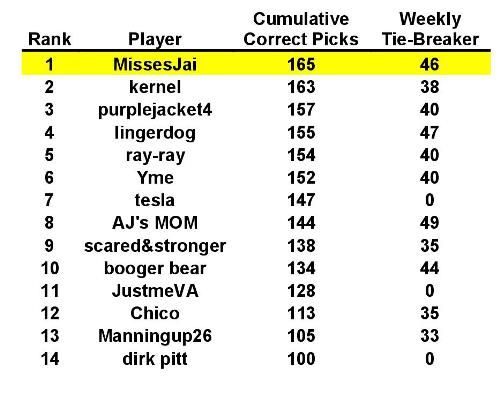 If you're thinking this ends the fun, think again, peeps, for beginning this week we invite everyone to play the extended version of Pigskin Picks by hopping into our Playoffs to the Super Bowl pool!
Details on the in's and out's of how the Playoffs/Super Bowl pool works will be released sometime after the Wisconsin Badgers capture the Capital One Bowl title on Wednesday, yet well in time for picks to be due before Saturday's round of the Wild Card playoffs begin.

A huge and hearty thank you to all of our players for your participation in this year's pool. It has been a pleasure riding as your Commish on this less than straight and narrow and at times rather upsetting road to MetLife Stadium.

The Commish
[This message edited by ajsmom at 4:51 PM, December 30th (Monday)]
ray-ray posted 12/30/2013 16:37 PM
Congrats MissesJai!
Thanks Commish!
purplejacket4 posted 12/30/2013 16:55 PM
scared&stronger posted 12/30/2013 17:42 PM
lingerdog posted 12/30/2013 18:15 PM
Congrats missesjai!!!!!

As for that whole bowl thing methinks I must disagree with you.




Manningup26 posted 12/30/2013 18:24 PM
Clearly I was outplayed - MissesJai is simply the BEST (well this year)!! Big Congrats to ya!!! I shall return!!!
kernel posted 12/30/2013 21:01 PM
Congrats MJ!! Thanks Commish!!

And this...
[This message edited by kernel at 9:14 PM, December 30th (Monday)]
MissesJai posted 12/31/2013 10:51 AM