SurvivingInfidelity.com Forum Archives
Writing cover letters suck!
You are not logged in. Login here or register.
simplydevastated posted 1/10/2014 10:28 AM
Nature_Girl posted 1/10/2014 10:35 AM
AMEN! COULDN'T AGREE MORE!
simplydevastated posted 1/10/2014 10:51 AM
I'm awful at trying to talk myself up. So I write a few sentences, look at SPF, write a few more sentences, come back and get scared at the spider pic on pg 5 of SPF (friendly warning), now I have to write a few more sentences. UGH...

Nature_Girl posted 1/10/2014 12:07 PM
I don't like it because it's so piddly. It's like saying in essay form what's already on my resume in bulleted form. What is the point? A year ago I was far more enthusiastic about cover letters than I am now. Creating an individualized letter for each frigging job I apply for? Although I do it when the job posting says so, what goes through my mind is, "Ain't nobody got time for that!"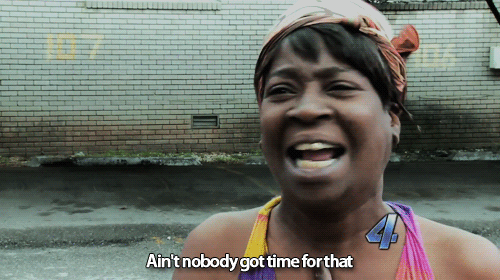 ETA:
PS - Thank you for the warning about the spider pic. I was able to cover my screen with my hand and scroll past it so I didn't have to see it. Nightmares averted.
[This message edited by Nature_Girl at 12:16 PM, January 10th (Friday)]
simplydevastated posted 1/10/2014 12:38 PM
That was exactly my problem! I kept thinking "this is all on my resume!" How can I make sound different so I'm not repeating myself. Ugh.

OMG! I love that .gif LOL!!
You're welcome. Just lookin' out for ya.

Nature_Girl posted 1/10/2014 12:51 PM
Here's another reason why I don't like writing them. Nine times out of ten the job postings are "blind". No clue what company it is other than something generic like "paint company". So how might I customize the cover letter with the research I know I should do on Paint Company? I can't say jack about how I might best fit in and be a benefit to Paint Company because I don't know jack about Paint Company.
It's all bullshit anyway. Cover letters seldom are read. Back in the day when I actually had a job and we were hiring, I was instructed to rip off the cover letters and round file them. So now I hate wasting my time & brain power trying to craft the perfect letter when I'm fairly certain it's going to be tossed.
simplydevastated posted 1/10/2014 13:06 PM
You're right. There are so many postings out there with very little company information. I've read some postings that are set up through recruiters and they list my town as the location. Cool!! When I apply and the recruiter contacts me I then find out that the job is not near me and that they only picked a random town for the privacy of the company. Well how can you expect people in the area to apply for the job if you don't list the proper town?! Ugh!!
I'm sure cover letters aren't read and probably only a portion of the resume is read.
ajsmom posted 1/10/2014 13:22 PM
I'm sure cover letters aren't read and probably only a portion of the resume is read.
Decades of HR executive management experience here and I'm sure the other SI HR'ers will chime in a well.
They are read. Why? Because they provide a snapshot of the person's talent and skills and abilities needed for the job and are oftentimes the reason a screener reads the resume.
Secondly, if you are uploading them into a job application portal, they will be screened for keywords that have to do with the job. If those words are missing or if you're using a very generic CL, you risk the chance of your application being rejected.
If you're struggling, look back at others you've written to get your creative thoughts going.

AJ's MOM
metamorphisis posted 1/10/2014 13:54 PM
My husband is writing a lot of them now. We live in a culture where I think we just aren't comfortable at saying "this is where I excel, look how awesome I am." So you look for a tactful way to work in the awards you received for you work (related to the position of course) and just feel like a jerk writing it.
In my husbands case, he graduated top of his class in December. The top. He also was Deans list every single semester. We know if given the opportunity to get his foot in that door for an interview he will shine, but we don't even know if and where you include that kind of stuff.
I do know each position he is replying for requires something different and he is writing each cover letter from scratch and specific to the position. He is getting interviews so it's working, and I do think the cover letter is part of the reason.
simplydevastated posted 1/10/2014 13:54 PM
Maybe at some places cover letters are read.
When applying I always make sure to put in keywords. I have the job posting open and I add/remove certain things from my resume. It gets daunting at times, especially when nothing comes of it.
Frustrating...
Nature_Girl posted 1/10/2014 14:47 PM
Dear Generic Employer Who Won't List Their Company Name,
I'm replying to the position you have listed on Craigslist for the Very Part-Time Receptionist Who Also Doubles As A Shipping Clerk And Payroll Processor As Well As Janitor, Stock Clerk, Customer Service Rep, Marketing Director And Executive Assistant to the CEO, CIO, and CFO. I want to assure you that I really super-de-duper want to work ten hours a week, with the potential to expand that to 15 hours a week. I do have a command of the English language and can take detailed messages.
You can see the 15-year gap on my resume? That's where I started my own design business, created & ran a website for another company, gave birth to three children who I also homeschooled, in addition to suffering daily abuse from a sexually deviant husband. Sure, here's the names of my previous supervisors, however, I don't have current contact information for them, nor do I know if they still work at those companies. See first and second sentences of this paragraph to understand why I don't have contact information any longer.
Here are the names & phone numbers of people who know me and are not relatives. No, I haven't worked for them, nor have I known them longer than five years. See previous paragraph.
No, I am not available to work evenings or weekends. No, I cannot accommodate last-minute changes to the work schedule. No, I will not carry a pager for a 10-hour a week receptionist job. I will be happy to make coffee for you, however.
Sincerely,
Someone You're Not Going To Hire Anyway
[This message edited by Nature_Girl at 2:49 PM, January 10th (Friday)]
Amazonia posted 1/10/2014 20:00 PM
NG, why don't you have the design business or the website design job listed on your resume?
And why on earth haven't you used your super sleuth powers to track down contact info for those former supervisors?? If you were good at your job back then,networking is the foot in the door you need now that you're back on the market.
simplydevastated posted 1/10/2014 20:08 PM
NG, Best. Cover letter. Ever.