SurvivingInfidelity.com Forum Archives
N.F.L. Pigskin Picks - Divisional Results; Conference Games
You are not logged in. Login here or register.
ajsmom posted 1/14/2014 11:08 AM
Home field advantage is truly that – the edge your team plays hard for all year to ensure a continued fan friendly run through the playoffs. Well, three out of four winning isn't bad, as Carolina became the lone home field loser in a group of divisional playoff games that proved to be some of the best football all year. By Sunday night the field vying for the Lombardi trophy was whittled down to four, with three of the four games played in abysmal weather.
The rain fell hard in Seattle yet some precipitation and some gusty winds did not deter the 12th man entourage as the Seahawks avoided a near-fatal fourth quarter collapse to advance to the NFC Conference Championship game. The Hawks defense proved too much when combined with an ineffective Drew Brees, some coaching snafus and Marshawn Lynch's franchise record setting 8 carries for 140 yards and two TD's performance in the 23-15 win. The game saw the short-lived return of Percy Harvin to the Seahawks lineup who then left the game late in the first half with a concussion. The Saints were *thisclose* to taking this one away from Seattle with :24 left on the clock when an offside kick was then lost Marques by Colston after when he attempted to toss a lateral to Darren Sproles that was ruled an illegal forward pass. Yet another road loss for the Saints as the Seahawks go on to host San Francisco on Sunday. Here's your photographic proof – that ain't no lateral.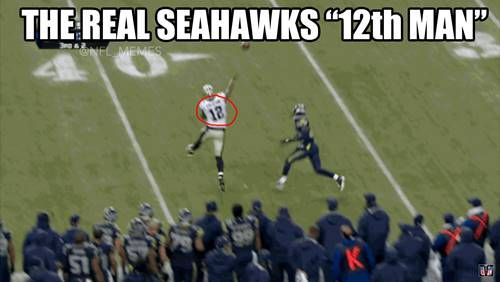 Also playing in a torrential downpour, the Patriots decided to give their newly found running game a go and came away 43-22 winners over the under dogged Colts. The flash and poise Andrew Luck had exhibited of late completely vanished with his four INT's on the day outing as the playoff veterans and ready to do it again Patriots schooled the Colts on every side of the ball. Screw the Cam Newton/Colin Kaepernick "Superman" pissing match – the real guy who should be wearing the S on his chest is LeGarrette Blount, who simply had a outstanding day culminating into a franchise playoff record 166 yards and four TD's on only 24 carries which in essence allowed Tom Brady to take a day off while on the field. The Patriots will take on the Broncos next Sunday at Mile High in their bid for the AFC Championship bragging rights.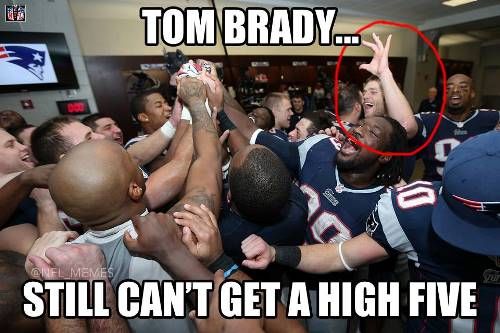 The third game in crappy weather turned out to be a perfect storm of the elements, some incredibly bad officiating (just ask Troy Aikman), and a couple of young whippersnapper QB's trying to lay claim to best in the NFC. The Panthers, seeded second and playing in their first post season game since 2008, ended up on the very short end of the stick as Colin Kaepernick erased the memories of his worst game EVAR (well, actually just this year) from the 49'ers embarrassing 10-9 loss to the cats back in week 10 by going 15 for 28 for 196 yards, a run in for a score and 15 yards on the ground. Kaepernick and Company came in as the 5th seed and seemed to benefit greatly with the help of the officials who seemed to rather favor them. With calls against Carolina that though seemingly replicated by the 49'ers not getting whistled down (including an obvious 12th man in the huddle call that never happened), the chips were stacked heavily against Carolina to continue their run. There I said it. That said, you can't expect your QB to get sacked five times and throw two INT's, one of which was a rally killer and expect to hold up against that strong San Francisco speed and defense. I'll tell ya, that 49'ers / Seahawks game is gonna be something, folks!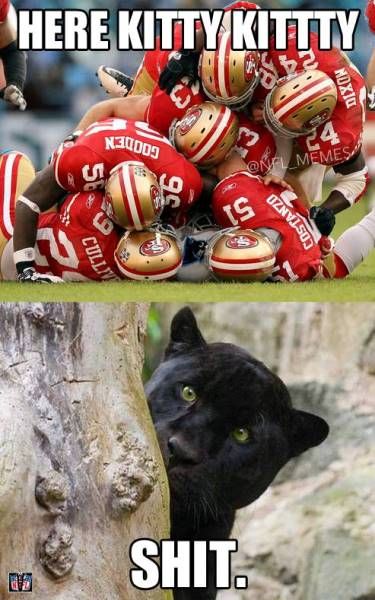 While the San Diego Chargers defenders played pinball and concussed themselves most of the game, Peyton Manning redeemed himself from last year's heartbreaking loss to the Ravens by remaining calm when under pressure to ensure the Broncos a chance to host Pretty Boy and his pals next Sunday. Using his patented (and often duplicated) offensive clock ticking line dance and chants to his advantage – this week it was "Omaha!" – he managed to pull the Chargers into the neutral zone FIVE times onto their home field win at crystal clear but Hundred Acre Woods blustery Mile High. Wanna know what was REALLY on Peyton's mind?
http://www.youtube.com/watch?v=JuzKTOqY47s
Running the ball extremely well gave Denver the advantage on the clock with Knowshon Moreno marking 82 yards with a touchdown on 23 carries, while former UW-Badger (and my favorite Bronco) Montee Ball who Big Ten strutted for 52 yards on just 10 attempts. No doubt folks (and not just because I'm a Broncos fan – yet perhaps so), Sunday's match-up between Manning and Brady is gonna be the weekend's game to watch!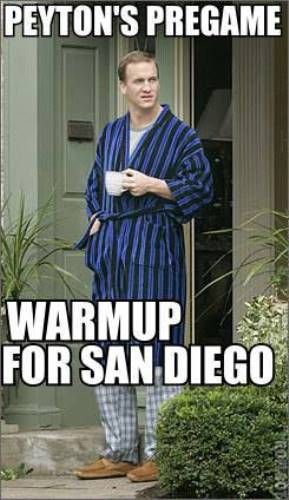 Most all of our pickers took it on the chin with the upsets of Wildcard Weekend, and this week the favorites all won given those that took them the clear advantage in our standings. Let's hear it for three of our players who all managed to go 4/4 gaining 24 points in the process. Choosing a more accurate tie-breaker score was the advantage for ray-ray as she claims first place this week with tesla and purplejacket4 also brilliantly getting them all right. Two AFC backing players went 3 outta 4, with booger bear's better tie-breaker taking the fourth place edge away from Yours Truly in fifth, while lingerdog and Manninup26 both had two picks right for 12 points each and sixth and seventh place respectively. Our pal scared&stronger finished in eighth place to round out the pack of pickers.

As expected with strong weekly picks the overall standings look pretty robust as well, with last year's Pigskin Picks Champion purplejacket4 and tesla in tie for the Playoffs to the Super Bowl round with 30 points apiece. A better tie-breaker by purplejacket4 has given her the edge to take the lead. Coming in third with 24 points is ray-ray while booger bear, also with 24, takes over fourth place. Yours Truly sits at 21 all by her lonesome in fifth place, while lingerdog and Manningup26 each have 18 total points for sixth and seventh place. In eigth place with 9 cumulative points is scared&stronger.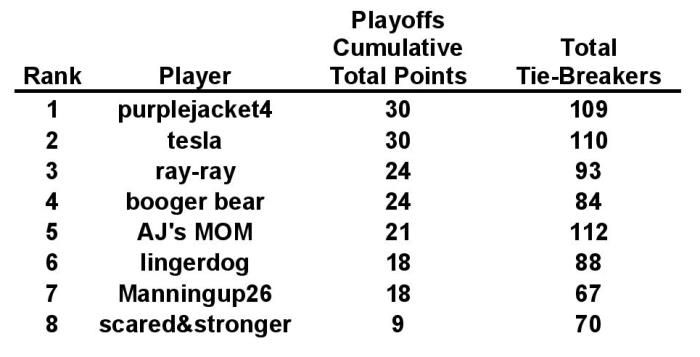 Hang in there folks, because in this round, winning picks are worth 12 points each, leaving 24 total points in the Conference Championship round up for grabs!
Get ready for some awesome football, folks – as the four best teams remaining duke it out for the chance to play in the wind, cold and snow in New Jersey!

N.F.L. Conference Championships
Sunday, January 19th

2PM CT
New England at Denver

5:30 PM CT
San Francisco at Seattle – TIE BREAKER GAME
ETA: Whoops...forgot something kind of important...I'm getting old...

PICKS ARE DUE BY 11AM Sunday, January 19th
Good luck, everyone! Have fun!!!

The Commish
[This message edited by ajsmom at 11:10 AM, January 14th (Tuesday)]
purplejacket4 posted 1/14/2014 16:07 PM
Hmmm,
Should I put down who I WANT to win or who I THINK will win....
Sigh
Denver (Go Wes!)
Seattle (boo hiss) 45

But really: GO 49rs!! (Go Michael Crabtree!!)
scared&stronger posted 1/14/2014 18:16 PM
lingerdog posted 1/14/2014 18:27 PM
Jen posted 1/14/2014 19:40 PM
N.F.L. Conference Championships
Sunday, January 19th
2PM CT

New England
5:30 PM CT

Seattle – 44 TIE BREAKER GAME
ETA: Whoops...forgot something kind of important...I'm getting old...
PICKS ARE DUE BY 11AM Sunday, January 19th
ray-ray posted 1/17/2014 19:18 PM
New England
San Francisco 31

tesla posted 1/18/2014 21:27 PM
ajsmom posted 1/18/2014 23:36 PM
Denver - Go Broncos!!!
Seattle 42
Manningup26 posted 1/19/2014 12:08 PM