SurvivingInfidelity.com Forum Archives
N.F.L. Pigskin Picks - Conference Championships - Super Bowl
You are not logged in. Login here or register.
ajsmom posted 1/22/2014 14:34 PM
FULL DISCLOSURE: Not gonna lie…I spent the Conference Championship weekend with my son, his girlfriend and their friends. They took VERY good care of me, which included a seat directly in front of my "own" television in a bar in Pacific Beach, California surrounded by fellow Broncos fans for the AFC game. Please understand – as a lifelong Broncos fan living among the Green and Gold, being amongst my peeps felt pretty damn spectacular. When I find myself in these situations I do what I have to do to enjoy every single moment. So I drank. A lot. A lot of everything. My son was buying. What can I say? That said, I remember most of the Broncos game in that the Broncos won pretty handily, the game was played in outstanding weather, the fans were loud and Pretty Boy was sent packing.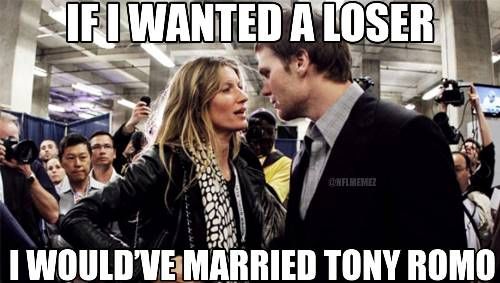 [

My recollection of the second game is a little fuzzier thanks to all those libations topped off with a celebratory Mile High Margarita. Something or another about the Seahawk's strong defense running amok against Captain Kapernick and Company. Something about Richard Sherman's trash talk yielding an end zone tip which turned into an INT which proved to be the dagger to the Niner's. Something about home field advantage and the 12th Man/Men/Women doing their part. In any case it's come down to a Broncos/Seahawks match-up for the Lombardi trophy and those gaudy rings.

Now that my head has stopped pounding, Super Bowl XLVIII will have the league leading offense playing against the league leading defense with both teams stacked deep with envious talent. It'll be the veteran record busting QB against the newbie scrambler. It'll be a smack talkin' good ol' boy showdown decided by which team can outlast, outcoach and outplay the other. It'll be a good one and I for one cannot wait to need Monday, February 3rd off as a recovery day.
With 24 points on the line this round, we had a plethora of prognosticators (as in 6) hit it squarely on the head by accurately choosing Denver and Seattle. Leading the pack with her more accurate tie-breaker of 31 under the 40 that was the total score of the NFC game is ray-ray.
Woo Hoo! Way to go, ray-ray!

Coming in second was YoursTruly, while Manningup26 took third, scared&stronger took fourth, tesla took fifth and purplejacket4 took sixth. Hitting one of the two games correctly for 12/24 points we have lingerdog in seventh while booger bear also with 12 came in eighth place as a result of her tie-breaker score.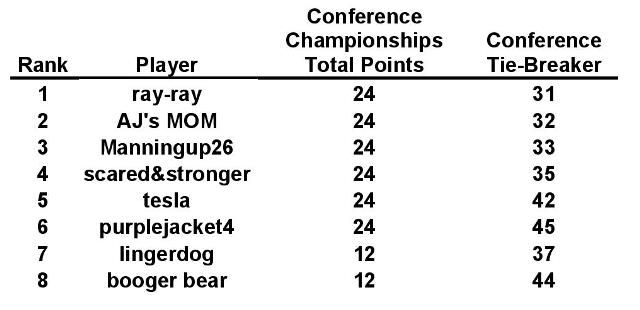 With 24 points left to get in our contest, the champion in the Playoffs to the Super Bowl round will be decided by the player who can more accurately chose (or in some cases, guess) the Super Bowl Champ of the two teams playing…it's really as simple as that, especially given the tight point totals in our standings. With tesla and purplejacket4 both having 54 points going into the big game, they are in command of first and second place respectively. In third place is ray-ray with 48 points, Yours Truly with 45 points and in sixth place is Manninup26 in fifth. In sixth place is booger bear with 36 points, scared&stronger is in seventh with 33 while lingerdog is in eighth with 30 points.

Hang onto your hats for some fun in the cold and snow and those crafty commercials!

Super Bowl XLVIII
Sunday, February 2nd
5:30PM CT
Denver versus Seattle
Your pick is due by Game Day at 11 AM CT. Please also pick a tie-breaker score.
Good luck everyone. Have fun!!!

The Commish
purplejacket4 posted 1/22/2014 17:03 PM
WHAT???
We don't get to pick TEAM DION versus TEAM JERRY?
Come on!!!

ajsmom posted 1/22/2014 17:05 PM



I should have added that as an additional points bonus.
"Pro" Bowl...snort.
Jen posted 1/22/2014 17:59 PM
purplejacket4 posted 1/23/2014 13:01 PM
lingerdog posted 1/24/2014 09:11 AM
ajsmom posted 1/24/2014 15:09 PM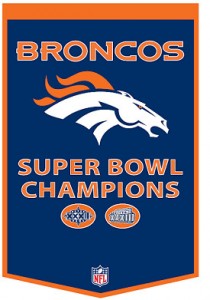 Gonna add another one here.
TB: 33

scared&stronger posted 1/28/2014 13:51 PM
Manningup26 posted 1/29/2014 20:50 PM
ray-ray posted 2/2/2014 06:39 AM
tesla posted 2/2/2014 08:34 AM