SurvivingInfidelity.com Forum Archives
After years of talking about it.......
You are not logged in. Login here or register.
Pages: 1 · 2
lynnm1947 posted 2/2/2014 11:04 AM
...I have bit the bullet. Tomorrow, after years of visiting the area and scouring MLS listings, I think I will put in an offer on a country cottage. Eeeeeek!!!!!!!! WHAT AM I DOING???? I've liquidated the assets for a sizable down payment, got pre-approved for a small mortgage, and am ready to plunge into The County-- Ontario's Prince Edward County, that is. Wineries, the Art Trail, nearby access to the massive sand dunes of Sandbanks Provincial Park......you wanna bet I will soon discover friends I never knew I had?
I'm a bit scared of the idea of two residences, when I barely have time for one, but I believe it's the right thing. It's where I want to retire, the real estate market is set to boom (all the signs are there) and there's no time like the present to snap up something reasonably priced. If I get it, there's a screened sun porch to keep bugs at bay, a small pool to practice your laps, and lots of good land for a vegetable patch. So......wish me luck (and mojo) as I dip my toe into Ontario's fastest growing vacation playland. And come and visit me at the cottage!
scarednbroken posted 2/2/2014 11:41 AM
Good luck!!! It sounds absolutely heavenly! I would like to retire in CA wine country.... Or Italy.

but that won't be in my card for sure. Lol. But your little slice of heaven....
How exciting, my friend!
GabyBaby posted 2/2/2014 11:42 AM
That's so cool!
Congrats!
lemony.2008 posted 2/2/2014 12:54 PM
Oh, sounds like a beautiful place!
Not to mention your granddaughters who would definitely love it there!
Btw, how far is it from T.O?
Good luck!

jrc1963 posted 2/2/2014 13:26 PM
Good Luck!!! Sounds wonderful!
somanyyears posted 2/2/2014 13:57 PM

..
..Lynn.. congrats.. it will be the best decision you ever made.. what's 'NOT' to like about a cottage???
..as long as you don't mind 'a few bugs'

can't wait to see pics..
smy

BAB61 posted 2/2/2014 15:13 PM
lynnm1947 posted 2/2/2014 16:55 PM
Thanks, everyone.
No water frontage, SMY, alas. Lemony, it's approx. 2 1/2 hours from Toronto

LifeIsBroken posted 2/2/2014 17:31 PM
GOOD FOR YOU, Lynnm ! I love 'success stories.'
kernel posted 2/2/2014 17:40 PM
Congrats, sounds wonderful! Future G2G?
somanyyears posted 2/2/2014 18:04 PM

..Lynn, you said there was a small pool???
..hey, that counts as water frontage

good luck..
smy

gahurts posted 2/2/2014 18:16 PM
Congrats lynnm. Looking forward to seeing pictures too.
lynnm1947 posted 2/2/2014 19:42 PM
My grandkids really would love this place. There's a small outbuilding that would make a perfect playhouse.
thebighurt posted 2/3/2014 01:15 AM
Sounds wonderful! Tons of luck and mojo!!
Ostrich80 posted 2/3/2014 04:05 AM
Sounds amazing...so happy for you!!

Lola2kids posted 2/3/2014 08:02 AM
Sounds absolutely lovely.
Sand Banks is a great Provincial Park.

DixieD posted 2/3/2014 09:08 AM
Congrats Lynn! Sounds great.
TrulyReconciled posted 2/3/2014 10:39 AM
It's beautiful!!!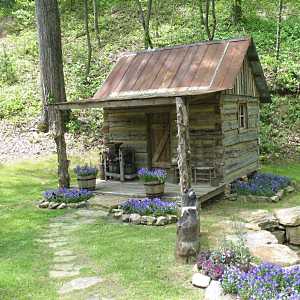 Jeaniegirl posted 2/3/2014 19:00 PM
Hope it's up by Lake Muskoka! That's where I'd LOVE to own a Canadian get-away !!
lynnm1947 posted 2/4/2014 07:57 AM



I didn't get it. I went out there yesterday with my inspector/builder and he threw up so many red flags, I didn't put in an offer. 1) Electrical system is a dog's breakfast. 2) Basement would be impossible to finish because of water issues. Inspector also says I'd have a hard time getting rd of the kitty pee smell. Cats have obviously been peeing on untreated concrete for years. 3) Kitchen (to renovate to my plans) would cost upwards of $50,000. (It's a HUGE kitchen--350 sq. ft.) The lovely screened sun porch's floor has cracks big enough to interest Rob Ford. Sigh. Sigh. SIGH!!!!!!!
I was so tempted to buy it anyway because I fell in love with EVERYTHING (except the strange kitchen layout) on the main level.
Pages: 1 · 2