SurvivingInfidelity.com Forum Archives
Tattoo's
You are not logged in. Login here or register.
Kelany posted 2/8/2014 22:13 PM
Who's got em' and what are they?
I have 4.
One that shall not be mentioned from a night when I was 21, drunk and high on pot. I want it covered.
Then I got 8 months after dday2 in beautiful strong script the words "I Am Enough" across the top of my back.
I have a Celtic sister knot on my left shoulder, that my sister also got the day after we buried our biological father. It was only the second time we had met in person. Hers is on the opposite shoulder and mirrored.
I have 5 bleeding heart flowers with my kids initials on my right calf with their favorite color. Couldn't do birth stones because one is diamond one is opal.
I'd like to get a lotus flower, not sure where, and maybe a tiny phoenix on my wrist.
And...I also have a few piercings.
GabyBaby posted 2/8/2014 22:39 PM
I've got three and plan to get one more.
My sisters and I all have the same flower.
I also have a Chinese character and a "girly" yin yang symbol.
(Edited to remove detail that could identify me in a police line up).

[This message edited by GabyBaby at 11:10 PM, February 8th (Saturday)]
TattoodChinaDoll posted 2/8/2014 23:31 PM
I think I have a few. I have over 60 hours worth...full back piece, a piece on each thigh (one was 9 hours), and a shoulder piece. Most of what I have is Asian/Chinese (I'm half Chinese...China Doll...get it). Things like lotuses, a dragon, peony, plum blossoms, a Chinese pagoda/water scene, Chinese pin up girl, panda...and some various other things like one for my oldest daughter. Next will be one for the middle and the youngest.
[This message edited by TattoodChinaDoll at 11:36 PM, February 8th (Saturday)]
Gottagetthrough posted 2/9/2014 05:59 AM
none.... yet

There are 3 that I would love to get. Have had them in mind for about 4 years now.

AmberDust posted 2/9/2014 06:59 AM
Mine are 3 geographical locations: exact location of birthplace of both kids, and where H said I Love You for the very first time, way back when we were dating :-)
stronger08 posted 2/9/2014 07:41 AM
I started getting inked long before you youngins round 1978 or so. In order:
Right Bicep, Attacking Eagle
Right Shoulder, Cruising Shark
Left Bicep, Irish Claddah
Left Shoulder, Celtic Cross. Ribbons with family name and my children's initials added later.
Left Back, Some sort of Lotus flower
Left Chest, Pretty cool Koi fish done by a visiting artist from Italy.
Plan on 2 more to cover the right Back and right side of Chest. Then I'm going to stop......
TattoodChinaDoll posted 2/9/2014 07:59 AM
Yeah...I said I'm never going to get another one after my first. We all see how well that turned out.
Kelany posted 2/9/2014 08:22 AM
Right TCD?
My husband said he would never get any, then he got a 9/11 memorial one for his PTSD therapy.
Now? He's planning his next, lol.
TattoodChinaDoll posted 2/9/2014 08:34 AM
The one I have for oldest DD is on my outer thigh. I will get the ones for the other two on top of my thighs. This will be painful in more ways than just getting a needle jabbed into me thousands of times. Because of things that can't be mentioned in off topic, I have a thing about my thighs. I can't even put my hand on my own leg without triggering. I can't even rest my phone on top of my thigh. I'm hoping I won't freak out being touched there that long. But I'm putting something important to me and the reason I try there.
BAB61 posted 2/9/2014 08:38 AM
None yet, planning on at least two. One to honor my girls, and one to celebrate my D.
Ascendant posted 2/9/2014 08:55 AM
5:
-Family crest on left pec
-generic cross w/demons I got when I was 18
-arabesque my wife and i both have on right tricep
-Hard-to-explain tattoo that my friend and I both got when we were independent pro wrestlers, in anime-style with graffiti
-penguin with cane, top hat and monocle with the words ''stay classy'' written underneath
[This message edited by FacePunched at 8:56 AM, February 9th, 2014 (Sunday)]
Gomphus posted 2/9/2014 09:04 AM
Good ideas all around. I have been considering ink for years but I have reached 'analysis paralysis'. I want my 3 daughters names but I can't decide the locations, fonts, and whether they should represent some aspect of their personalities. The location is fairly easy as I am pretty hairy and have few places they can go without being covered by hair. The font is so infinite I can't even begin. And the significance is tough. Ideally I'd like the actual art to reflect some aspect of their personalities since I know them so well but can never get passed the analysis part. I'd also like them to be balanced and 3 is an odd number. FOr example, one name on each bicep, but where would the third one go?
Good luck and enjoy the process!
AFrayedKnot posted 2/9/2014 09:37 AM

DS's birth footprint on my right forearm.
[This message edited by Chicho at 9:47 AM, February 9th (Sunday)]
turtle72 posted 2/9/2014 10:39 AM
I have one on my ankle - a tribal turtle I got when I was 23. I hate it now. It is big and the details are going. Looks like a big bruise. WH has a lot of ink on his arms and I love most of them.
I would love to get another. Was planning on one this spring but now I need to rethink what I want it to be.
simplydevastated posted 2/9/2014 11:41 AM
I don't have one, but I want one. I'd love an ankle tattoo, sort of like an anklet with a "charm" of my zodiac sign.
lostandhopless posted 2/9/2014 14:07 PM
I think I will get a big Jiminy Cricket next, to remind me what to do when people treat me in a way I don't consider appropriate... My left arm is sleeved, Panther on right bicep, Pegasus right forearm, eagle right pec and back has about 15 hours done so far.
unbreak_my_heart posted 2/9/2014 15:20 PM
This thread is USELESS without pictures!!!!

solus sto posted 2/9/2014 16:11 PM
I have "surrender" inside my left wrist.
Along the inside of my right foot, along the arch, I have the quote, "A living soul stands rooted and reaching." This reminds me to stay grounded AND to spread my "branches."
There will be at least 2 more. I plan a tree silhouette on the top of my right foot---with both roots and branches showing. And I will do something in my brother's memory one of these days---I still am working on the design.
I find the process of tattooing to be addictively wonderful. (But I'm weird like that--I find waxing exhilarating, too.)
Oh! I forgot--My daughter, her BFF since K, her mom, and I are each going to get ladybugs on our toes next time we're in Houston.
Kelany posted 2/9/2014 21:03 PM
holy hell! "Suurrender" fits so much in my life right now. I'm stealing that.
TattoodChinaDoll posted 2/10/2014 00:42 AM
Thigh


Shoulder/upper arm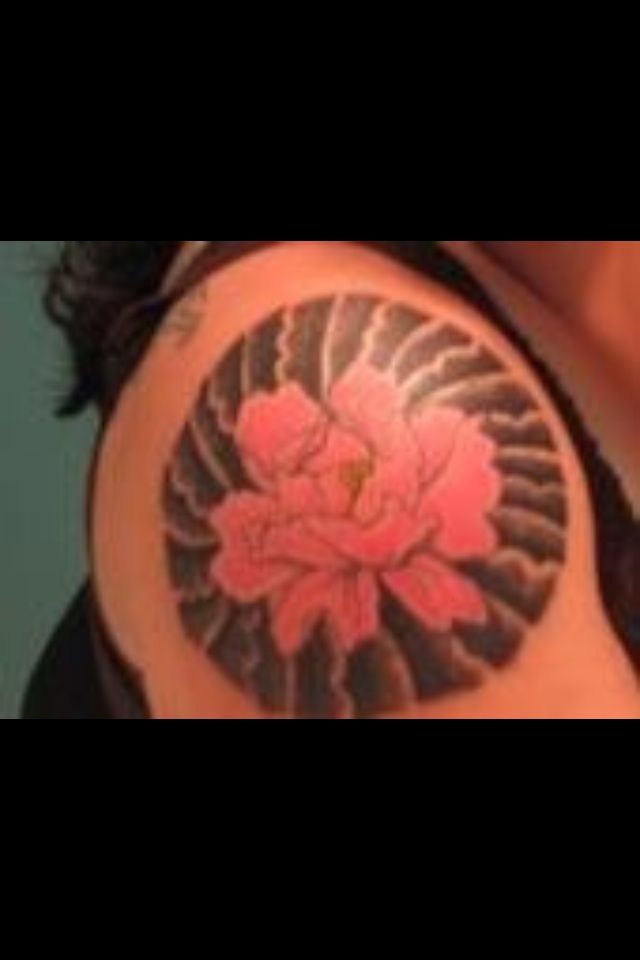 Thigh (This one took 9 hours. I sat for 7 before I couldn't take anymore)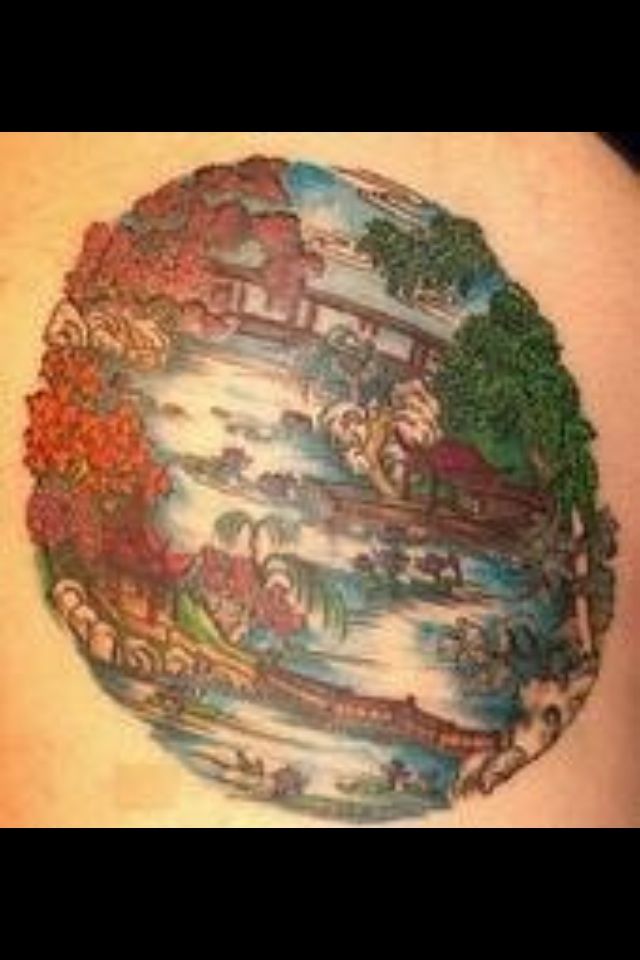 Top part of my back. The flames extend down to the word pride in Chinese. There are also two more nautical stars, my name in old English, and a treble clef.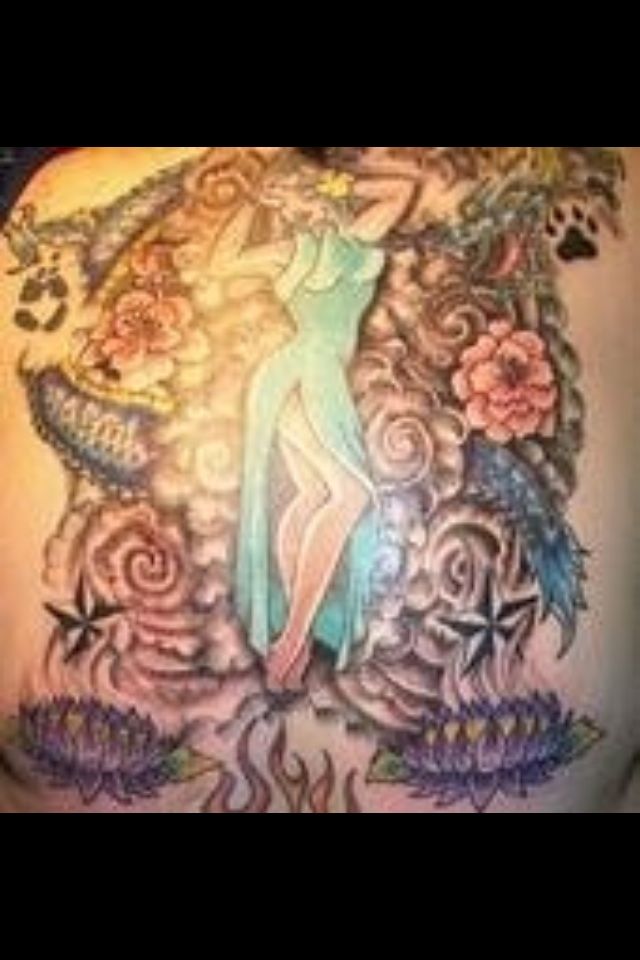 ETA: Holy ginormous pictures, Batman! My next two will be for DD#2 and 3. For middle DD I'm getting a fancy antique-y key to symbolize the key to my heart. There will be a ribbon through it with her name and the next line to You Are My Sunshine. For DD#3 I'm getting a hummingbird with her name in the tail and the next line to the song.
[This message edited by TattoodChinaDoll at 12:48 AM, February 10th (Monday)]