SurvivingInfidelity.com Forum Archives
Moving to Memphis
You are not logged in. Login here or register.
maxandsen posted 2/23/2014 23:14 PM
Needing advice on areas to live in Memphis. FWH and I will be moving to Memphis the first of March. Neither of us have ever been there and are not familiar with the area.
We will be renting either house, apartment, townhouse ...... Only plan on being there for 1 to 2 years.
We would like to be in a vibrant area, restaurants, bars and shopping preferably within walking distance. Our children are in University so we are not concerned about school districts.
We are concerned about the high crime rate
MovingUpward posted 2/24/2014 06:16 AM
I've never lived there but I have a friend that lives on the east of Memphis that seems happy. I remember staying at a Marriott on the SE side that a security fence and security gate around it so I got a bad feeling about that area. I've like staying around the Wolfchase Galleria area as I find that area to be pretty nice.
Hopefully others will chime in.
[This message edited by MovingUpward at 6:32 AM, February 24th (Monday)]
Justgreatnews posted 2/24/2014 07:45 AM
Not trying to upset you, but Memphis CAN be rough in some areas. My dad's family is from Mississippi, so I've passed thru there some, but don't really know the town, just its reputation.
Maybe you could find a Memphis area message board to bounce some questions off.
One thing for certain. Trust the traditional advice and your instincts. Possibly get a temp place, and do some driving around during the day and night. Pay attention to wear the money goes, where the better shopping areas are, etc.
Also, just across the MS border is a town called Olive Branch that is your typical suburbia, but it sound like you'd rather be in close, etc.
One last idea, use Google maps and look at the areas on satellite and street view. Very telling. Nice houses, swimming pools, country clubs? Better neighborhood.
Zillow is obviously a great real estate tool, and lots of pics.
TrulyReconciled posted 2/24/2014 10:24 AM
We are concerned about the high crime rate
You should be. I wouldn't want to live anywhere near Beale St. Visit, yes, live, no.
Every triangle below is a registered sex offender (from Crimereports.com) - alone. No other crimes shown.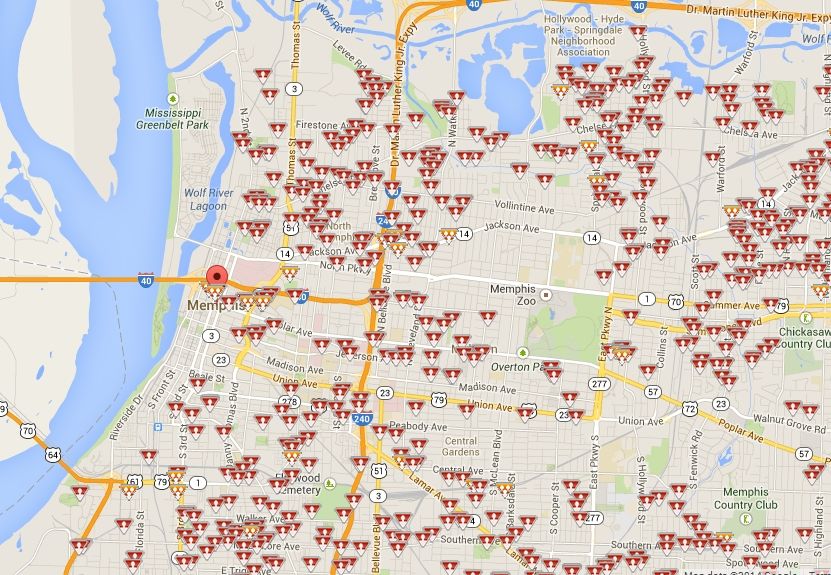 I'm sure people will disagree, but it's not unfair to say that Mephis didn't really recover from the 1968 riots like many other places.
(sorry for the dose of reality but I was there quite recently)
[This message edited by TrulyReconciled at 10:39 AM, February 24th (Monday)]
tushnurse posted 2/24/2014 12:57 PM
I would look for a burb of Memphis, and not in Memphis. Even on the other side of the river possibly.
We took a bike trip down there a few years ago to see DMB at the Minor League Stadium. It was a blast, the food was awesome, and had some fun sites to see. I was surprised by how economically depressed the whole Memphis area was, and I was really shocked at how much trash there was everywhere, on the interstate shoulders, on the sides of the city streets, etc. It was strange, but if you go outside of town, nicer areas, and more of a true "down south" feel.
maxandsen posted 2/24/2014 21:39 PM
Thanks SI peeps
Memphis was not our first choice but it should only be short term and we can live almost anywhere in or around the Memphis area.
Unfortunately it does not sound like we will be able to get what we are looking for

but we do have 30 day temp housing paid by the company before we need to sign any lease.
I thought moving to the Middle East was scary but Memphis has me very concerned

annb posted 2/25/2014 07:11 AM
My cousin took a new job in the Memphis area about two years ago...they live in Lakeland, a very nice community, I believe on the east side of Memphis.

It's not really a vibrant area, they have to drive most places, but for the most part it is safe.

[This message edited by annb at 7:12 AM, February 25th (Tuesday)]
InnerLight posted 2/25/2014 08:50 AM
I asked my SO since he's from Memphis. He said midtown and Germantown. Hope that helps!
itainteasy posted 2/25/2014 12:13 PM
FYI, Memphis is RIGHT on the Mississippi border. Housing is MUCH cheaper in MS. Southaven, Olive Branch, Hernando...those places are very close to Memphis, close enough to have a very short commute.
A lot of people that work in Memphis, live in Mississippi.
My fiance and I were considering moving to that area not long ago, and we decided if we moved, we would live in MS and work in TN because our money would go further.
Good luck!