SurvivingInfidelity.com Forum Archives
D & C scheduled for Tuesday. I need prayers.
You are not logged in. Login here or register.
Flatlined123 posted 3/9/2014 14:45 PM
Finally! Maybe this will help. I've had enough ultrasounds, blood tests and exams for awhile.
End diagnosis is that there is a suspicious thickening in the lining of my uterus. They are going to do a hystascope, biopsy and D&C.
Uterine cancer does not run in my family, but I'm terrified. It just seems like we're getting our life back on track and now this.
Then I start thinking things like what if I don't wake up from the anesthetic.
Can I please ask everyone to just take a moment on Tuesday morning and say a prayer for me? I need your good ju-ju coming my way. Thanks.
JaneDeaux posted 3/9/2014 14:54 PM
sinsof thefather posted 3/9/2014 15:04 PM
nowiknow23 posted 3/9/2014 15:06 PM
((((Flatlined)))) Sending you strength, honey.
Chicky posted 3/9/2014 15:18 PM
Of course. Think positive - you WILL be fine!
brkn_heartd posted 3/9/2014 15:40 PM
Sending a prayer for you now and on Tuesday. Feel free to tell the anesthesiologist that you are very nervous. They can give you something to help you.
Newme123 posted 3/9/2014 15:43 PM
Absolutely. Will pray that everything goes well.
looking forward posted 3/9/2014 15:59 PM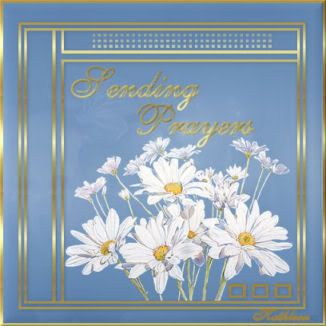 Thinking of you....stay positive!

deena04 posted 3/9/2014 16:30 PM
mainlyinpain posted 3/9/2014 16:32 PM
Hugs to you honey, let us know how you are doing afterward.
Pamper yourself and try to think positive thoughts.
jo2love posted 3/9/2014 17:15 PM
Sending hugs and prayers.
StillStanding1 posted 3/9/2014 17:17 PM
Absolutely. Prayers will be coming your way. Try to think positive!
yearsofpain25 posted 3/9/2014 17:25 PM
Thoughts and prayers are with you
jjsr posted 3/9/2014 18:11 PM
sending good thoughts to you
Lola88 posted 3/9/2014 20:05 PM
Sending you prayers and strength xxx
RidingHealingRd posted 3/10/2014 01:07 AM
My thoughts and prayers are with you. It is difficult but try to remain calm and positive.
Neverwudaguessed posted 3/10/2014 05:43 AM
Will be sending positive energy your way. Good luck; we will all be thinking of you <3
nekorb posted 3/10/2014 06:22 AM
(((Hugs)))
Just changed the label on my alarm for tomorrow morning to remind me to pray for you.
Anesthesia is scary for us, as patients, but remember that if the anesthesiologist thinks there is even the *slightest* chance you won't wake up, he/she isn't putting you to sleep. Period.
Take care of yourself. Let people help you.
TooManyYears posted 3/10/2014 06:24 AM
WhatsRight posted 3/10/2014 07:05 AM
Absolutely I will be praying for you!