SurvivingInfidelity.com Forum Archives
Can I share prom pics too?
You are not logged in. Login here or register.
Pages: 1 · 2
Rebreather posted 4/21/2014 17:13 PM
My baby girl and her boyfriend of two years.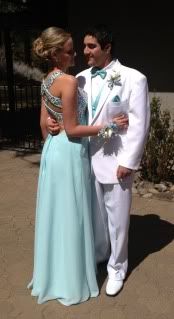 :-)
[This message edited by Rebreather at 5:14 PM, April 21st (Monday)]
wifehad5 posted 4/21/2014 17:22 PM
Very elegant. Beautiful

Waiting4Daylite posted 4/21/2014 17:25 PM
OMG, so beautiful! Finally a boy who looks "relaxed" when being photographed.

We should have a "when we went to prom" picts topic and compare the style changes.
Great picture Rebreather, she is so beautiful and he's not so bad himself. I love the coordinating color scheme. Nice to know some things don't change.
LosferWords posted 4/21/2014 17:35 PM
That is one classy looking young couple. Your daughter is beautiful.

nowiknow23 posted 4/21/2014 17:50 PM
Beautiful, Rebreather.

cinnamongurl posted 4/21/2014 21:47 PM
She's beautiful rebreather! They make an adorable couple!
Deeply Scared posted 4/21/2014 22:42 PM
Wow...she's so pretty!!! And she looks so happy

BAB61 posted 4/21/2014 22:46 PM
Nice pic ... love her dress!
Jrazz posted 4/21/2014 22:56 PM
Gorgeous. I just showed DD, and she can't BELIEVE I know "Elsa"'s mom.


woundedby2 posted 4/21/2014 23:19 PM
Beautiful!


authenticnow posted 4/22/2014 05:47 AM
So pretty! And I love that dress.

FindMyselfAgain posted 4/22/2014 11:49 AM
How pretty!
ETA: and handsome...cause most guys don't like being called pretty.
And they're so matchy. They look very nice together.
[This message edited by FindMyselfAgain at 11:52 AM, April 22nd (Tuesday)]
thebighurt posted 4/22/2014 12:57 PM
lynnm1947 posted 4/22/2014 14:00 PM
Cute couple, all coordinated. That colour is amazing on your daughter with her blond hair.
jo2love posted 4/22/2014 19:55 PM
She is so pretty! I love the color of her dress.

Rebreather posted 4/22/2014 23:59 PM
Thanks all! There was a lot of time, effort and moola involved in this production! lol They had a great time and got home safe, so all is worth it.
itainteasy posted 4/23/2014 08:51 AM
What a lovely couple!
Beautiful dress.
karmahappens posted 4/23/2014 10:10 AM
Ohhh so beautiful!
I loved when my daughter went to prom.
I miss those days..
She looked awesome and they look very happy together, just lovely.

ItsaClimb posted 4/23/2014 10:47 AM
So beautiful! And that dress... gorgeous.... love the colour!
Lalagirl posted 4/23/2014 11:44 AM
Wow. What a stunningly beautiful young lady.

Pages: 1 · 2