SurvivingInfidelity.com Forum Archives
New Poem I wrote today... "Not Alone"
You are not logged in. Login here or register.
She11ybeanz posted 4/25/2014 14:53 PM
So, I felt inspired.....in all like 5 minutes during my break it took me to write this poem. I haven't written one since I was pregnant... but I thought I would share!

NOT ALONE:
I feel like I've been in the dark so long…..
That I can't remember which way is right or wrong….
I shuffle my feet in a forward moving way…..
Knowing there is no good to stop and stay….
I'm scared and sad and do not know when….
This darkness will come to a final end….
The trail seems long, steep, and winding….
The past and current struggles seem oh so binding….
I don't know how I will find the strength to go on….
It all seems like hopeless night, no hint of a pending dawn…
Tears fall from my eyes….and I fall to my knees….
Dear lord just take me away…. I'm begging you please….
My sobs suddenly stopped and I was beckoned to stand…
With the grasp from the side of one tiny little hand…
She held on so tightly….her love glowed all around….
And for the 1st time in a long time…..I felt my heart pound….
She bravely stepped forward…pulling me near….
And said, "Mommy…the light is ahead…don't cry I'm here."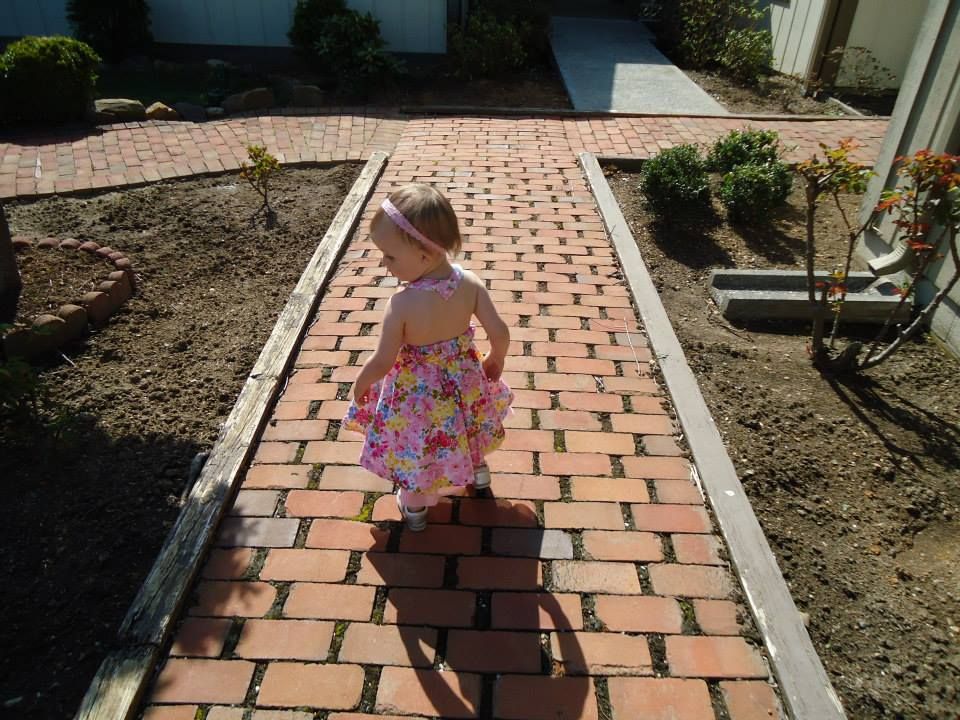 Want2help posted 4/25/2014 15:13 PM
Oh, She11y, that gave me GOOSEBUMPS. What a gorgeous little girl you have!
She11ybeanz posted 4/25/2014 15:16 PM
Thank you....it made me cry...and I wrote it!

She11ybeanz posted 4/25/2014 15:52 PM
I did write this prayer...but I didn't really call it a poem...for my Marine Corps Marathon (which was the last race I have ran back in October). I wrote it when we feared they would cancel the race due to the government shutdown.
Now I lay me down to sleep
I pray the government my race to keep
30,000 strong and we are ready to run
Please don't shutdown until we're done
We've trained real hard for months on end
And have an important message we want to send
We won't stop until we hit Twenty-six point two
The streets will bleed red white and blue
If I die before crossing the finishline
drag me across and get my official time...
For today isn't about medals or races at all
Its to honor those who fight, stand, and fall!

Run Strong. Run United. Semper Fi
And the below is my "Letter to baby" that I wrote while pregnant.....

Dear baby,

I have hoped and prayed for your existence long before you became a reality! You are my special miracle that God has chosen to bless my life with. I have carried you now 38 weeks today and with every movement, kick, and hiccup, I have fallen that much more in love with you! I can't wait to finally hold you in my arms, coo over you, spoil you, and love you for the rest of my existence and beyond!

I've had to face some challenges and heartbreaks throughout this journey, but the one thing that has always remained unwavering & constant has been my unrelenting need and desire to be the best mommy to you possible! This world can be an unforgiving place at times, but know this.... My love and God's love for you is infinite and endless! You will always be loved, feel safe, and hold a special place in my heart and life!

I hope that I can instill upon you as much love, wisdom, hope, faith, and courage to take on life positively and with a fearless demeanor the way my father and sister have taught me! It is important for you to know that you can accomplish anything you set your mind to and to never give up on your dreams! Be yourself and surround yourself with people that appreciate you for all that you are and will become! Never sacrifice your identity, individuality, and character for anything and fight for what you truly believe in! Keep your word...your promises... and your moral compass intact as they will help guide your heart and life in the right direction to happiness and self-contentment!

Just remember that no matter how hard things get, or how hopeless situations may seem.....when patience wears thin and life seems unfair; it is only temporary. Life's difficulties exist so that we may appreciate the good times that much more! You will prevail through many hardships and grow wiser and stronger for having survived them! There is always light at the end of the tunnel.....and always remember that I will be there with you....holding your hand.....every step of the way....in the dark...until we find it!!!

You are so very special to me and are my "something unexpected" that I had hoped for for such a long time. You are the best gift I have ever received and the most precious cargo I have ever protected! You are my life baby girl and I love you so very much! And, I can't wait to finally meet you! Please don't make mommy wait too awful much longer..... ;-) I hope that I can make you half as proud of me as I already am just to have the honor of being your mother!

I love you Piper!

Your mommy....

[This message edited by She11ybeanz at 3:52 PM, April 25th (Friday)]
IWantDoOver posted 4/25/2014 20:32 PM



Thanks for sharing.
May I make a suggestion? Next time you're feeling creative, jot down a few lines longhand to/for Nana and snailmail them to her wherever she's recovering. Drop in a few pics of Piper, also.
It's mean the world to her! And I guarantee that you'll feel great, too.
Have a good weekend, Shelly & Piper.
She11ybeanz posted 4/25/2014 21:58 PM
That's a good idea.....Nana is a couple of hours away now with her own mother for at least a month. I miss her already. I think I'm going to see if her Godmother wants to travel with us for a visit in a week or so and stay over the weekend. Piper is so smart.....we passed by the parking garage that leads to the hospital where she was doing her rehab before being discharged....we had visited over 6 times at least....and Piper started yelling "Nana Nana Nana!!!!" It surprised me how she remembered where it was..... and broke my heart a little too. We both miss her so much.... I gave her some of Piper's daycare art at the last visit..
Gottagetthrough posted 4/26/2014 08:02 AM
Oh Shelly that brought tears to my eyes! I have been having a rough time as mom (I feel like I have no idea what I'm doing)
This was absolutely beautiful & spoke to me
She11ybeanz posted 4/26/2014 21:04 PM
This was absolutely beautiful & spoke to me
Thank you.... writing and singing are outlets for me that I had forgotten how theraputic they were. Usually running is my biggest outlet for feelings of stress and being overwhelmed....but writing your feelings out in a poem can be very releasing.... or belting out one of my favorite songs too... I'm glad you liked it!

k94ever posted 4/27/2014 17:56 PM
She11ybeanz posted 4/27/2014 20:08 PM
Thank you K9....maybe in all reality.... SHE is the light that I have been searching for...