SurvivingInfidelity.com Forum Archives
Update on preggo Xena
You are not logged in. Login here or register.
Pages: 1 · 2
cryingdaily posted 6/20/2014 15:52 PM
Well she's still preggo. 5 days late preggo. This boy will have to learn that his Nana does not like to be kept waiting.

If she doesn't go into labor before, they have set the eviction date for Tuesday.

Stay tuned....it's almost show time!
Mama_of_3_Kids posted 6/20/2014 16:18 PM

Baby Birthing Mojo!!!
nowiknow23 posted 6/20/2014 17:17 PM
Time for some Mexican food! It worked for evicting my late ones.

jrc1963 posted 6/20/2014 19:28 PM
Eviction Date!!! I love it!!
jo2love posted 6/20/2014 19:44 PM
So excited!!!


metamorphisis posted 6/20/2014 20:45 PM
LOL.. eviction date!!
I can't wait to see pictures

. Wishing a peaceful entrance into the world for baby and his mama.

Mama_of_3_Kids posted 6/20/2014 21:30 PM
This is *our* version of Baby Watch...kinda like the Royals, but not

jrc1963 posted 6/21/2014 10:47 AM
Better then Royals... These are real people!

risingfromashes posted 6/21/2014 18:10 PM
Hey CD this is exciting! Keep us posted.
Kajem posted 6/22/2014 12:41 PM
Sending baby baking finished mojo.
cryingdaily posted 6/23/2014 19:57 PM
Well, the boy finally arrived. 8 lbs 2 oz and 21" born today at 5:25 PM.
Her water broke at 11:04 last night. I met her and Mr. Xena at the hospital and, while she had contractions all night, not much progress was made.
It took a bag of baby boosting juice to get things moving but he finally let go of whatever he was holding onto in there.
Here he is, His Royal Highness Prince Charming:
ETA: Trying to shrink the giant baby.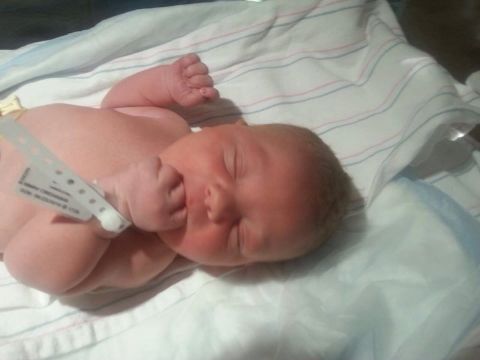 [This message edited by cryingdaily at 8:12 PM, June 23rd (Monday)]
jo2love posted 6/23/2014 20:01 PM
Congrats!!!! He is SO cute!!!

nowiknow23 posted 6/23/2014 20:08 PM
Awww! He's so beautiful!!

imagoodwitch posted 6/23/2014 20:38 PM
theroadahead posted 6/23/2014 20:39 PM
Congrats! Such a precious boy!
cryingdaily posted 6/23/2014 20:53 PM
Xena is doing great.
You know, she and Mr. Xena are both soldiers. Both physically and emotionally tough and pull off a hard image.
To see them....she going through labor and all that entails....and him, so nervous and then sobbing at the first sight of his boy. Made me cry happy tears.
They are both so in love with that baby.
MovingUpward posted 6/23/2014 20:56 PM
Congratulations to you, Xena, and the family. It's time to update your signature now.
BrokenButTrying posted 6/24/2014 04:50 AM
What a cutie! Congratulations to the whole family

cryingdaily posted 6/24/2014 08:39 AM
OMG, Moo....so since you reminded me, I updated my signature line and actually put him as GD instead of GS.
It's going to take some time to wrap my mind around a G-SON.

gahurts posted 6/24/2014 12:10 PM
Congratulations!! Prince Charming looks great! Glad mom and dad are doing well.
Pages: 1 · 2