SurvivingInfidelity.com Forum Archives
What's for dinner?
You are not logged in. Login here or register.
stroppy_wanadoo posted 7/30/2014 20:07 PM
Licking my wounds at home tonight alone... Ok, I'm pouting. Long story that doesn't matter, but resulted in something fabulous... A fresh basil cucumber martini accompanied by jalapeņo havarti, melted Brie and rosemary crackers. What did y'all have? Still hungry and looking for ideas!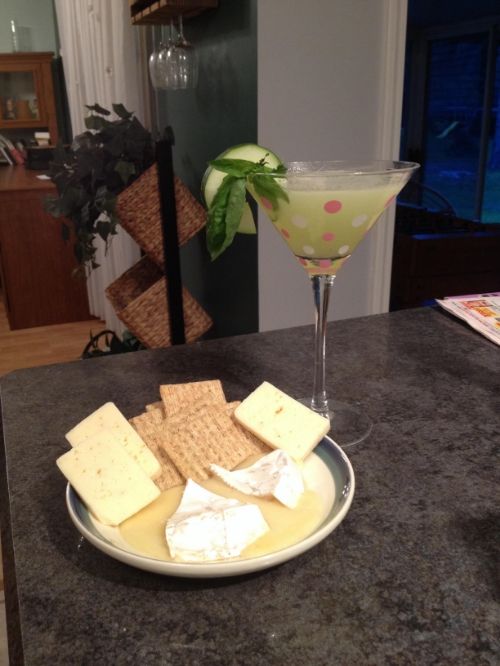 [This message edited by stroppy_wanadoo at 9:15 AM, July 31st (Thursday)]
LosferWords posted 7/30/2014 20:10 PM
Looks delicious!!

I'm in the process of making my son some shrimp fried rice.

ThoughtIKnewYa posted 7/30/2014 20:20 PM
We had country style steak, biscuits, and fresh green beans and potatoes we grew. I had forgotten how amazing fresh potatoes taste!!

stroppy_wanadoo posted 7/30/2014 20:27 PM
Hmmm... Fried rice! Excellent idea!
Sorry the picture is SO big! I can't seem to adjust it so well when posting from my phone!
ThoughtIKnewYa posted 7/30/2014 21:15 PM
The only problem I have with the pic is that I can't get to that Brie!!!


pizzalover posted 7/30/2014 21:28 PM
Can you give me the martini recipe? That looks AMAZING!
stroppy_wanadoo posted 7/30/2014 21:41 PM
The recipe was an experiment... Something along the lines of the following (and completely guessing at amounts!):
quarter cup of fresh basil, broken into pieces
quarter cup of cucumber juice (I put 1/4 cucumber in blender and strained out pulp)
Ounce of fresh lime juice
1/2 ounce simple syrup
Shot of gin
Shot of triple sec
Shake over ice and drink!
pizzalover posted 7/30/2014 21:44 PM
Thanks! I'm going to try it!
musiclovingmom posted 7/30/2014 22:00 PM
We had cheeseburgers. Opted for the thin style cooked on a super hot griddle tonight (as opposed to the thicker, grilled variety). Also, home-made shoestring fries with season salt. It was fabulous after the first cheer practice of the YAFL football season (is it October yet? Lol).
jrc1963 posted 7/30/2014 22:22 PM
We had:
Spaghetti w/ homemade sauce and homemade meatballs.
Salad
Birthday cake for dessert.
Amazonia posted 7/31/2014 08:47 AM
Nilla wafers and Blue Moon...


I don't have a problem...

stroppy_wanadoo posted 7/31/2014 09:05 AM
I continue to be so hungry this morning. Every single one of these things sounds good to me! Might have to do cheeseburgers for dinner... something greasy sounds WONDERFUL right now! (Uh, maybe I drank way too many veggies last night!)

itainteasy posted 7/31/2014 09:46 AM
I tried a new recipe last night. OMG SO GOOD.
http://buttoni.wordpress.com/2009/08/04/lebanese-baked-chicken/
You can basically use any vegetables that you want. I used red, orange, and yellow peppers, baby carrots, roma tomatoes, and a vidalia onion.
We had baked potatoes on the side, but next time I want to serve it over couscous or a tabbouleh salad.
stroppy_wanadoo posted 7/31/2014 09:55 AM
Oh... that chicken looks awesome!
musiclovingmom posted 7/31/2014 14:06 PM
S-W, believe it or not, our cheeseburgers weren't greasy. I know, I'm no fun. Made them with super lean ground elk with a tiny bit of ground beef just so they'd hold together. Hope your greasy cheeseburger hits the spot though :)
ISPIFFD posted 7/31/2014 14:51 PM
Last night I had a small (sized for a lunchbox) bag of Lays Potato Chips followed by a small bag of Cheetos Extra Crispy.

mmmmm
Tonight I'm hoping for a big Spring Mix salad with fresh basil and garden tomatoes, but I'm not promising anything. I still have a small bag of Doritos in the pantry.

nowiknow23 posted 7/31/2014 17:44 PM
Pizza. Delivered. I almost wore myself out opening the box. And don't even get me started on the clean up.


kernel posted 7/31/2014 21:55 PM
Steamed cauliflower and Cabbage Balushka. (cabbage, onions, egg noodles - Hungarian dish) YUM!

LosferWords posted 7/31/2014 22:12 PM
Mr. Goodbar tonight. Dinner of champions.
ThoughtIKnewYa posted 7/31/2014 22:21 PM
Taco Hell