You are not logged in. Login here or register.
Non-Dating NBs
Pages: 1 · 2 · 3 · 4 · 5 · 6 · 7 · 8 · 9 · 10 · 11 · 12
still confounded posted 3/14/2014 18:44 PM
Bumping for "new beginnings' who aren't dating now, yet, or even ever again...
littlefoggy posted 3/14/2014 19:59 PM
I started a blog. It is about being a single working mom.
I couldn't find any resources when all this started so I decided to make my own.
It has one post.
Amazonia posted 3/14/2014 22:15 PM
That's a great idea, littlefoggy! I hope it is filled with many entries soon.

I need to get back into self-care mode. I've been so focused on work lately that I'm letting a lot of things slide.
I bought an elliptical and now I need to find the motivation to get on the darn thing daily.

h0peless posted 3/25/2014 19:25 PM
I used to play the guitar in middle school and barely into high school. For some reason, I stopped. I found my old Stratocaster when I was going through stuff in my Dad's garage, brought it home, re-strung it and bought a cheap amp and have been spending an hour or so a day re-learning how to play. It feels really natural in my hands. I remember why I used to love it so much.
Amazonia posted 4/4/2014 06:47 AM
Bumping for all the recent graduates

Amazonia posted 5/9/2014 23:28 PM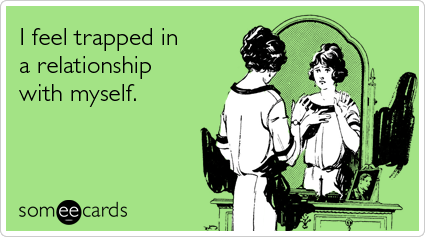 oh who are we kidding? I LOVE being with me!

[This message edited by Amazonia at 11:31 PM, May 9th (Friday)]
tesla posted 5/10/2014 08:40 AM
I am still happily in a non-dating NB!
Recently invited a young married couple over for dinner. While it appears that they have a good marriage, I was reminded of many small things that I don't miss about being in a relationship: the general give and take, the 'coupleness'.
So happy to be able to do what I want, when I want.

Amazonia posted 5/10/2014 10:22 AM
So happy to be able to do what I want, when I want.
Me too!!!

Even when it means being crazy and moving halfway around the world (much to my parents' disappointment

)
Ashland13 posted 5/10/2014 17:28 PM
Thank you, I like this thread.
I am warrior now, lone survivor battling life and single motherhood.
But there are many ups to combat the downs.
I take full credit for my kids growth.
I take pride in all the belongings that I wrested from the house and "saved" from Perv and Mrs. Perv.
And I move on now. Searching for things to fill my soul that can never be stolen away again.
Music. True friends.
And things fill my heart that are not guy related, though a date would be nice.
Just to dress up and not do kid things would be ok...someday.
Peace and children fill my heart.
Yes, I relocated old friends too, some I knew well before Perv as a kid.
There is one gal who for whatever reason, she and I spend most of our time in laughter-at ourselves or nothing-so I try to see her often because there isn't anyone else I know like this.
This is true laughter from the belly, at nothing...rolling on the ground, tears in my eyes...two adults, it's amazing.
One laugh was because a goat ate our shirts when we turned around to get grass for it. How do you not laugh at this?
Or playing music together and making such awful mistakes the instruments actually honk like a goose. And you're a grown up.
peacelovetea posted 5/10/2014 18:21 PM
I am building a career, which I have never had -- was a SAHM and dabbled in this and that, but now I am about 70% done with my doctorate! Today I put on an event at school that was kind of a big deal that went off without a hitch, and got me noticed in a big way by the new president of the university, who approached me after and said I need to work with him on a project he is starting.

I am finding things I never knew I could be good at and doing better than I expect. I am -- and its so funny for me to say this, I never used to believe it -- seriously stinking PROUD of myself.

Amazonia posted 5/14/2014 02:58 AM
I bought a kitchenaid mixer last week. I used it yesterday to make a flan for a potluck.

I've missed baking.
phmh posted 5/20/2014 18:53 PM
Took care of a parrot health crisis all on my own. WXH was a physician, so he was in charge of the animals' health and would typically medicate them, etc.
I noticed one of my caique parrots wasn't doing well, so I took him to the emergency vet and have been administering his medication, set up a hospital cage, etc.
Looks like he'll pull through and once again, it's something that really wasn't that tough to do!
Amazonia posted 5/21/2014 11:33 AM
I hosted a "Thanksgiving in May" potluck tonight. 14 people came. My bff made a turkey and stuffing; I made spiced cranberry pecan sauce, sweet honey laced dinner rolls, roasted veggies and a pumpkin pie. We threw the leaves in my dining room table, added a few folding tables, and youtubed how to carve a turkey (using a bread knife).
It went wonderfully. I love having a full house, as much as I love living alone (and sending them all out with tupperware of leftovers at the end of night lol), hearing laughter and conversation. I split up anyone who came together, told them they couldn't sit together, and a few people brought new friends who just moved to town, and it was so wonderful hearing all the laughter and stories and joy.
Wonderful. Just wonderful.

Amazonia posted 6/15/2014 18:59 PM
Bumping for Salt

phmh posted 6/15/2014 20:34 PM
I'm taking another dating hiatus.
Earlier in this thread, I'd posted about weathering a health crisis with a parrot. Turns out it was short-lived, as I had to have him euthanized this afternoon. So, so sad. I'd had him 8 years and he was only 16 -- he should live to at least 30. My house is so silent.
But, I managed to make the right decision and take care of things by myself.
In happier news, I set up my hammock today and managed to recode my garage door so I can use a code instead of the clicker.
Also, yesterday was the one year anniversary of when I closed on my house.
Things continue to look up, with a sad interlude.
nowiknow23 posted 8/22/2014 08:16 AM
Bumping for the newer NB members.

Amazonia posted 8/22/2014 12:09 PM
My latest have been more travel, and looking at picking up another degree, although not immediately. My goal is to stay overseas, so I'm looking at international MBA programs, and will hopefully find a job wherever I find a program I like! Not the most traditional way to do it, but I think it'll work out for me, especially since I'm patient with the timing.

Riskybusiness posted 8/23/2014 15:06 PM
My new beginning over the last 11 months has included:
Losing 50 pounds
Beginning a new job
Making new friends
Taking divorce care and grief classes
Self-care
Jogging
Making fun memories with my kids
phmh posted 9/12/2014 19:35 PM
This needs to get bumped!
1. Running another 50K tomorrow
2. Found out I can make pizzas with naan as crust. This might be life-changing.
3. Navigated finding a contractor to do some major work on my house -- signed the contract and it will be done before the end of the year.
4. I'm taking a woodworking class next month and I'm going to learn to carve an owl!
5. Because I apparently don't have much self-motivation lately, I have signed up for three yoga classes this fall -- I will force myself to do what's good for me!
StrongAlone posted 9/14/2014 09:02 AM
Thank you, this is lovely. Nice to know not everyone defines NB as dating! I'm so not there yet.
Pages: 1 · 2 · 3 · 4 · 5 · 6 · 7 · 8 · 9 · 10 · 11 · 12