It's our first big upset week folks, with seven teams favored against their opponents losing, and three notable usual powerhouses among the bunch: Green Bay, San Francisco and Philadelphia.

Ho.Le.Cow. Lookie who's 3-0! In honor of booger bear, we've gotta start out the recap with her Chiefs who rolled into Philly and took the wind out of the Donovan McNabb jersey retirement celebration by rolling out with their third in a row victory over the Eagles. The birds defense just didn't come to play and the Chiefs took total advantage, giving Andy Reid one of the best homecomings EVAR. Congrats once again, booger! Your team is on a roll!!!

A good friend of mine turns 60 this week and his wife decided to throw him a surprise party on Sunday wrapped in a football game. Folks chipped in to buy him an Aaron Rodgers autographed Super Bowl MVP helmet as a gift and that turned out to be the best part of the day as the Pack let 30 unanswered points go by the wayside in an eventual heart breaking loss to the Bengals. Normally cool Rodgers let McCarthy have a few words about not going for it on fourth and goal, opting for a kick instead which left the door wide open for the Bengals, which paired with some uncharacteristic sloppy play by the Pack leaves them at 1-2. Eventually a fumble by Green Bay's Franklin turned into another fumble by the Bengals when Terrence Newman swooped in for yet another fumble and a 58-yard recovery TD for the Bengals win. Good thing the Packers get a break this weekend with the season's first bye.
Who would have thought the Cowboys would be playing their way into contention in the NFC East? Surely it helps that they share the real estate with the Giants, Philly and Washington who all are stinking pretty large this season, with two teams (Giants and Redskins) Oooooohhh and 3. Still, with six sacks and Romo going 17-24 for 210 yard and three TD's, all their engines were firing on Sunday in their 31-7 rout of the Rams. One thing that is consistent about Tennessee's Jake Locker is his inconsistency. Well, except for Sunday that is, where he played scramble all afternoon to a close 20-17 win over the Rams, closing out the win in the final seconds. He just missed a 300 yard day with 5 runs for 68 yards, going 23-37. Wow! If only he could do that, well – more consistently.
I'm sure this is old news for many, but here's the best possible recap for the Browns vs. Vikings game: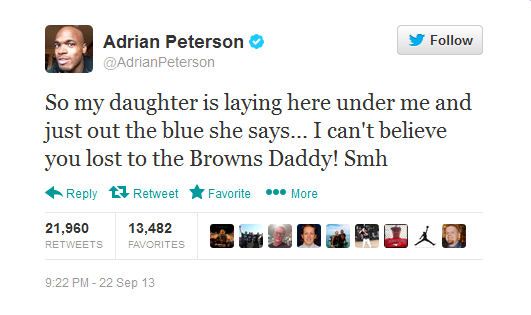 'nuff said.
Given their ravages to injury and the big arm of the law, the Patriots became the other "Whoda Thunk?" 3-0 team winning over Tampa Bay quite handily 23-3. Things seem to be clicking much better between Brady and his receivers while they wait for Gronk and Amendola to heal. Meanwhile in the Superdome, Drew Brees breezed the Saints to 3-0. Despite taking three sacks, he still managed to go 29-of-46 for 342 yards, four TD's (three passing, one rushing) and an interception for a 31-7 beating on the Cards. The final score wasn't the ugliest thing that happened during the game, however. I would count a player LOSING PART OF HIS FINGER as pretty awful, wouldn't you? AZ safety Rashad Johnson did just that, losing part of his middle finger on his left hand while recovering a punt. How? – one has to ask – as the replays aren't very clear. Still. STILL!!! No word yet on how long he'll be out and I'll leave the details of the surgery doctors performed to Google for enquiring minds that want – or need – to know.
Although RG3 played pretty well, his defense let him down, allowing 441 yards on the day and 1,464 offensive yards during the season's first three games on their way to a close loss to the Lions. He went 32-of-50 for 326 yards against Stafford's 25-of-42 and 385 yards with two touchdowns while both threw an INT. Wow – here's a fun fact for you – it's been 74 years (1939 for you math whizzes) since the Lions have beaten the Redskins away from home, which at 21 games, is the second-longest in NFL history. Interestingly, the Lions still hold the title for longest road losing streak at Lambeau. It was sad to hear of the passing of Tom Coughlin's younger brother this past week, and instead of firing up some of last year's famous Pagano rallying, the Giants fell to 0-3 failing to score in the Panthers – yes, the Panthers – rout of the G-Men, 38 to nuttin'. Guessing you all heard lingerdog screamin' on Sunday. Not much worked for them as the offensive line allowed Eli to be sacked three times in the first six minutes of the game for a total of seven all day, setting the stage for a zero time in the pocket just awful performance. The good news is Cam Newton looked like his old self just a wee bit, with 223 tossing yards for three touchdowns, while he rushed for an additional 45 yards in 7 tries for another score.
Nothing will kill good drives like dirty laundry, and two teams that seemed to be drowning in tossed flags were the Ravens and the Jets. In the first 20 minutes of their game, Baltimore was penalized seven times for 69 yards, including two personal fouls on Brant McKinnie. Luckily for the Ravens, Schaub had a worse day than a lackluster Flacco, getting sacked three times and going 3 and out 9 out of 12 attempts. Then we have the Jets, the best team in the NY/Jersey region who managed 20 whistles in their late afternoon to almost-interrupting-the-Emmy's tilt of the rookie QB's.
Here's what Oprah thought of that game: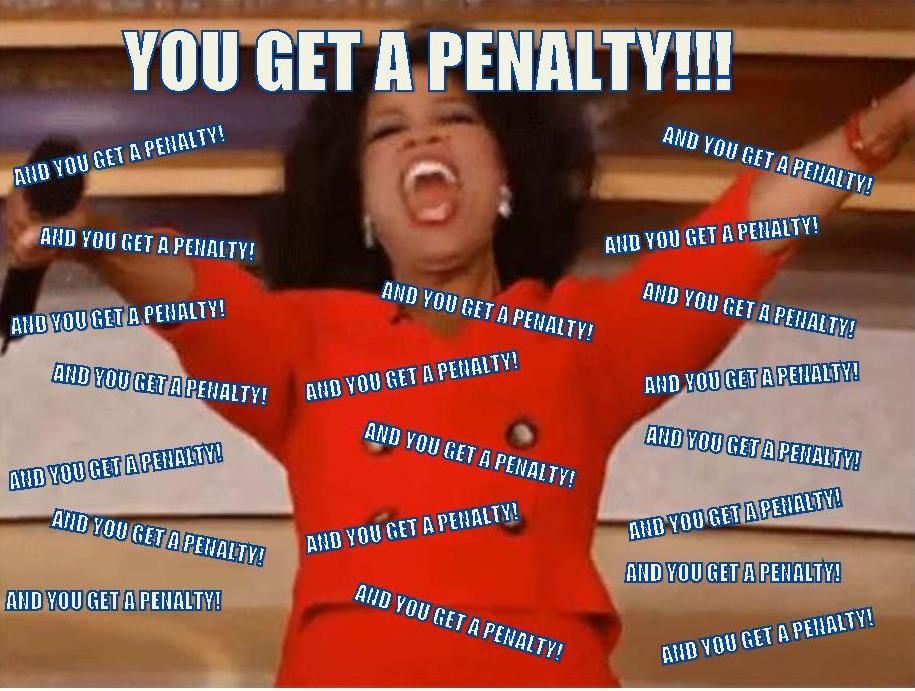 The 1972 Miami Dolphins went undefeated and 16-0 and the 2013 team is another of the week's 3-0 teams. Will history repeat itself? Not if they play the rest of their games this close. And although he was good on Sunday, can Tannehill keep it going? Naw. Probably not. Let's not get all crazy and stuff thinking that. Crazy best describes the downfall of the 49'ers since beating the Packers the first week and losing to Seattle BIG last week. The 10.5 favorites lost to the Colts 27-7 on their home turf and have the dubious honor of suiting up again in four days to play the Rams on Thursday night. Andrew Luck outplayed his college coach (and a Harbaugh at that) quite handily and with class.
What a yawner out west where Seattle, at a 19.5 point favorite pounded the Jags to another win in the loudest stadium in the NFL. This game had mismatch all over it. Let's just give a YAY! for the Jags scoring 17 in that skirmish and leave it at that. The last time the Steelers started the season 0-3, it was 2000, and gas was $1.51 a gallon. On Sunday, Da Bears took it defensively to them, scoring 23 off the D thanks to five Pittsburgh turnovers beating Big Ben and friends 40-23, going to 3-0, despite Ben going 26-of-41 for 406 yards (this week's high) and two touchdowns. Props to new head coach Marc Trestman, who along with Andy Reid, remains one of two new N.F.L. coaches of the eight hired this year to remain undefeated. Sure the Steelers snafus helped, but it looks like things are turning around offensively for Chicago. Getting a call reversal on a TD sure didn't hurt, nor does averaging 31.7 points per game in their first three outings and having your QB have a 90.8 rating day. (How's that, FacePunched?)

Finally on Monday night, Peyton and crew continued their roll to 3-0 beating the Raiders 37-21 in a game in which Manning set an NFL record for the most touchdown passes in NFL history through a season's first three games with 12, one-upping old leader Tom Brady. Move over, pretty boy – here comes the invalid. He also has yet to throw a pick. Oh, and they play Philly next. In Denver. Trust me, y'all. Take the Broncos.
Onto our prognosticator recap, where upset weeks usually shake, rattle and roll the standings. Taking first this week with a whopping 11/16 right is our pal tesla!
Congrats, tesla! Way to go picking those upsets! Woo Hoo!
The 9/16 correct crowd has three players with Yme leading the pack in second with her more accurate tie-breaker, sportsfan in third and lingerdog in fourth. Yours Truly led the pack of 8/16 pickers to take fifth, while JustmeVa came in sixth, ray-ray in seventh, purplejacket4 in eighth, and nowiknow23 in ninth. Rounding out the top ten was CantGetOverYou with 7/16 correct.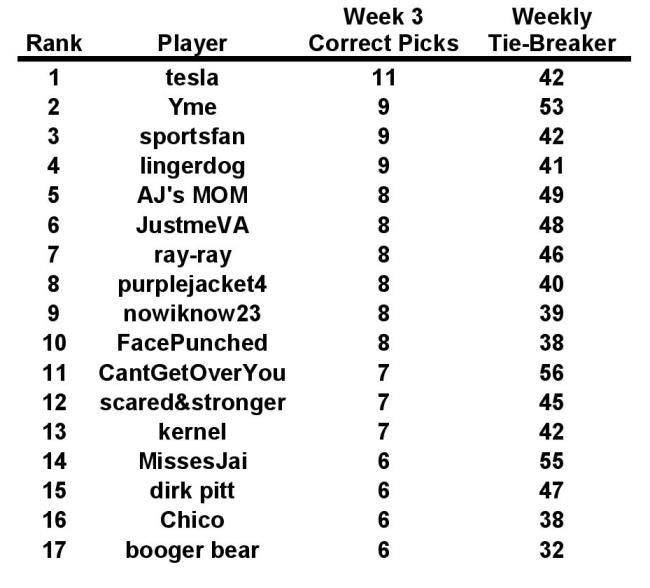 Not much of a shift in the overall standings, with JustmeVA continuing his reign as the leader with 32 cumulative points. Also standing with her place in second is purplejacket4 with 31. Woo Hoo! We have a battle for the top ensuing here, folks! Jumping up one spot to third is Yme with 30, leaping up three given her outstanding upset picks to fourth place is tesla also with 30 while MissesJai slips a wee bit to fifth with 29. FacePunched remains in sixth place with 29, sportsfan continues to hang onto seventh with 28, while lingerdog jumped up two spots to take over eighth with 27. Hanging onto ninth place is ray-ray with 25, while Yours Truly finally cracked the top ten with 25 overall.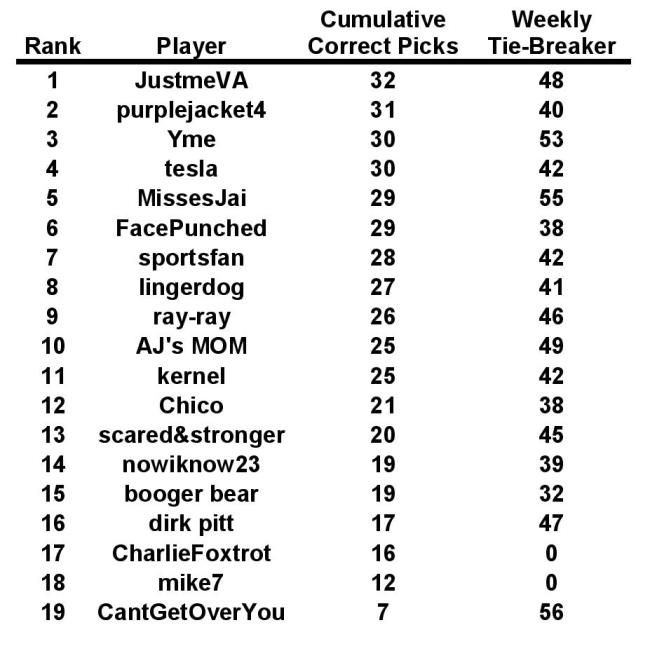 * * * IMPORTANT COMMISH ANNOUCEMENT * * *

Given the craziness that can be midweek, I've decided to institute an executive order and change the pick deadline for Thursday night games to help ensure all players get theirs in as it is becoming more and more important that every correct pick count.
Beginning this week, you will have until 5 PM CT on Thursday Game Day to get your pick for Thursday in.
The pick deadlines for Sunday and Monday Night games will remain the same.
Also, this week begins the bye schedule, so there will only be 15 games to pick. Please check your picks after you post them to make sure you have a winner chosen for each game, and finally that you have all 15 games listed and you provide a guess as to the total tie-breaker score for the Monday Night game.
ETA – Almost forgot –

– The NFL goes to London this week, and the game between the Pittsburgh and Minnesota has been assigned as a Minnesota home game. Don't forget to factor in that jet lag, peeps! Here are the Week 4 matchups:

N.F.L. Games – Week 4
Thursday, September 26th
7:25PM CT
San Francisco at St. Louis
Thursday's game pick is due by 5 PM CT Thursday, September 26th

Sunday, September 29th
NOON CT
Baltimore at Buffalo
Cincinnati at Cleveland
Chicago at Detroit
NY Giants at Kansas City
Pittsburgh at Minnesota (Being played in London)
Arizona at Tampa Bay
Indianapolis at Jacksonville
Seattle at Houston
3:05 PM CT
NY Jets at Tennessee
3:25 PM CT
Philadelphia at Denver
Dallas at San Diego
Washington at Oakland
7:30 PM CT
New England at Atlanta
Monday, September 30th
7:30 PM CT
Miami at New Orleans - TIE-BREAKER GAME
Teams on Bye Week: Green Bay, Carolina
Sunday and Monday game picks are due by 11 AM CT, Sunday game day.
Good luck, everyone! Have fun!!!
The Commish