I can't imagine anyone having a worse week than Lane Kiffen. You know, the head coach of USC who was fired in an airport terminal? Yea, that guy.

Well, that was until yesterday morning at work when I fired up my USB drive that holds the past several years of S.I. Pigskin Picks data to post the winning teams. All the years, neatly filed away in individual folders within individual folders within – yes – even more individual folders. I went to the 2013 folder only to find it nearly EMPTY. A bit of panic ensued, but like a kicker with an ingrown toenail, I pressed on. The folders for Weeks 1-3, 2013? GONE. The folder with the 2013 ginormous spreadsheet that houses individual pages for each week's games, a totals sheet, all your names, all your picks for the year's games thus far neatly typed in and the numerous freaking Excel formulas that connect all these pages to make it all click? GONE.

By now, full blown "WHERE THE HELL IS MY XANAX?" kind of panic ensued. I started an NSA worthy search of the drive as having worked on it as recently as early Saturday afternoon, I figured I must have accidently moved them. I searched EVERYWHERE.

Big. Fat. Donut. Hole. Results.

I got home in the evening hoping upon hope I had somehow moved folders and files from the flash drive to the C drive. Nope. Nadda. Nothing. In retrospect, who does that?

Luckily, I think ahead (sometimes) and had already copied the spreadsheet into a new folder for next year, so I had the skeleton with enough to go forward this year. (Thank God it's only week 5; neither I nor my liver can imagine recreating this in week 12). At any rate, I did my best to recalculate everyone's picks. I am pretty sure I got it all right, but you must know right out of the gate there was a little Leinenkugel's Summer Shandy involved. Like Santa, I've checked the list twice and think we're good to go. If not, please PM me and include some extra Xanax for me, wouldaya? And yes, smartasses – it's now backed up. I did quiz the roomie whether she was on the computer (we share hers) and if she may have seen the files. To which I got nowhere, so either they disappeared into a cloud or I had a momentary flash of downright stupidity and deleted them. I'm thinking no on that. Again, who does that? Hence the tardiness today with our recap. Thank you for your patience.

Enough about that – here we are, just a bit under a quarter into the season, and we've already got some teams definitely vying for post season contention. I realize it's bad juju to say that and trust me, I don't want to jinx anyone, especially with there being a boatload of football left. Four of the five 4 and 0'ers are teams that no one is surprised is here and then there is that other squeaker team that continues to astound the football world. Let's start with the dominators, a.k.a. The Denver Broncos, shall we?

Not much to dislike in this record setting win against the Eagles – here it is by the numbers: Peyton: 28-of-34 for 327 yards in just three quarters of play, while he rested the last 15 minutes. The team set a franchise record for most points scored in a single game with their 52 clicks. One of the best plays of the day? Trindon Holliday's 105 yard punt return for yet another TD. Manning now holds the record for 16 touchdowns thrown in the first four games of the season. Oh, and he maintains his perfect no INT's season thus far. Seattle was close to going 3-1, what with being down 20-3 in the third quarter and 20-6 going toward the final whistle. That is until Russell Wilson finally caught a whiff of something and was able to finally get through the Houston defense to do some quick footed scrambling for 77 yards to pull out the squeaker by three over the Texans and a bloodied mess called J.J. Watt. WTH happened to him anyway? He wears a helmet WITH a facemask, no?
Despite a show having been put on by 17-year veteran Tony Gonzales of the Falcons, the Brady Bunch was able to top Atlanta on Sunday night, extending their win streak. Brady went 20-of-31 for 316 yards and two touchdowns. Gonzalez in the loss caught 12 balls for 149 yards and the two touchdowns. He's been playing for 17 seasons, folks. Yowsa! It was all Brees on Monday night as the Saints took on the Dolphins, the winner to go to 4-0, the loser to post their first loss. The Saints won their ninth straight MNF game as Brees threw for 413 yards and four touchdowns on 30-for-39 passing to finish with a quarterback rating of 144.5. He put up a bunch of other numbers too: He's now ranked 6th on the all-time passing yardage list, has 47,353 career passing yards and 334 career touchdowns. They'll take on the Bears on Sunday. Unfortunately, there wasn't much Ryan Tannehill could do with that sort of arsenal on the other side, even though he passed for 249 yards with a TD. His four turnovers on a fumble and three interceptions certainly didn't help matters much.
Onto that squeaker bunch – can you believe the Chiefs? This team is starting to look for reelz as they rolled over Baby Brother Manning and the G-Men 31-7. Nothing like pairing a talented team with a real coach for some success. Yep, that's how that works. The Chiefs fans may be onto rivaling the Seahawk Nation for loudest home base, which at times made it difficult for Eli to hear his signals. Too bad, so sad for Eli – right booger bear??? Best play of the game? Has to be Dexter McCluster's Madden style video game punt return for an 89 yard TD. Here – check it out: http://www.kcchiefs.com/media-center/videos/Dexter-McCluster-89-Yard-Punt-Return-Touchdown/24d6f921-d957-4adc-b856-f8ffa17652ef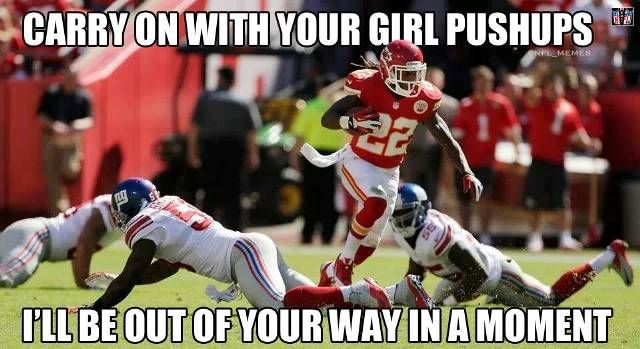 Hey…wait a minute, Dexter…that's how I do pushups!
Woo Hoo! Washington finally won! It looked like an 0-4 start for the Redskins before RG3's gears were finally greased and the defense went all ca-razy on the Raider's Matt Flynn, who, stepping in for a concussed Terrelle Pryor, was sacked seven times. Welcome back to the NFL, Matt! Ya gotta wonder if Griffin's knee is still a problem as he's not looking like the RG3 of yesteryear, though his 18-of-31 for 227 yards and a touchdown were enough of an effort for the win. In St. Louis, the 49'ers came busting back after a couple of bad losses to beat the Rams by 24 points, showing the naysayers they're not quite just yet. Honestly, both QB's had abysmal numbers: 5 out of 23 and 167 yards with two TD's for Kapernick and 19-41 for 202 yards and one TD for Bradford who also turf dined five times on the day.
Can you imagine having bought your tickets for the annual London game months ago and the two teams you get to watch are both 0-3? The Steelers ended up traveling 3,725 miles to stink up Wembley Stadium in a heartbreaking, almost pulled it out loss to the Vikings on Sunday afternoon. Taking their "home team advantage" seriously, the Vikings led throughout and had to stave off a late game 10-point surge by the Steelers to send Big Ben and his team packing back to the US winless, their worst start in 45 years. Looks like AP loved the foreign soil, getting two TD's and 140 yards on the day, and in the process, hopefully saving face with his daughter. Arizona made another team – the Bucs – an 0-4'er, with Jay Feely's 27-yard field goal with 1:29 remaining for the come from behind win. It's somewhat ironic that the Bucs benched Josh Freeman due to his turnover and accuracy "issues" for Mike Glennon who did nothing more but provide the same. I hear Tebow's available.
Meanwhile in the NFC North, Reggie Bush came back in form with a season-high 139 yards rushing and a score on 18 carries, while Jay Cutler had a rotten day, throwing four interceptions for the day, two of which were tossed in the first half alone along with a strip sack. His attempted bounce back by tossing a pair of touchdown passes and 2-point conversions in the final 4 minutes couldn't erase the deficit the Bears early sloppy play brought and Chicago took its first loss on the chin. It's a good thing that although the Colts didn't play their best game they Lucked out by playing the continually winless Jags on Sunday to go to 3-1. Playing to a nearly empty stadium, the home team watched Blaine Gabbert, who took over the QB reins from backup Chad Henne, put up 8th grade second string QB numbers, going 17-of-32 for 179 yards with three interceptions, one of which was a pick six. Something tells me the next time the Bat Phone rings, Henne answers. Again.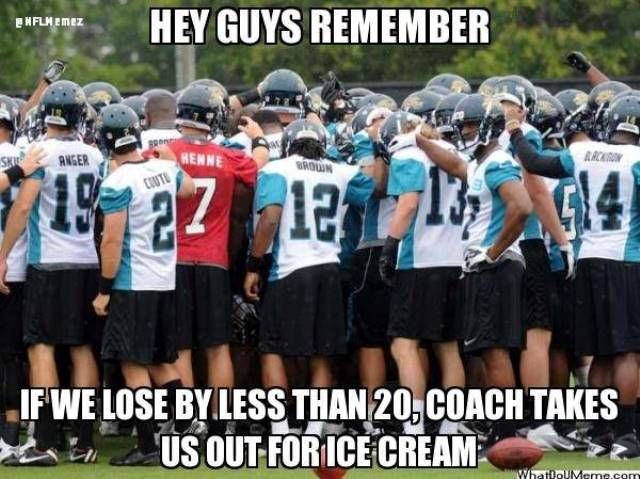 Aw, jeez – a red zone fumble that just bites ya right in the as…stomach. That's how the Cowboy's Terrance Williams must have felt, who while stretching for a TD was hit by Crezdon Butler causing the fumble, allowing Sandy Eggo to recover the ball for a touchback and the win. A nice one at that, seeing Dallas was up 21-13 at the half. Philip Rivers had a spectacular day – no, seriously! – going 35-42, with 401 yards and three touchdowns. Even a pick six didn't spoil things. Well, at least this week it's a different Cowboy giving Jerry Jones insomnia. What the hell is going on in Cleveland? The Browns win – again – and the Indians are in the MLB playoffs? Huh??? This week's "local boy turns hero" award goes to back-up QB Brian Hoyer of the Browns who in his first home start, threw the game-clinching touchdown pass for the win against the Bengals. It's kind of cool when your childhood dreams come true, isn't it?
Let's hope that it's newborn sleep deprivation that has invaded Joe Flacco, the QB that played his way into elite status. Lemme get this straight – you blow the Texans out of the water last week and then lose to the Bills? I suspect five turnovers didn't help his efforts at all, especially that last one. Aw jeez, again – just when things are going in the right direction for Jake Locker following his excellent game last week, he goes down for the count with a hip injury. New York Jet Geno Smith wasn't hurt, but he sure played like it, posting four turnovers including a strip-sack coughing up 28 points for Tennessee in the Jets loss to the Titans. Let's hope those rookie nerves subside soon – this guy can be good. He really can.
We had fewer upsets this week for sure and a little jostling and elbowing for Top Dog in our pool. Congrats goes out to MissesJai who wins her first week this season (I think anyway – that's one of the files that's missing

) with 11/15 correct picks and the spot-on choice of 55 as her tie-breaker score. Kudos for hitting that t-b score, MJ!

Woo Hoo! Congrats, Misses Jai!!!


Also with 11/15 correct, in second place we have lingerdog and The Empress herself, nik in third. Coming in right behind in fourth place is last week's winner, tesla, with 10/15 correct. Also picking ten correct we have ray-ray in fifth place, kernel in sixth and perennial Chiefs Fan EXTRAORDINAIRE, booger bear with her hold on the Elway spot. Rounding out the top ten we have Yme with 9/15 correct for eight place, scared&stronger in ninth also with 9/15 and purplejacket4 in tenth with 8/15 correct and a higher without going over the tie-breaker than the rest of the one-more-than-half-right pickers.

Here's where things get interesting, folks. With her big win and most accurate tie-breaker score pick, MissesJai busts up to the lead from fifth last week in cumulative points with 40. Also with 40 we have tesla now in second from fourth last week and JustmeVA who held the top place last week who is now in third. Reigning champ purplejacket4 is in fourth with 39, and in fifth also with 39 we have last week's third place winner Yme. Rounding out the top ten we have lingerdog in sixth with 38, sportsfan in seventh with 36, and also with 36th in eighth and ninth places respectively, we have FacePunched and ray-ray. Our friend kernel bumps up to crack the top ten this week from eleventh place last week with 35 correct overall.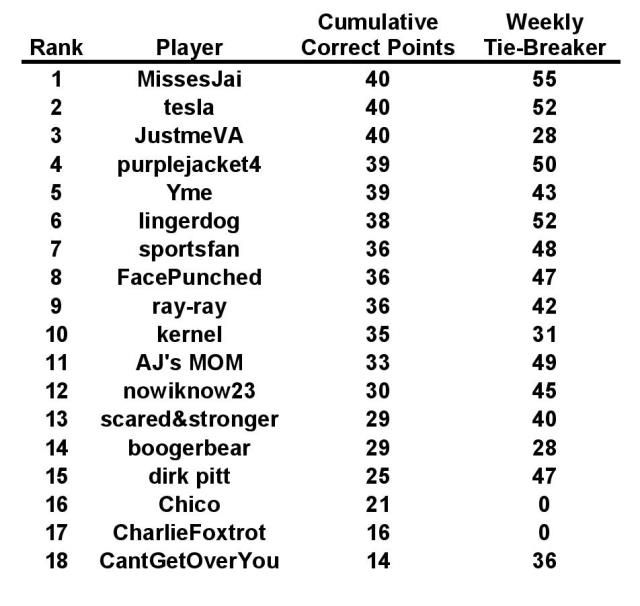 Great play, everyone!

Be prepared for a barrage of pink on the field this weekend, as the N.F.L. starts its support of Breast Cancer awareness for the month of October. As the sister of a survivor and a huge fan (can you tell?), this makes me grin from ear to ear to see big, burly men in pink. This week we also enter our big bye weeks, with four teams off which means there are two less games. All the more reason to practice safe prognostication, folks!

N.F.L. Games – Week 5
Thursday, October 3rd
7:25 PM CT
Buffalo at Cleveland
THURSDAY'S PICK DUE BY 5 PM CT, THURSDAY, OCTOBER 3rd

Sunday, October 6th
NOON CT
New Orleans at Chicago
New England at Cincinnati
Jacksonville at St. Louis
Baltimore at Miami
Philadelphia at NY Giants
Detroit at Green Bay
Kansas City at Tennessee
Seattle at Indianapolis
3:05 PM CT
Carolina at Arizona
3:25 PM CT
Denver at Dallas
San Diego at Oakland
7:30 PM CT
Houston at San Francisco
Monday, October 7th
7:30 PM CT
NY Jets at Atlanta – TIE-BREAKER GAME
SUNDAY AND MONDAY PICKS ARE DUE BY 11 AM GAME DAY, SUNDAY, OCTOBER 7TH
Teams on Bye, Week 5: Minnesota, Pittsburgh, Tampa Bay, Washington
Have fun, everyone! Good luck!

The Commish