It seems every year we have to bow (or in some cases like this week shake) our heads to the tragedies that befall the NFL brotherhood. This week was no exception as the world faced the passing of Adrian Peterson's two-year old son, allegedly at the hands of the child's mother's boyfriend. Our thoughts and condolences to all involved. Senseless. Simply senseless.

We begin this week's recap by taking a look at the two teams still undefeated that happen to reside in the same conference and in the same division to boot. Kansas City continued their Cinderella Season with a sack-a-poolza win over the Raiders on Sunday despite a less than stellar QB performance out of Alex Smith, who finished 14-of-31 for 128 yards. Good thing the Chiefs D played well, tossing Terrell Pryor to the dirt 10 times. And besides, they were playing the Raiders.

Despite setting an NFL record for the largest point spread at 27 against the hapless Jaguars, Denver managed to let them score 19 playing tough enough to send bookies scrambling in Vegas while beating them by only 16 to continue their win streak of 17 straight regular-season games, tied for the 4th-longest streak in NFL history. Denver didn't play their best game. Still, they were playing the Jaquars.

These two wins sets up some exciting football in the weeks to come, with the teams facing off in weeks 11 and 13. Let's see who's likely to remain unbeaten, shall we? The Chiefs have the suddenly self-destructing Texans and Browns at home (and as booger bear pointed out in last week's thread, the newly crowned "Loudest N.F.L. Stadium") then play the Bills before the matchup with Denver on the road. Week 6 won/loss records have the Texans at 2-4 who are currently on an uncharacteristic four-game loss skid; the Browns are 3-3 and the Bills are 2-4, including a two-game loss streak. I'd say their chances are quite excellent, actually – wouldn't you?

The Broncos have the Colts, who are now 4-2 with their loss last night to San Diego, in Indy, then play Washington who dropped to 1-4 this week at home before traveling to San Diego to take on the Chargers before the Chiefs show up at Mile High in Week 11. The Colts will be a tough game for the Broncos, what with all the "What was Indy thinking when they dumped Peyton?" rhetoric going on and with their loss last night, there will be some vengeance in the air. Though they're skidding now, Washington and the Chargers have proven more than once they can be true spoilers (READ: I never know when to take either of them). Regardless of who is where in the standings, that game is gonna be a great one!

On the reverse side of the universe, the Giants slid to 0-6, taking another hit to Giant fans' memories of Super Bowl XLVI and all but clinching not being able to host the Big Game this year in their loss to Chicago. It's tough and sad to see Eli struggle so much with so little protection. Then there's the INT's…geezelouise…he tossed numbers 13, 14 and 15, on pace to beat George Blanda's 1962 record of 42. On the other side of the ball, Cutler played consistently well, going 24-of-36 for 262 yards with two touchdowns. The biggest news for him? No sacks. It took a field goal in OT for Cincinnati not to formerly blow a two TD lead to beat the Bills. Getting the start for Buffalo was back-up QB Thaddeus Lewis who despite going out with a sprained foot had an impressive day, going 19-of-32 for 216 yards and two touchdowns.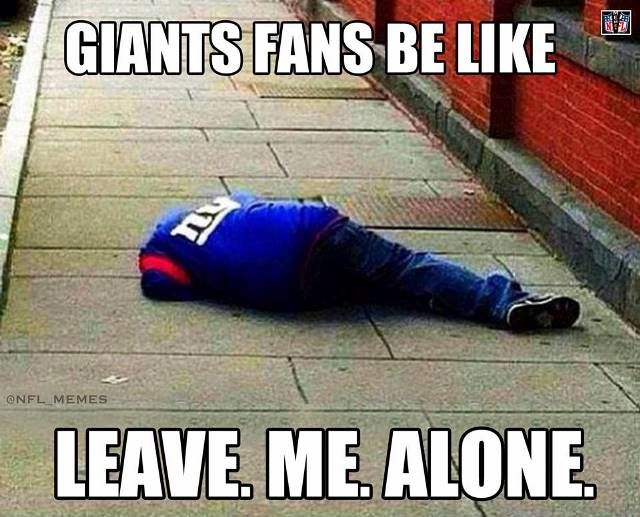 In my toughest pick of the day, the Browns disappointed me yet again by losing to the Lions. Things started out so well with Cleveland up 17-7 at the half before Detroit made all the halftime corrections they needed to erase a penalty driven, tough-calls-by-the-refs first quarter. I think a coin toss is the only intelligent way to pick these guys going forward – after next Sunday – when they play the Packers. It's safe to say the world wanted Adrian Peterson to do well on Sunday and for the Vikings to pull out a victory on the road in Carolina. Unfortunately, he couldn't do it alone. Nothing went right for them with a lackluster defense and an ineffective offense who couldn't stop the Panthers from leading throughout the game and a way low performance day of 62 yards on 10 carries for AD. Benefitting from the Vikings performance was Cam Newton, finishing at 20 of 26 for 242 yards, three TD's, and 30 rushing yards with another TD.
The Eagles finally made it to Even-even-land with a win over Tampa Bay without the help of injured Michael Vick. To be fair, they were playing Tampa Bay. Nick Foles started for the injured Vick and went 22-31 for 296 yards with three TD's and a running score. Tampa Bay fell to 0-5 which makes Chip Kelly, rumored to have been signed as the Buc's head coach for like 7 seconds before he changed his mind and went to Philly, a very bright man – indeed!. Injuryitis continues in Cheeseheadland, as receivers Randall Cobb and James Jones joined the walking Packer wounded. Luckily the Pack still has NFL "Dancing with the Sidelines" Champion Jordy Nelson around who finished the day with four catches for 113 yards and a touchdown for the win against the reigning Super Bowl Champions. BTW, speaking of Jordy Nelson, have you ever wanted to come to Wisco? Here, this video might just sway you to say "But, of course I'll travel to the frozen tundra that is the land of cheese! Thanks, Commish!" http://www.youtube.com/watch?v=XzeSNVLSzXg Makes ya wanna jump right into your car now doesn't it? Hey, don't hate me. Hate Jerry Zucker. He crafted it.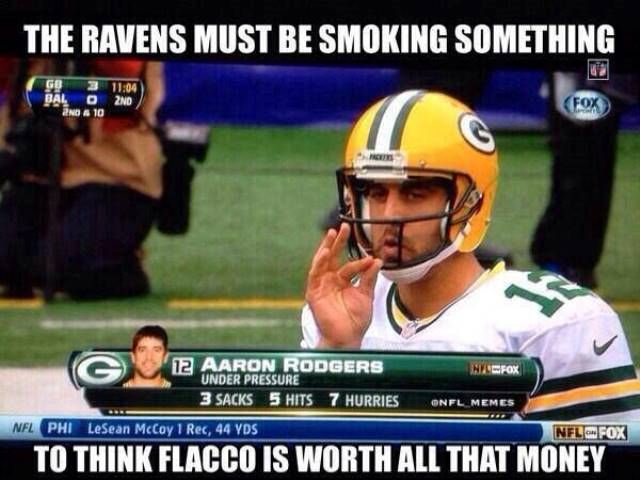 Ah, the disaster that has become Houston. I think purplejacket4 said it best in last week's thread: "It's official. Houston sucks." It's hard to comprehend how a team that went from being Super Bowl contenders to pretty much sucking at practically every level (in addition to Schaub, they've suddenly become allergic to the red zone and have been "stoopid" penalty laden of late) just six weeks into the season. You know it's bad when the home team cheers when the starting QB goes out with an injury. On that point, stay classy, Houston fans.

So. Not. Cool. There was a glimmer of hope when T.J. Yates took over for Schaub and then quickly set an NFL record – by throwing a pick-six – giving Houston the dubious honor of having tossed at least one in five consecutive games in their loss to St. Louis. Yup. What purplejacket4 said – they suck. I was *thisclose* to posting a meme last week that read something about the Bye Week beating the Steelers but decided against it, hoping that they'd come back and finally win one cuz I had planned on taking them against the Jets. Well, they proved they could pull one out despite a cold start by Benji who settled down into victory road going 23-30 and 264 yards and the game's only TD score. Perhaps Geno Smith is getting the better of himself?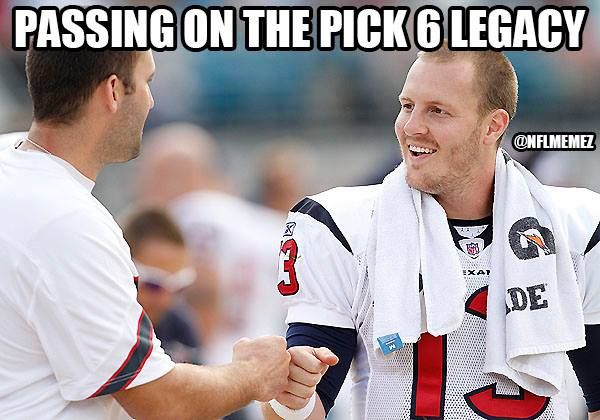 Nothing says "Feel the Love" quite like fans saying Ryan Fitzpatrick is the worst QB to wear a Titan's jersey since Vince Young. Ouch. Could Titan's fans REALLY be missing Jake Locker that much? Apparently, as Seattle beat Tennessee to win their 11th straight game by a touchdown to go to 5-1 after last week's disappointing loss to the Colts. Actually, both teams played pretty sloppily, prompting Pete Carrolll to wonder if the ball was greased. Naw, Pete. They don't do that in football. Baseball perhaps? Definitely not football. Marshawn Lynch walked away with big game honors with 77 rushing yards and two touchdowns on 21 carries and four catches for a team-leading 78 receiving yards. Sloppy, but a win as they say. Then there was the Saints/Patriots game, really the best of the Week 6 offerings. This game had it all – lots pre-game, pro-Saints hype, a 6-0 record on the table for the Saints, two of the best QB's vying for the win…right up to fans leaving before the spectacular end. It was vintage Brady slicing up the field like butta with no timeouts left for the game winning TD pass to Kenbrell Thompkins with :05 seconds left handing the Saints their first tick in the "L" column for the season. My guess is rookie wideout Aaron Dobson breathed a whole hell of a lot easier come the end of the game, seeing his drop of a fourth down pass late in the game was instrumental in setting up the cliff hanger. The win came with the big price however, with four players going out injured including wide receiver Danny Amendola, who left the game with a concussion.
It was Give-A-Way day at Candlestick Park, with the Cardinals handing over a victory to the 49'ers with a handful of miscues including four turnovers, six penalties and a second-quarter safety. You infuse that slop with a HUGE day out of Vernon Davis, who caught 8 catches for a career best 180 yards with two TD's, including one nearly impossible grab on the sideline, and you choke. Speaking of Davis, I wonder what would have happened to him for the day if San Francisco hadn't made halftime corrections to slow his then pace of 7 for 171 yards. The big rivalry game between the Cowboys and the Redskins saw a win brought to Dallas via special teams on their awesome kick and punt returns. It was a long day for RG3, who had to deal with dropped passes courtesy of his receivers, though the good news for the RG3 faithful believers is it looks like his scrambling days are back, with him kicking it for nine runs and 77 rushing yards.

Spoilers again, the Bolts took on the Colts Monday night and dominated ball possession 38 minutes and change to Indy's 21 minutes and a few ticks, and ended up winning 19-9 on the toes of NFL kicker and elder statesman, Adam Vinatieri, who had kicks of 30, 50 and 51 yards. In the loss, Colt Reggie Wayne surpassed his 1,000th career reception with 1,001, passing Hines Ward for 8th place on the NFL list.
Like the Chiefs, our pal booger bear came out storming and as a result of some gutsy picks and a wee smaller tie-breaker then her nearest competition, she's our winner for the week with 11/15 correct picks!

Woo Hoo! Congrats, booger bear!

Two other players also had 11/15 correct to take second and third place, respectively. Congrats to tesla and MissesJai! Coming in fourth this week is late starter to the pool, Manninup26 in fourth place, who along with purplejacket4 (Get better soon, doc

) and sportsfan picked 10/15 correct for fifth and sixth place. Rounding out the top ten all with 9/15 we have kernel and dirk pitt in a tie for seventh with their twin tie-breaker scores, nik in eith, JustmeVA in ninth and Yours Truly holding up the rear in tenth.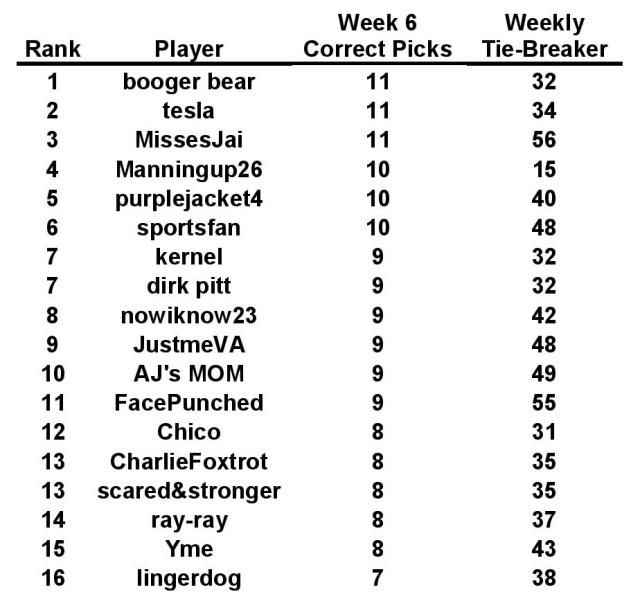 We had some more shakin' going on for the race for Champion, with MissesJai in the lead with 59 total poins. In second through fourth all with 58, we have tesla, purplejacket4 and JustmeVa. It should be noted MissesJai and tesla both jumped up three spots this week, while pj4 bumped one and JustmeVa took a bit of a slide, falling two places. In fifth place with 57 points, we have Yme who slid four spots, kernel bumped up to sixth from seventh with 55, sportsfan holds onto the Elway spot with 54, again of two on the week, while lingerdog jumped up two spaces to claim eighth place. There was a bit of a slide for ray-ray who fell to ninth place while FacePunched continues to hold onto the tenth spot after six weeks of picking.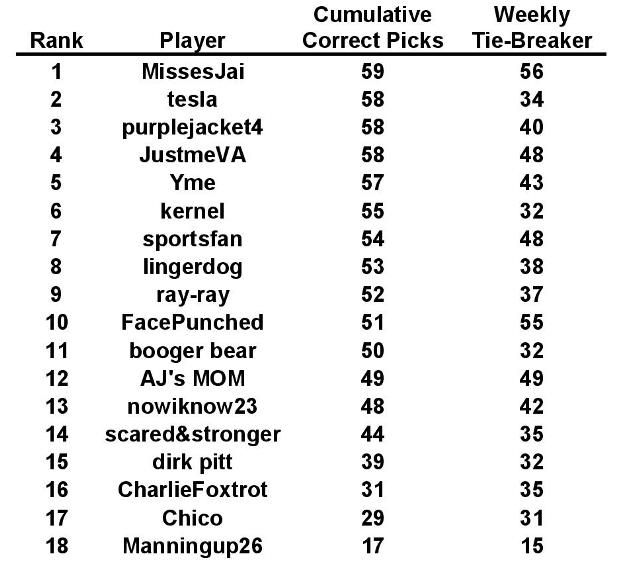 Congrats to all our players on their excellent picks this week! Here are your team selections for Week 7:

N.F.L. Games – Week 7
Thursday, October 17th
7:25 PM CT
Seattle at Arizona

Thursday's pick due by 5 PM CT, Thursday, October 17th

Sunday, October 20th
NOON CT
Tampa Bay at Atlanta
Cincinnati at Detroit
Houston at Kansas City
Buffalo at Miami
New England at NY Jets
Dallas at Philadelphia
Chicago at Washington
St. Louis at Carolina
San Diego at Jacksonville
3:05 PM CT
San Francisco at Tennessee
3:25 PM CT
Baltimore at Pittsburgh
Cleveland at Green Bay
7:30PM CT
Denver at Indianapolis
Monday, October 21st
7:30 PM CT
Minnesota at NY Giants – TIE-BREAKER GAME
Teams on Bye Week : Oakland, New Orleans

Sunday and Monday picks are due by 11 AM CT Sunday Game Day, October 21st[\bold]

Good luck, everyone! Have fun!!!

The Commish