We begin and end this week's recap with a couple of winners.

Hey, peeps – Jacksonville FINALLY WON! Woo Hoo!!! They are no longer the worst team in the NFL! They are tied for worst team in the NFL!

Who would ever have guessed it would take them almost a year to do it? Despite being 13 point underdogs to the Titans they succeeded in pulling out a victory, thanks in big part to Chris Johnson doing a complete 180 of last week's performance, going from hero (150 yards last week) to zero by managing only 30 yards on 12 carries, including two big fumbles. Looks like the Titan's season is just about done, seeing they've now lost Locker for the rest of the year to a foot injury. Winning for only the second time this year on U.S. soil, the Vikings pulled out a defensive stand to finally break their four-game losing streak by outlasting the Redskins on Thursday night. We are two for two for good games on Thursdays…can the streak continue until Thanksgiving?




They didn't have to go quite as far as London for a win, but the Panthers did have to go all the way to the left coast for the Week Ten's baseball score win against the (now injury laden) 49'ers. Losing three players totaled including Vernon Davis, Colin Kaepernick had his team up by nine before Davis's concussion in the second quarter and wasn't able to score again, taking six sacks along the way. Onto Indy for today's football math equation and a big day by Tavon Austin – a 98-yard punt return + a 57-yard TD run, + an 81-yard TD run for 314 team-wide all-purpose yards on the day = about all the Rams needed to burn the Colts 38-8. Austin becomes the first rookie to score three TDs of 50 or more yards in a game. On the Colts side, it's painfully obvious Reggie Wayne is missed a ton by the Colts, who have managed to pick off this year's strong teams as in Seattle, San Francisco and Denver only to lose to Miami, San Diego and now St. Louis.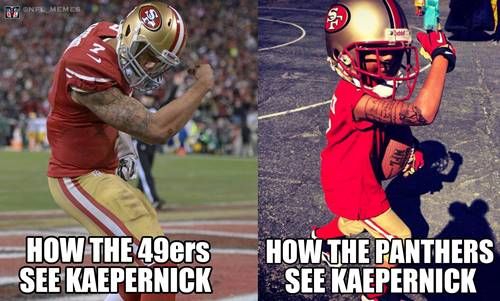 Things really seem to be going Detroit's way as they took over first place in the NFC North with their victory against the Bears coupled with the Packers loss. Jay Cutler came back from a groin injury last week only to get hurt again with an ankle injury. Back in too soon? Perhaps. Megatron had himself a spectacular day, with six catches for 83 yards and two touchdowns, setting some franchise records along the way. He caught his 62nd and 63rd TD tosses, now most in Lions history and moved past Randy Moss for second-most receiving yards through his first 100 games. He now has 8,740 yards in his seven-year NFL career and he's only 28 years old. A.MA.ZING. Contributing to the Lion's hold on the division, a Rodgers-less Pack attempted to beat a backup QB and got themselves trumped. Mostly because their back-up QB was injured quickly, forcing reliance on a third string QB elevated from the practice squad to execute plays he had never practiced. Seems logical. Coming off last week's ridiculous performance, Nick Foles threw three more TD passes to now have ten touchdowns in his last two games. Though the aforementioned third string QB Scott Tolzien was named the starter for next week's matchup against the Giants, the Packers have signed the league's well-traveled, ex-Packers back-up Matt Flynn. A miracle. That's what Green Bay needs. A freaking miracle.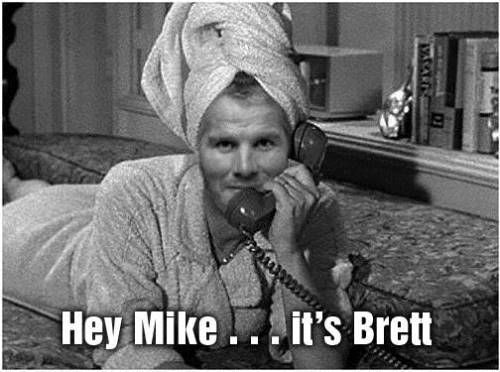 A strong ground attack by Seattle helped the Seahawks qualm the doubter's noise that they're a great at home; not so great on the road team, what with 316-99 yards in the first half and all. Rarely under pressure, Russell Wilson went 19-of-26 for 287 yards and two touchdowns as the Hawks went 7 outta 8 on their first eight possessions. A classic spanking. Ho-le-cow, the Giants are on a three-game winning streak. Oh, that's right. They played the Raiders. Still, they played like the opening season Giants, almost giving the game away several times, even by fumbling the opening kickoff. Luckily for the Giants, both Terrell Thomas and Andre Brown came back from injuries to contribute to the win.
Following last week's whopping at the hands of the Patriots, Big Ben breathed some life back into the Steeler's playoff hopes by pulling out a win over the Bills, holding returning injured QB EJ Manuel to just four yards per attempt with three sacks. The defense really got their gears going and offensively the Steelers controlled the ball for over a little over half the game. Was it enough to generate sufficient juice for them to roar back to make the playoffs and calm the pre-game end of season Roethlisberger trade rumors? We shall see. This week's OT thriller came by way of the Bengals and Ravens as a 46-yarder by kicker Justin Tucker finished the game in their divisional match-up. Getting the game into OT was the thrilling part, courtesy of a Hail Mary from Andy Dalton at his own 49-yard line. Bouncing off a group of players from both teams, the ball headed to the hands of Baltimore safety James Ihedibgo who instead of batting the ball down he tipped it up, allowing A.J. Green to make a backwards catch for the game typing TD. Bing. Bam. Boom.

Playing in their first game without head coach John Fox, the Broncos finished it with an easy win against the Chargers, with Peyton Manning throwing for 330 yards and four touchdowns, three of them to Demaryius Thomas. However, looks like Peyton has a roughed up ankle which may/may not impact his playing against the Chiefs. Something tells me it will be a non-factor come game time – ain't no way he's not playing in that game. I'm guessing the Texans are wishing about now they could close their eyes, tap their toes and wake up ready to start Week Three of the season all over. Team number two to play without their head coach who is still recovering from a mini-stroke, Houston's disastrous slide into the offseason continues, dropping to 2-7 on the year and now four games out of first in their division as Arizona once again played spoiler maker.
Aw, geez. Drew Brees. Or perhaps that should be, aw geez, the Cowboys. After all, they did surrender an NFL record 40 first downs Sunday night. Brees went 34-of-41 for 392 yards and four touchdowns, including a stretch with 19 consecutive pass completions. Besides the first down record, they also set a franchise record for their 625 total yards in their 12th straight prime-time win in the Superdome. Yee, haw! Nothin' like a little ass-whoppin' to shut Dez Bryant up. Finishing up with another victory, Tampa Bay walked away with a W for the first time this year because they had the luck of the schedule draw to be playing Miami the week after the whole Martin/Incognito drama unraveled. Fueled by Warren Sapp's warning that the team better not ruin his Ring of Honor/Uniform Retirement pre-game party, the Buc's managed to (finally) hold onto a lead and sack Ryan Tannehill twice on Miami's final possession before Tannehill's fourth-down painful desperation throw was intercepted for the win in front of the home crowd.
Woo Hoo!!! Wait to go, Buc's!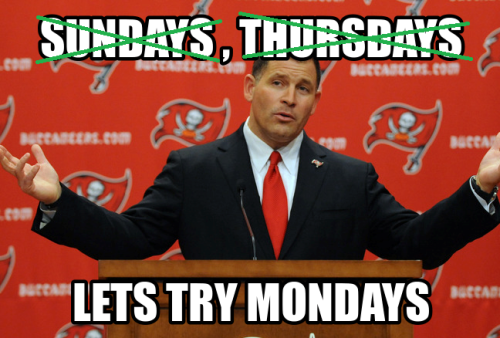 Well folks, we have a new weekly winner in our pool, with Chico taking the honors with an impressive 10/14 correct picks.
Woo Hoo!!! WAY TO GO, CHICO!!!

Very close behind with 9/14 correct for second place is Yme, while the top ten is rounded out by pickers with 8 and 7 correct. In our group of those with 8/14 correct, in third we have a tie between kernel and scared&stronger, lingerdog in fourth and ray-ray in fifth. In our group of five pickers with 7/14 correct and in sixth place is tesla, booger bear in seventh, Manningup26 in eighth, JustmeVA in ninth and Yours Truly rounding out the top ten in tenth.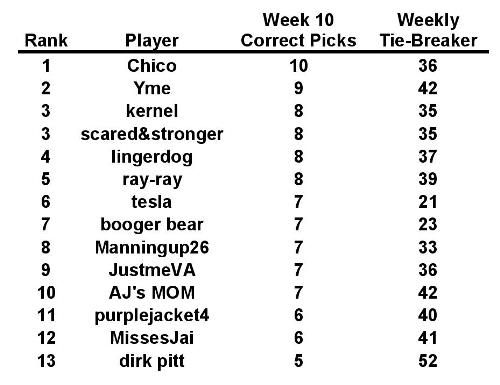 We had a wee bit of shaking in the overall standings, with Yme bolting up three spots from fourth to take over first place with 92. Nicely done, Yme! Still in second by a hair is Misses Jai with 91, while also with 91 and dropping from second last week to third this week is purplejacket4, and yet also with 91, we have tesla who dropped to fourth place. All other players' rankings stayed the same, with kernel in fifth with 90, lingerdog in sixth with 88, JustmeVA in 7th with 87, ray-ray in eighth with 84, Yours Truly in ninth with 82 and booger bear (who we all should assume has enjoyed her bye week) rounds out the top ten with 79.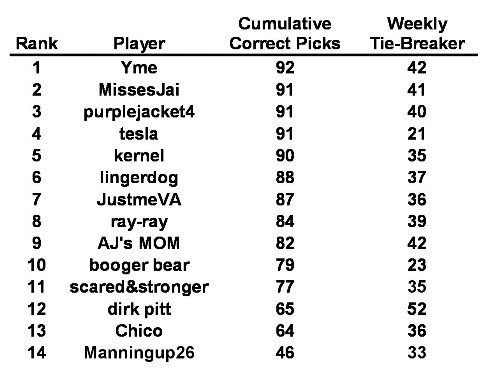 We're back to 15 games this week, peeps – giving all of you who need a little extra cushion to improve your picks the opportunity to do so!
ETA: DON'T FORGET - Post your picks, then check back on the thread for accuracy (one team for each game) and your tie-breakers!!!
N.F.L. Games – Week 11
Thursday, November 14th
7:25 PM CT
Indianapolis at Tennessee
Thursday's pick due by 5 PM CT Thursday, November 14th
Sunday, November 17th
NOON CT
NY Jets at Buffalo
Baltimore at Chicago
Cleveland at Cincinnati
Atlanta at Tampa Bay
Arizona at Jacksonville
Oakland at Houston
Washington at Philadelphia
Detroit at Pittsburgh
3:05 PM CT
San Diego at Miami

3:25 PM CT
Green Bay at NY Giants
Minnesota at Seattle
San Francisco at New Orleans
7:30 PM CT
Kansas City at Denver
Monday, November 18th
7:30 PM CT
New England at Carolina - TIE-BREAKER GAME
Teams on Bye Week: Dallas, St. Louis
Sunday and Monday picks are due by 11 AM CT Game Time, Sunday, November 11th
Good luck, everyone! Have fun!!

The Commish