It's hard to believe the 2013-14 NFL season has just five weeks to go before we head into the playoffs on the road to the Super Bowl. Just five weeks left, folks…Sigh. Luckily we were treated to some good ones this week, with a couple of blow-outs, the usual close ones, some unexpected upsets – some especially costly to our group – and even a tie between two teams that really needed a W.

Thursday night's match-up between the Saints and the Falcons was pre-game slated and hyped to be another typical Brees record-setting night. Not so fast, as the hoped for blow-out ended up a sleeper with the Saints thinking ahead to the Seahawks and Panthers up next on their schedule. Seriously, who could blame them? Speaking of thinking ahead, here's hoping the Falcons' focus is on draft picks. Joe Flacco finally played a team with a worse offense than his own and managed to squeak out a one-touchdown, four field goal win. There goes the repetitiveness of the Jets win-loss shuffle routine which had until now been spot on.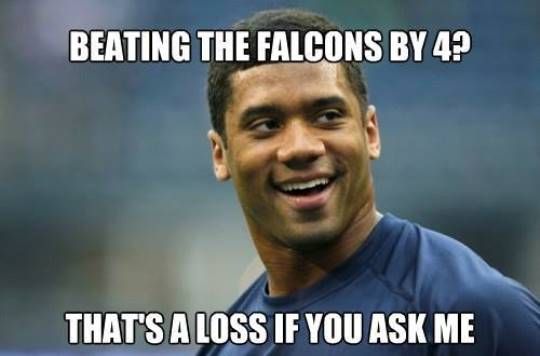 It looks like the Steelers are keeping their playoff hopes alive despite their dismal start, with the Browns fumbling their way to help the Steelers win 27-11. Unfortunately, the game brought with it the loss of Brown's back-up QB Jason Campbell who was concussed in the third quarter, meaning – yes, Weeden was back in – and he quickly added a fumble and a pick-six to his amazing stats. Tebow is still available. Just sayin'. The Colts got absolutely stung by the Cardinals, bringing their winning streak to 4-straight while they hang on by a talon to a playoff spot. Must have been the all-red uniforms. Or playing against their interim coach from last year.
A little brotherly love led the way in St. Louis where the Rams upset the Bears big time – 42-21, thanks to a 21-point first quarter fueled by yet another Tavon Austin huge TD run (this one for 65-yards). Howie Long's sons Chris (St. Louis) and Kyle (Chicago) got into a little dustup during a fracas between the two teams, Chris claiming he was only trying to break things up. Sure you were. Those of us with brothers – yep, we believe ya. Someone has to remind Jacksonville to stop winning. They're going to really mess up their chances for the number one pick if they keep this up. A moment of silence please for the Texans as their losing streak is now at a franchise record nine, with their last victory having come back on September 15th.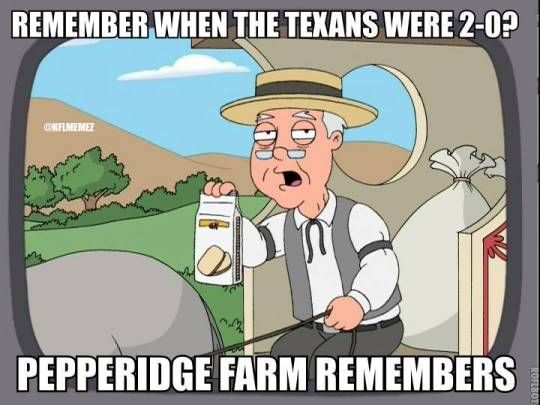 Onto the close ones, shall we? You would think with Aaron Rodgers and Jay Cutler still out, the Lions would do all they could to hold onto first place in their division, especially given they were playing the previously 0-8 Buccaneers who clawed their way to 2-8 before this contest. Wrong! Matt Stafford had an awful day with four interceptions including the game ender in the final minute as it bounced off Calvin Johnson's hands. Which means Thursdays' game against Green Bay is now even more special than just their classic turkey day match-up. Luckily for me, I had 2 in the pool for the Packers vs. Vikings. Thanks for the $25, guys.
Carolina continued their roll onto their seventh in a row beating Miami with some pretty sweet clutch big plays courtesy of SuperNewton, SuperSmith and SuperOlsen. They're super men, alright – just ask 'em – especially now that they've nailed down the Dwayne Wade/LeBron James celebration dance. Meanwhile Miami's troubles continue as they let a 16-3 lead late in the first half dry up. There is no explaining the new and improved Philip Rivers who managed to hand the Chiefs their second loss of the season. Alex Smith throwing for 294 yards and three touchdowns with 395 yards overall on offense ended up meaning a big fat donut hole, as Rivers pulling the proverbial rabbit out of his hat to show us how one-minute drills are done to textbook form in order to keep a team's playoff hopes alive. Here – watch his Happy Dance for yourselves:

Well, shut my mouth, ya'll – appears Mr. Romo has done it again for the second time in three weeks. Which is all the more remarkable given the Cowboys 21-6 third quarter lead had quickly dissipated when Eli decided to get hot. The usual Romo meltdown looked obvious until he took authority to the field and led a clock choking 14-play drive down the field to set up the winning field goal. Haters still gonna hate. The very unusual happened in the Titans – Raiders match-up. Proverbial hit man Sebastian Janikowski actually missed two kicks from yardage he could normally do with his eyes shut – 32 and 48 yards. Those misses proved to be the wink link to giving Ryan Fitzpatrick and company the opportunity to keep the Titan's playoff hopes alive and well.
The Broncos took one on the chin big time as their 24-0 halftime lead was quickly evaporated thanks to a methodical Tom Brady and disastrous plays by the Broncos late in the game. Oh, Montee Ball…man, you are KILLING me! Oh, and nothing quite spoils a homecoming party quite like giving the win to the other team, now does it, Wes? Still, it was a thriller and my Sunday evening football hangover is just about over. Anquan Boldin caught five passes for 94 yards and two touchdowns to give the 49'ers the win over the Redskins in the highly touted sophomore quarterback face-off between Colin Kaepernick and RG3. In the end, it was Kaepernick's time to shine as he completed 15 of 24 passes for 235 yards, while his counterpart managed only 127 on 17 of 27 passes with four sacks.

As what usually happens with lots of upsets, our standings have changed dramatically with some players doing well with this short week, while others – ummm, not so much. Let's hear it for booger bear who took some risks and ended up on top with 8/14 correct picks and a just a bit under tie-breaker to beat out lingerdog as this week's winner.
WOO HOO!!! WAY TO GO, booger bear!!!

As mentioned, lingerdog also had 8/14 correct to come in second, while ray-ray our third player with 8 correct ended up in third. The folks, things get ugly as the upsets take over. Still, kernel managed a third place finish with 6/14, while a bunch of folks managed to pick five games correctly to include tesla in fifth, Manningup26 in sixth, Yours Truly in the Elway spot, Yme ended up in eighth and purplejacket4 ended up in ninth. Rounding out the top ten, we have JustmeVA who along with MissesJai managed four correct picks, while dirk pitt had three and Chico appeared to be MIA this week.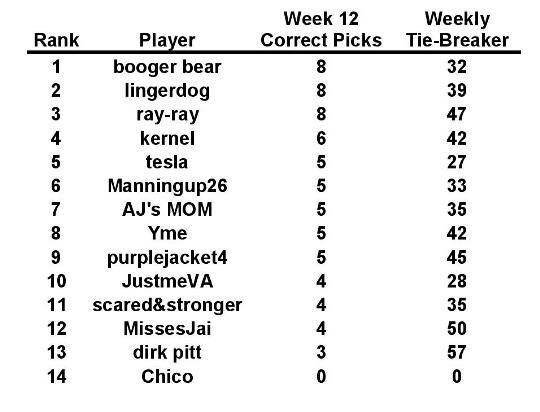 Well, when the upsets hit the weekly winners you know the overall standings are going to be shaken. Leaping up four spots to take over the lead is our pal lingerdog with 108 points overall. Nicely done, lingerdog – that's not an easy task.
Jumping up one spot to take over second, we have tesla with 107. Also with107 for third and fourth places respectfully are Yme and MissesJai. Two players are at 105 correct – kernel for fifth place and purplejacket4 for sixth, while JustmeVa maintains seventh place with 102. Rounding out the top ten are ray-ray with 100 in eighth, Yours Truly in ninth with 95 and our weekly winner booger bear in tenth place with 92.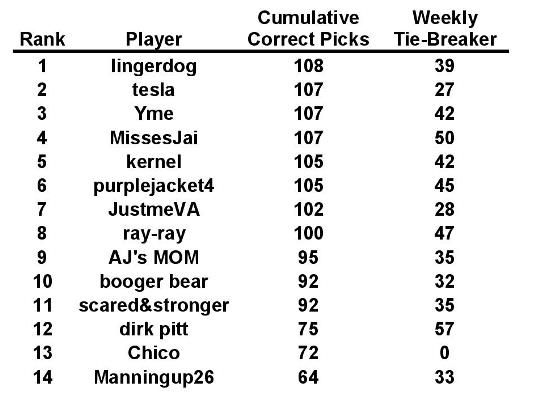 Bye weeks are over, so we're back to 16 chances to collect points to help your cause to take over the championship. As mentioned last week, there are three games being played on Thanksgiving Day. Please be sure to get your picks in on time – I'd hate for you to lose three opportunities to increase your chances of winning!

N.F.L. Games – Week 13
Thursday, November 29th
11:30 AM CT
Green Bay at Detroit
3:30 PM CT
Oakland at Dallas
7:30 PM CT
Pittsburgh at Baltimore

* * * Thursday's picks are due by 5 PM CT WEDNESDAY, November 27th * * *

Sunday, December 1st
NOON CT
Tampa Bay at Carolina
Jacksonville at Cleveland
Tennessee at Indianapolis
Chicago at Minnesota
Miami at NY Jets
New England at Houston
Arizona at Philadelphia
3:05 PM CT
Atlanta at Buffalo
St. Louis at San Francisco
3:25 PM CT
Cincinnati at San Diego
Denver at Kansas City
7:30 PM CT
NY Giants at Washington
Monday, December 2nd
7:30 PM CT
New Orleans at Seattle

Sunday and Monday picks are due by 11 AM CT Game Day, Sunday, December 2nd

Good luck, everyone!
Have fun and a safe and wonderful Thanksgiving!


The Commish