Sorry for the delay in the update, peeps. As we slide back to full schedule mode, the recaps will be posted later than usual, closer to end-of-day on Wednesday. SO much info to digest! Thanks for understanding.

OK…let's talk playoffs!

The calamity that is the Green Bay Packers continues on its roll toward snagging a decent draft pick, and by the looks of their defensive and offensive lines, they're going to need some really big help from the college pickin's. Word is that if they lose to the Falcons this week without Rodgers, they're sitting him out for the remainder of the season. Make sense as evidenced by Thursday's shellacking courtesy of the Lions and the Pack's fifth straight winless outing. What are the Packers' playoff hopes if Rodgers doesn't return and their lines don't shape up?

In all seriousness, if they can pull off the impossible, the Packers are – as of today at least – playoff hopefuls, but it would be miraculous indeed. Meanwhile, with this must have win, the Lions are a projected 3rd Wild Card seed as they cling to first in the NFC north. An opening kickoff fumble for a TD started the Dallas and Oakland Turkey Day game. Boom shakalaka! Things settled down for Romo who was apparently fighting a virus enough for him to pull another come from behind victory with the help of DeMarco Murray who ran for three touchdowns. The Cowboy's playoff hopes? A projected 4th seed in the Wild Card race. The Raider's? Nope. Sorry, Raiders Nation – there's always next year.
Woo Hoo! We had another good Thursday night game – the streak is alive!!! Baltimore and Pittsburgh faced off for what is historically a battle of the brawn and this one didn't disappoint. It took the usual pushing and shoving these two teams offer as well as a little Mike Tomlin sideline dancing (sure you were watching the Jumbotron, Mike, sure you were) and two late TD attempts by Pittsburgh overturned to declare the Ravens the winners. Luckily for them, both teams still have a shot at the playoffs with the Ravens a 6th seed in the Wild Card Round and the Steelers sitting in the waiting but still hopeful crowd. The Panthers winning streak has now hit eight in a row which is for them a franchise record in their shellacking of the Buccaneers. Their defense proved unstoppable while Cam Newton went 18 for 29 for 263 yards with two touchdowns and 68 rushing yards for a score. ('sha…like his two INT's mattered). This sudden late season surge is allowing the Panthers to be a projected 5th seed in the Wild Card race while Tampa Bay fights hard to stay the leading contender for the first round draft pick.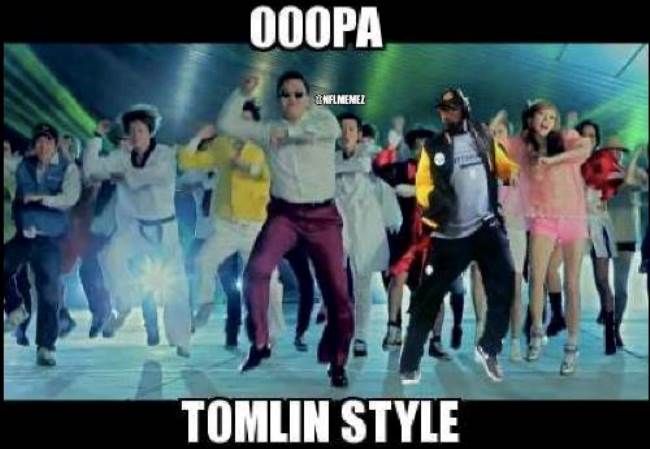 Speaking of a team that should keep losing, Jacksonville has now surpassed the Texans in the W column, pretty much nixing their chances in the draft pick race for the top QB picks by beating Cleveland. Hats off to Josh Gordon of the Browns who became the first NFL receiver to have back-to-back 200 yard receiving games. Sunday turned out to be a great day overall for him, with 10 catches, 261 total yards and two TD's. Still, both teams' playoff hopes died a long time ago, but they could each prove to be spoilers to those teams on the bubble. If you can't score 'em, kick 'em was the theme in Indy as Adam Vinatieri kept the Colts playoff hopes alive with a career high five field goals in their win against the Titans. Good thing too, as it turns out no Colt had more than 50 receiving yards. If the Colts can manage to get a game behind their kicker, they're slated to be a 3rd seed in the Wild Card race, while the Titans will need to start winning again to contend.
A see-saw OT got the Vikings a rivalry win over Chicago at home, as both teams missed previous goal post tries via a Vikings penalty and a Bears whiffer by new father (as in early Sunday morning) Robbie Gould. Adrian Peterson rushed 35 times for 211 yards including two 11-yard runs on the final drive to put the ball within kicker Blair Walsh's sweet spot for the win. AD also surpassed the 10,000 yard rushing mark, forging ever deeper the thought that he truly needs a team behind him. The win puts the Bears in the Wild Card hunt, while the Vikings join the teams in the better luck next year slot. Meanwhile in New York, Geno Smith got benched. Again. I guess when you go 4 for 10 and 29 yards with an INT – giving him an 8.3 QB rating – snort – your glutes are gonna be warming the sidelines. The INT brings his last seven game pick total to 11, which in football-ese is spelled: U-G-L-Y. The win allows the Dolphins to breathe life into their playoff hopes while the Jets will more than likely be watching from their sofas, hopefully with Geno serving the team drinks and stuff at their beck and call.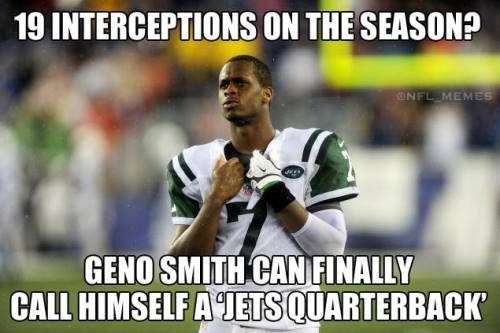 Trailing for the second time in two weeks at the half, the Patriots were able to make all the halftime corrections they'd need to pull a victory out over a scrappy group of Texans who didn't exactly go down easy. There's no doubt that having Gronk back in the lineup has helped this team with six grabs and a score for a total of 127 yards on the day. The win all but seals the Patriots a first round bye as the 2nd seed in the Divisional round, while it's hard to believe the Texans were 11-1 at the end of Week 13 this time in 2012. What a difference a year makes. Winning their fourth straight, the Eagles, led by MVP (?) candidate Nick Foles who threw three TD's with no picks (one was 86'ed by a defensive hold) are now tied for first place with the Cowboys in the NFC East with their win over the Cardinals. The dude now has 19 TD's with no INT's. Unbelievable. Despite the loss, both teams stay in the playoff hunt with even-Steven 7-5 records.
The Bills gave their matchup with the Falcons away in a penalty laden chokefest, playing their annual home game north of the border in Toronto. (Sorry, peeps – missed pointing that out last week in the recap. Come to think of it, I think I'm 2-2 in missing that.) Trading score for score, the Falcons finally sealed the win with a 36-yard field goal 3 minutes into OT after a forced fumble by Falcon safety William Moore. Unfortunately for both teams, their playoff hopes are nil, and worse for the Bills, they now hold the NFL's longest active streak record for most seasons without a playoff berth at 14 and will have their ninth in a row losing season. PLUS – they get all that damn snow every winter! ARGH!!! Michael Crabtree's return to the 49'er's lineup started out shaky with a couple of flags called on him, but he quickly redeemed himself as he shook the bugs out of his almost full season sit out with an Achilles injury. Vernon Davis was also back to join Anquan Boldin for the show and the 10-point win over the Rams. The win gives the 49'er's a probable 5th seed in the Wild Card race while the Rams settle for the bottom of the NFC West.
The Redskins have proven all season they can lose games all on their own, so when they're helped by the officials, it's got to be an even harder pill to swallow, thanks to a mix-up on a third-and-1 – wait no, a first down – wait no, it's really 4th down – miscombobulation rodeo by the officials. (It's not a word; don't bother looking it up). Meh…whatev's…the Redskins slide to 3-9 on the season and have now been eliminated 17 out of 21 years from the playoffs while the Giants have climbed out of their 0-6 hole to win their last five out of six for a 5-7 mark. The rematch between Denver and Kansas City seemed destined to be all KC until Eric Decker got himself situated to have what amounted to a career day with eight catches for a career-high 174 yards and four touchdowns. Peyton finished the day at 403 yards for five touchdowns, collecting his 41st TD of the season, breaking his own franchise record of 37 set last year. The question remains – can he hit 60 this year? It is a mathematical probability, so we'll have to see. Not only is Denver in a comfortable 1st seed first round playoffs bye situation, they capture the tiebreaker with their two wins over the Chiefs in the past three weeks, while Kansas City remains a strong Wild Card 5th seed.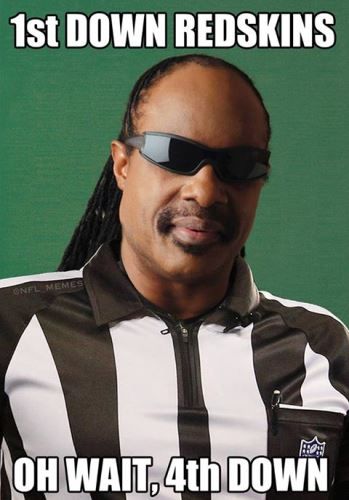 Oooo…almost forgot…anyone else see Knowshon Moreno absolutely lose it on the sidelines during the National Anthem? Although he claims the emotion of being able to play the best team sport on the planet got the better of him, my sources say this is what was really going on in his head (I'd just post the gif, but you've got to hear this):

http://dailysnark.com/knowshon-moreno-will-always-love-edition/

It figures the so very inconsistent Chargers would come off their win over the Chiefs last week with their fourth loss in five games. Although Philip Rivers' numbers didn't exactly suck, he went up against a bullheaded Cincy defense that forced three turnovers and a good day from BenJarvus Green-Ellis who rushed for 92 yards and a touchdown to stick the dagger into the Charger's playoff hopes. Meanwhile the Bengals at 8-4 are a probable 4th Wild Card seed and are two games up on others in the AFC North standings. OK…in all fairness, I thought last night's game was going to be an absolute shoot-out. I was so excited, I was even going to give up watching The Blacklist to see Brees and Wilson go at it, but honestly after listening to the 12th Men and Women scream incessantly and witness Wilson and company shred up the Saints with ridiculous ease, I opted out at the 9 p.m. mark and got my James Spader weekly fix on. Wilson started his quest to overtake Brees as MVP by throwing for 310 yards and three touchdowns as the Seahawks became the first team to clinch a spot in the playoffs with a first round bye. Not like the Saints won't miss out on the big party – they are projected as 2nd seeds in the Divisional Round.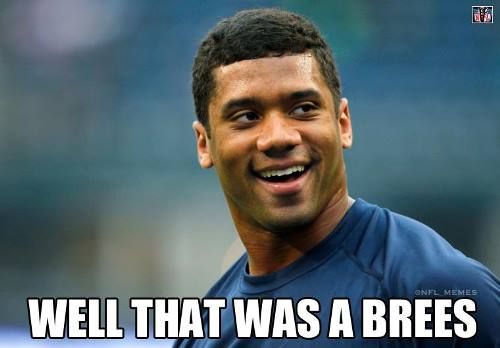 It's usually around this time of year that player's start taking some risks (Yours Truly amongst them) to make up some ground over the season and it either pays off big or as in my case, is a major flop. With 16 points as the get, our Week 13 winner is ray-ray who managed to choose 12/16 of the week's winners.

Woo Hoo!!! CONGRATS, ray-ray!!! Way to go!!!


With 11/16 and coming in second with her more accurate tie-breaker score, please congratulate kernel on taking second place, while purplejacket4, also with 11/16, came in third. With 10/16 correct we have four players: JustmeVa in fourth, lingerdog in fifth, tesla in sixth and MissesJai in seventh. Rounding out the top ten is Manningup26 with 9/16 for eighth, Yours Truly with half right (seems like the story of my life) for ninth, while my fail-to-pick-a-tie-breaker-score-twin scared&stronger takes command of tenth (I ranked us alphabetically) also with half right.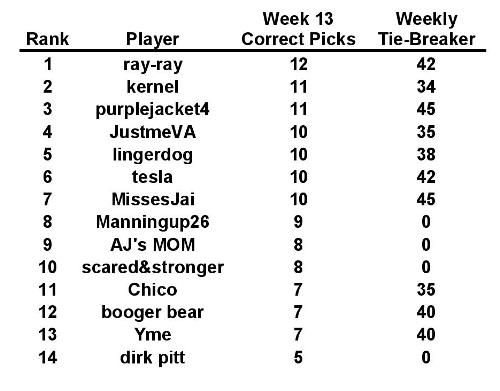 Not too much shakin' and bakin' in the overall standings, with lingerdog still Top Dog with 118, tesla stays in second with 117, while MissesJai jumps a spot up also with 117 with tesla squeaking ahead with her more accurate (though still over) tie-breaker, while kernel and purplejacket4 both bumped up a spot and are in fourth and fifth respectively with 116. Yme dropped a bit to sixth with 114, while JustmeVa and ray-ray are tied with 112 for seventh and eighth place respectively, while Yours Truly stays in ninth place with 103 and scared&stronger slides past booger bear to take the tenth place with an even 100.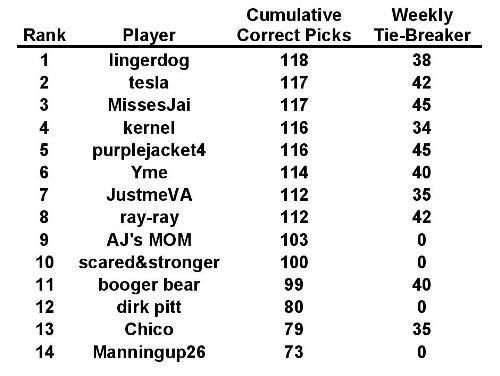 We've got a little flex scheduling going on for obvious reasons this week, with another YAWNER for Thursday night (there goes the streak). (We need an SI yawn emoticon – just imagine it here). Still there are some good match-ups with the power teams and some possible spoilers, cuz as they say, "Any given Sunday."

N.F.L. Games – Week 14
Thursday, December 5th
7:25 PM CT
Houston at Jacksonville

Thursday's pick is due by 5 PM CT Thursday, December 5th

Sunday, December 8th
NOON CT
Indianapolis at Cincinnati
Buffalo at Tampa Bay
Kansas City at Washington
Minnesota at Baltimore
Cleveland at New England
Oakland at NY Jets
Detroit at Philadelphia
Miami at Pittsburgh
Atlanta at Green Bay
3:05 PM CT
Tennessee at Denver
3:25 PM CT
NY Giants at San Diego
Seattle at San Francisco
St. Louis at Arizona
7:30 PM CT
Carolina at New Orleans

Monday, December 9th
7:30 PM CT
Dallas at Chicago – TIE-BREAKER GAME – DON'T FORGET YOUR SCORES!

Sunday and Monday picks are due by 11 AM CT Game Day, Sunday, December 8th

My thanks to all of you who make this pool so much fun and my apologies for not pointing out the tie-breaker game last week. I've set up multiple sticky notes around my all of my habitat spaces as reminders as we finish out the season.

Good luck, everyone! Have fun!

The Commish