Though the weather outside was frightful, we had some great games in Week 14 on what is traditionally known as "Survival Sunday" as the season draws close to a close and playoff spots start being grabbed. (A moment of silence, please).

In the Kiss Your Sibling pick of the week, the Jaguars decided to win the game and hand the Texans Teddy Bridgewater wrapped in a brown paper package all tied up with string in their first win at home since LAST November. They even fended off a Matt Schaub (in for Keenum) comeback late in the game and it was shortly after the game that Gary Kubiak was sent packing by Titans owner Bob McNair, handing over the coaching reins for the remainder of the season to defensive coordinator Wade Phillips. The Jags have now won three straight and four of their last five games. Talk about getting hot at the wrong time…pffft. If your Sunday schedule didn't allow a lot of time for football action, all you had to do was watch the last 2:05 minutes of the Ravens/Vikings matchup to be treated to a flurry of action among the flurries. Among the five TD's and six lead changes in the fourth-quarter (an NFL record), you would have been treated to a 79 yard pass from Matt Cassel to Corarrelle Patterson and a 77-yard kickoff return by none other than Jacoby Jones, which luckily for him, all he had to deal with this time were the slick conditions. The game ended with the Ravens winning by three after Joe Flacco's final 9-yard TD to Marlon Brown with 4 seconds left. Unfortunately, it looks like Adrian Peterson may be out on Sunday with a pretty significant foot injury, who took out his frustration on the refs and the snowball throwing fans on Twitter. Simmer down, AD, simmer down.




The Patriots did it again – they started incredibly slow and came back with just enough (well, they did have some help by the refs) to finally steal a win away from the Browns by a point. Prior to Tom Brady finally getting things he gear, he was 7 for 19 and 95 yards in the first half of which five of his passes were dropped. The win wasn't the only ugly thing for them, as they lost Gronk – again – this time for the season, with a torn ACL and MCL. Granted, they have Miami, Baltimore and Buffalo to round out their season, but their lazy starts better stop as they head into the playoffs. Dagnabit! I knew better than to take Oakland. Especially seeing how poorly Geno Smith played last week (I was truly thinking he'd post a twin performance on Sunday), only to have him finish the day 16 for 25 and 219 passing yards with 50 rushing yards to beat the Raiders by 10 to end their three game losing skid. He did, however, manage to throw his league-leading 20th INT on the year. Back to me to start flipping their wins with their losses.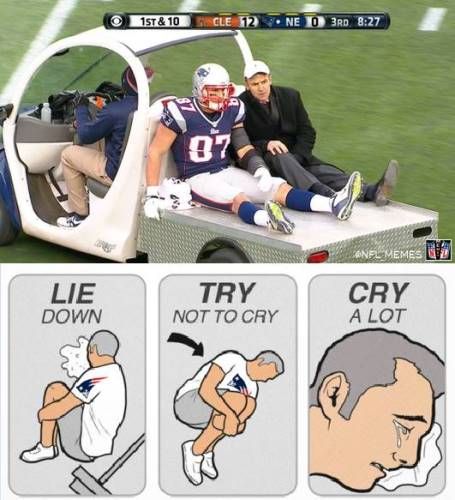 It seems like it was only yesterday that Eli and Archie Manning gave San Diego the old mental finger and were granted their wish to have Eli go to the Giants for Philip Rivers and some other players back in 2004. It's funny how stuff like that eventually comes back to bite ya right in the arse. With Sunday's victory, the Chargers are now 3-0 up on this Manning led offense, and have helped seal the fate of the Giant's playoffs hopes, while the Chargers are still breathing (albeit barely) for a spot. Larry Fitzgerald got a workout on Sunday as the Cardinals also kept their playoff hopes humming with a 30-10 win over the Rams. Slated as questionable for most of last week, Carson Palmer threw for 269 yards and a TD, with 12 of his near perfect 27 out of 32 passes going to Fitzgerald. Super SI healing mojo goes out to rookie safety Tyrann Mathieu who was taken out of the game via a cart in a suspected ACL injury. Here's hoping the Cards can still get things done with him missing in the line-up.
Meanwhile in Pittsburgh, the snow didn't seem to bother warm weather player Ryan Tannehill at all, going 20 for 33 and 201 yards with three TD's and one INT. Although Big Ben tossed for 349 yards and three scores, the loss all but puts the kibosh on the Steeler's hopes for playing in January and their second straight losing season despite a desperate five turn lateral play which actually came within inches of success. Mike Tomlin's wallet is now also $100K lighter after being fined for his slick sidelines dancing which was ultimately ruled as interference by the league. Oh my word, Nick Foles FINALLY threw an interception while the Dome-bred Lions did their best to keep their feet on the snow and ice filled Philly turf to beat the Lions by 14. Props to LeSean McCoy who had a franchise best day with 217 yards (148 gained in the fourth quarter alone) and two TD's. How bad was it out there? Check out Megatron:

Bright, brilliant Florida weather greeted the Bills as they headed out of snow-soaked Buffalo only to lose to the Buccaneers on EJ Manuel's FOUR INT's and SEVEN sacks. Tampa Bay now sits at 4-9 after a disastrous 0-8 start, temporarily saving Greg Shiano's job and giving them one more week to be in the playoff hunt. Unfortunately for Buffal, they have now mathematically captured their ninth losing season and are just a few games away from being the team to go the longest (14 seasons) without making it to the playoffs. Looks like things can't get any worse for the Redskins, who were trounced by the Chiefs (who were up 31-0 at the half) as they dropped to 3-10 and claimed their fifth straight loss in a row. Oh wait – it is worse – seeing how their first round pick in the 2014 draft goes to the Rams because of the deal they made for RG3, who was eventually benched in the game for Kirk Cousins. The win helped the Chiefs break their three-game losing streak and put a little more confidence in the tank for their upcoming games to stay in the playoff hunt.
It's just Andrew Luck's luck to have a huge day with 326 yards and 4 TD's get overshadowed by Andy Dalton's accuracy and a strong Cincy defense as the Bengals held rein on the NFC North. Helping the Bengals go 6-0 at home this season, Dalton three for three TD's and scrambled for another while BenJarvus Green-Ellis scored a couple of easy in one-yarders. All was not lost for Indy however, as Peyton Manning gave his old team a hand by handling Tennessee a loss, allowing Indy to be crowned as the AFC South champs. Surprisingly the Packers' hopes for a return to the playoffs are still alive, following a narrow-but-hey-it's-still-a-W victory over the Falcons. Helped with the Lions loss, Green Bay is just a game out of first in the stinky NFC North. The local gossip was that Rodgers would return to play if the team could manage to hold off the Falcons – now it remains to be seen if the team really wants to sacrifice Aaron for a shot at the playoffs in which their defense would also have to show to make worth it.
It was just another ho-hum outing for the Broncos, as they clinched a playoff spot on Peyton Manning's 39 for 59 with a few yards shy of another 400 yard day (at 397) in the blistering cold of Mile High, as the altitude and the temps proved too much for the warm-blooded Titans. Unfortunately it looks like the Broncos will have to go without the services of Wes Walker who ended up concussed – again – and will more than likely miss Thursdays' game against the Chargers. It's looking like the 49'er's and Seahawks can lay claim to the league's biggest rivalry and this close one didn't disappoint, allowing San Francisco to hang onto their playoff hopes (and bragging rights) with the win on their home turf. The low-scoring defensive matchup had the Hawks on top with 6 minutes and a few ticks remaining before Frank Gore stoked out a 51 yard run to set up the winning field goal.
So all that pre-game chatter about New Orleans facing a real struggle against the Carolina's number one in the league strong defense proved to bend with Brees on home – in prime time – in his very loud dome. Brees finished with 30 out of 42 for 313 yards, four touchdowns and no turnovers and along the way became the fastest player in the NFL to garner 50,000 career passing yards. Boom. Any questions?

When the snow front that passed through the NFL subsided late Sunday night, it opened up the door for the usual cold front that follows. From the looks of things, the cold weather seemed to inspire the Bears as they brought the hurt to the Cowboys last night, with a scoring frenzy helped by a total 490 net yards of offensive smackdown. Josh McCown in for the injured but now healed (?) Jay Cutler finished the cold evening accounting for 348 of those yards, with five TD's – for passing and one handed down like Mr. Elway used to do them. Ya gotta love this game!


I'll tell ya who's lovin' this game – that would be MissesJai, who not only wins the week with an impressive 13/16 correct picks, she's also taken over in the cumulative race as well (more on that later).

WOO HOO!!! CONGRATS, MissesJai!!!


Coming in second with 12/16 is ray-ray, whose more savvy higher tie-breaker of 51 – we had us a 73 point tie-breaker this week, folks! Allowed her to just edge out kernel who is in third also with 12 and a smaller tie-breaker of 42. Three folks had 11/16 correct, to include dirk pitt in fourth, purplejacket4 in fifth and tesla in sixth. Rounding out the Top Ten aer our 10 outta and 9 outta crowd, including lingerdog who's in seventh with Chico in eighth with 10/16, while Yours Truly and scared&stronger had 9/16 correct to take ninth and tenth places, respectively.

MissesJai's great prognostication skills give her two – two – two reasons (I just horribly dated myself) to cheer this week as she takes over first place overall from lingerdog with 130 correct picks on the year. Three folks are tied with 128 correct – kernel in second, while lingerdog slides to third with tesla holding her own in fourth. Staying steadily in fifth place is purplejacket4 with 127, while ray-ray jumped up two spots to take over sixth with 124. Falling ever so slightly one place each, we have Yme in seventh with 121 and JustmeVA in eighth, also with 121. Yours truly maintains ninth place with 112 while scared&stronger also continues to hold onto tenth with 109 correct points.

Well, we are definitely heading down to the wire with just three weeks of picking left. Given this year's history of upsets, it looks like we are slated to have a great battle on our hands for the player we crown as this year's champion!

Week 15 N.F.L. Games
Thursday, December 12th
7:25 PM CT
San Diego at Denver

Thursday's pick is due by 5 PM CT Thursday, December 12th

Sunday, December 15th
NOON CT
Washington at Atlanta
Chicago at Cleveland
Houston at Indianapolis
New England at Miami
Philadelphia at Minnesota
Seattle at NY Giants
Buffalo at Jacksonville
San Francisco at Tampa Bay
3:05 PM CT
NY Jets at Carolina
Kansas City at Oakland
3:25 PM CT
Green Bay at Dallas
New Orleans at St. Louis
Arizona at Tennessee
7:30 PM CT
Cincinnati at Pittsburgh
Monday, December 16th
7:30 PM CT
Baltimore at Detroit - TIE-BREAKER GAME

Sunday and Monday picks are due by 11 AM CT Game Day, Sunday, December 15th

Good luck, everyone! Have fun!!!

The Commish
ETA: Oops..almost forgot to identify the tie-breaker game again -

- good thing the season is almost over.