It's about this time in the season of weekly recaps that I start to wonder what to start with first, especially given a Week 16 that did nothing but stay as crazy as the previous fifteen in the NFL. Start with the upsets? The blowouts? Some words on those teams that are still fighting for a chance to play in January? Choices, choices.

How about we meld it all together and see who definitely won the right to play on and let the chips fall where they may for all the rest? That and I have literally like an hour to throw this together before I start the Christmas Cupcake bake-a-thon I've been charged with.

Let's start with the obvious – Mr. Manning whose Broncos secured a back-to-back-to-back AFC West Divisional Championship and becomes the first team this year to secure that all important first round bye on the heels of what proved to be yet another Peyton record setting Sunday. Congrats to Mr. Cool who now holds the record for most TD passes thrown in a season at 51 as he breathes down Drew Brees's all-time high single season passing record with just 245 yards to go. His day's work included that little TD record plus another 400 yard, four TD outing as the Broncos handled the Texans, though the win came at a huge cost, with Von Miller out for the rest of the year with a torn ACL. If the Broncos can win this week and the Patriots lose, they also scoop up home field advantage throughout the playoffs. Securing the AFC East once again are the Patriots who took task to last year's AFC Championship game ousting by the Ravens by demolishing them 41-7. No big Brady come from behind effort needed here, my friends, as the game began with a 17-0 go-ahead lead that really never went away, putting a loud stop to the Ravens four-game win streak. Even with the loss, the Ravens are still in the Wild Card race, though they need a whole lot to happen, such as a Baltimore win with San Diego or Miami losing or San Diego, Miami and Pittsburgh all losing. Mmmm, 'k. Best part of the game? Pretty Boy being left hanging for an after TD high-five. Enjoy this GIF, the week's only – sorry, those cupcakes are screaming at me. Snort. Pretty spectacular, indeed and deservedly in a class by itself.




Though Kansas City took a big loss on the chin to Indy, both teams clinched playoff spots, with Kansas City taking the AFC South Division title. The two could potentially be playing each other in the Wild Card round which will an interesting rubber match make. After their whirlwind start, the Chiefs have gone 2 for 4 of the games since their bye week back in Week 10. Granted, two of those losses were to the Broncos, but still – they sure made making the playoffs a whole hell of a lot harder than it had to be. The last AFC team to secure a playoff spot was the Bengals, on the heels of one of Andy Dalton's best games of the year, with four TD's and 366 yards on the way to capturing the AFC North title. The loss helps the Vikings with their draft prospects immensely which may prove to the help they need at the QB spot.
Andy Dalton had one of the better games of his career tossing for four touchdowns and 366 yards (two scores went to AJ Green) as the Bengals improved to 10-5 and made light work of the Vikings 42-14 while capturing the AFC North crown. Just sitting here wondering if Miami realized they were still in the playoff hunt on Sunday, what with losing to BUFFALO 19-0 and all and a season low 103 yards on the day. Now the fins have to win against the Jets and get some help with San Diego or Baltimore losing. Dudes! Ya coulda been contenders! That leaves three teams in the AFC hunt – the aforementioned Ravens, the Chargers and the Steelers. With their third straight win, the Chargers blew past Oakland, though the tough work is in front of them to still keep playing, as they need to beat Kansas City AND have both Miami and Baltimore lose. Should be interesting.
Despite an unanticipated home field loss to Arizona, Seattle clinched a playoff spot and could still claim stake to home field advantage with a win against St. Louis on Sunday. It was all but a Christmas miracle that the Cards won, seeing they had to make up a four INT Carson Palmer performance. An ugly win is still a win, and they can earn a playoff spot with a loss by either the 49'ers or the Saints. Not likely on most given Sundays but when did we last have a normal Sunday of football this season? The Carolina D took task to Drew Brees and walked away with splitting their matches this year, sacking him a total of six times over the course of the game. The loss leaves the Saint still scrambling to punch their golden ticket for which they'll need to either win against Tampa Bay or have Arizona lose to the 49'ers. Seeing as how Arizona seems to be playing on a mission, I like the Saints chances much better. With their win to get in, the Panthers can claim a first-round bye on Sunday by a win against the Falcons or a Saints loss. Looks like it's theirs for the taking.
The 49'ers win on the closing night of Candlestick Park against the Falcons last night gives them a playoff spot and the opportunity to gain home field advantage in the NFC West with a win against Arizona plus a Seattle loss plus a Carolina loss. It doesn't appear that the NFL math will be on their side in this one. Long out of the playoffs, the Falcons had a very bright spot in the performance of Roddy White, who made his fantasy owners quite happy with 12 catches and 141 yards with a TD, while San Francisco better get things rolling on all cylinders if they want to go past the first round, especially give a pitiful 6-of-11 and 69 yards opening half Kaepernick performance. Well, I'll be – Tony Romo actually pulled one out of his shorts and managed a clutch from behind win against the Redskins for the Cowboys, though if reports prove out, he'll miss the playoffs (if they get in) and the rest of the season while recovering from back surgery for a herniated disk. The boys clinch the NFC East title with a win against a resurging Eagles squad (who just need the win to claim the NFC East title) and with Romo out, well, things don't look too probable.
Den ders the NFC North, which woulda, coulda, shoulda been owned by Aaron Rodgers. Ironically, it's going to come down to a rematch against the team that took him out some seven games ago as to who gets in, and as of today the decision on whether he suits up to get the Packers in the playoffs is yet to be made. Such a tough call – put him in and risk further injury to go, what, maybe one more round deep in the playoffs, or just scrap the season, put Matt Flynn back in and hope for the best. You can't ignore the fact that the Pack would have been in such better shape and not having to cheer on the Eagles had things just gone their way against the Steelers the last :20 of the game. Speaking of the Eagles, they downright whoop assed Cutler and company with a 54-11 spanking, turning the stinging Packers fans into Eagles fans for three hours and change. The Eagles get Dallas next, with the NFC East title on the line.
All this does is make Week 17 THE week to watch, as teams still vying to get in put it all on the line, and those that have fought hard all season are rewarded with divisional titles yet to grab and the coveted home-field advantage. That is why, boys and girls, WE LOVE THIS GAME!!!



Kids, we've got us a battle for the Championship of the S.I. Pigskin Picks battle brewing. Yes, indeed! Let's put those hands together and give a rousing round of applause for our friend MissesJai who managed to pull a spectacular week out of her hat, going 14/16 to win Week 16.

WOO HOO!!! WAY TO GO, MissesJai!!! NICELY DONE!!!


Coming in with a close second of 13/16 picks is kernel, while Yours Truly finally managed to have a good week (though much too little way too late) of 11 correct to take third place for the week. Two of our players, purplejacket4 and tesla had 10/16 correct for fourth and fifth places, while lingerdog and Manninup26 had 9/16 for a sixth place tie. Coming in seventh with half right was Yme, while scared&stronger also with 8/16 took eighth. Rounding out the top ten is booger bear and ray-ray, who both ended up with 7 correct picks for the week.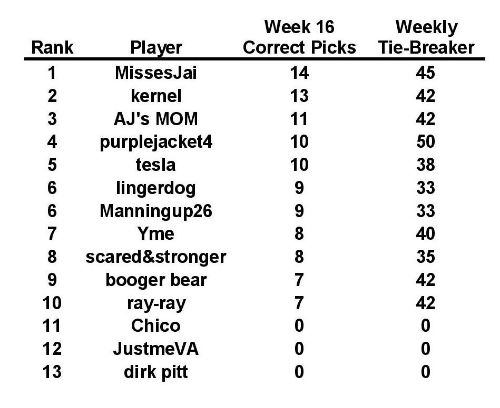 Just as there are teams still playing to keep playing, the same can be said for the top echelon of our cumulative picks, where a mere 6 points separate places first through fifth. With a two place jump with 151 cumulative points, Misses Jai has a tied lead for first thanks to a heartier tie-breaker against kernel's. Dropping one place down to third is tesla with 147, while purplejacket4 took a two place leap up to fourth with 144. Also with 144 poins, we have lingerdog in fifth place, with ray-ray hin sixth with 142, while Yme hangs onto seventh with 140. Yours Truly jumped up a wee bit to eighth with 130, while JustmeVa slipped down to ninth overall with 128 and our pal scared&stronger maintained her tenth place spot with 127.
We're in for a thrilling end to this year's pool and with the tie-up of the remaining playoff spots, so buckl up for safety, kids – Week 17 is gonna be a hell of a ride!
N.F. L. Games – Week 17

Sunday, December 29th
NOON CT
Carolina at Atlanta
Baltimore at Cincinnati
Houston at Tennessee
Jacksonville at Indianapolis
Cleveland at Pittsburgh
NY Jets at Miami
Detroit at Minnesota
Washington at NY Giants
Green Bay at Chicago
Buffalo at New England
Tampa Bay at New Orleans
3:25 PM CT
Kansas City at San Diego
St. Louis at Seattle
Denver at Oakland
San Francisco at Arizona
7:30 PM CT
Philadelphia at Dallas – TIE-BREAKER GAME

Picks are due by 11 AM CT Game Day, Sunday, December 29th

The Commish and all her merry elves wish all of you a Very Merry Christmas, and Happy Pickin'!
Good luck everyone! Have fun!!!


The Commish