SurvivingInfidelity.com Forum Archives
So you like Tall Ships!
You are not logged in. Login here or register.
Pages: 1 · 2
Skan posted 7/3/2013 18:41 PM
What do I do on my off time? This: http://goo.gl/uiRcQ Hit the slideshow function, have a glass of wine, and enjoy!
aesir posted 7/3/2013 18:43 PM
Not so much a tall ship person, but I can appreciate a nice cannon.
Skan posted 7/3/2013 18:52 PM
WHOOOP WHOOOP WHOOOP! The man owes me a drink! Them thaings is GUNS sir! Naval Guns! 6 pounders, to be exact. Cannon are those things with BIG wheels on land that horses and oxen haul around. If they are on a ship, they are Guns and calling a naval gun a Cannon on the Tall Ship Californian is an offense punishable by buying the crew a round of beer.
So say it loud, say it proud, and pull out your credit card!


nowiknow23 posted 7/3/2013 19:02 PM


Chria posted 7/3/2013 19:05 PM
From an old, retired, Navy guy......my dick just got hard.




jrc1963 posted 7/3/2013 19:14 PM
girlsbird posted 7/3/2013 19:40 PM
This ol' sailor girl wants to climb the ratlins and hang out on the yard arms....or go sit on the bowsprit. Thanks for sharing!!
Skan posted 7/4/2013 16:50 PM
Yeah, when I need to get away, I go to the ocean. Or the bay. Or any bit of water.
Chria, you REALLY want to have a "good moment?" You should see my other mount. The 1904 Steam Yacht Medea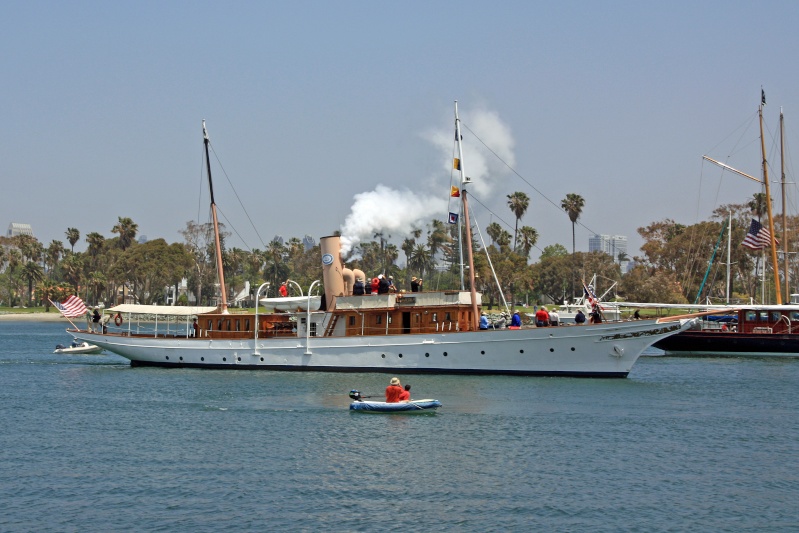 She is one of only three Edwardian Steam Yachts left in the world. She''''s a hell of an elegant lady and a hell of a ride!
Edited: shoot. Wish I knew how to embed photos!
Edited: aesir, here goes!
[This message edited by Skan at 10:00 PM, July 4th, 2013 (Thursday)]
aesir posted 7/4/2013 17:06 PM
Paste the online URL into your post, then highlight and click bold, then change where it says bold to img.
Chria posted 7/4/2013 22:09 PM
...I think I need a cigerette...
welcome14 posted 7/5/2013 09:05 AM
My great-great-great grandfather was the captain of a clipper that used to run Opium from China. It was the last one built a Mystic. I love these ships, we used to go to Boston Harbor to watch them come in....
Skan posted 7/5/2013 10:52 AM
Too bad you can't get sprung from the Asylum, Chria. My FWH and I have a couple of invites to go out on Medea later this month. (Insert evile laugh!)
TrulyReconciled posted 7/5/2013 12:58 PM
Chria, you REALLY want to have a "good moment?" You should see my other mount. The 1904 Steam Yacht Medea

<<< Swoon >>> No comments regarding body parts, though.
Need a helmsman?? Please?

Skan posted 7/5/2013 17:27 PM
The only non-crew person that the captain gives that wheel up to is the President of the museum. And VERY rarely!
More sail-porn:

HMS Surprise. Yep, the ship from Master and Commander. And from Pirates of the Caribbean 4, where she was re-named the Providence. I got to sail her on that shoot. If you look very, very fast for 1/4 of a second, you can see me onscreen.
And what is that very large ship on the far right of the above photo? Why that's the Star of India, who turns 150 this year! Is the a World Heritage Site, and the oldest actively sailing ship in the world. Another ship I've been privileged to sail.
And yes, she is sailing, not under tow. We try to take her out every year around her birthday (November 14) and sail her for 2-3 days. Day trips only she is not rated for overnight sails due to some modifications made when she was used for hauling timber they cut thru some of her watertight bulkheads. She made 21 trips around the world in her day. She is a proud old lady, and I'm honored to be able to work on and with her.
redvixen posted 7/5/2013 19:25 PM
Oh Skan, these are beautiful ships!!! Edited to add: the photos are beautiful and so full of detail. Congrats for being able to be so close to these beauties.
[This message edited by redvixen at 7:29 PM, July 5th (Friday)]
Kajem posted 7/6/2013 18:07 PM
Beautiful... I used to love watching them in NY and in Boston. There is nothing like watching a flotilla of tall ships sail
Skan, I know you work hard at what you do... but you still one lucky girl to get to do it.
K
HUFI-PUFI posted 7/6/2013 19:40 PM
Skan ... I know she doesn't qualify as a Tall Ship but considering that all of the ships in her class have been scrapped years ago, she is a classic RCN ship. I had the priveledge of serving on the HMSC Ottawa in the late 70's as a stoker (marine engineer for you civies) and I have fond memories of my time on board.

Once a navy boy, always a navy man.

Skan posted 7/6/2013 22:32 PM
OOOHhhhhhhh, Pretty Girl! Hey, have you ever seen a photo of the USS Lane Victory?
She's in San Pedro and is the only Victory ship from WWII to still "sail." She is also a World Heritage Site, AND she goes out to sea 3-4x during the summer. You can go out on her! She's rated to take passengers for day trips only, so she sails from San Pedro to Catalina and back. During her sail, you're entertained by lindy dancers, a spy being discovered on board, and then an aerial attack of WWII airplanes that are driven off by the ship's guns, happily manned by Sea Cadets. It's just a wonderful ride. She's also open year round for tours and well worth it.
Dang! We're getting our own little ship-fix down here!

BTW, I'm former navy, but a Hospital Corpsman. Didn't even know how to tie a bowlin during all four of my navy years!

aesir posted 7/7/2013 03:00 AM
Being at pretty much the geographic center of the continent, not a lot of opportunities to see old sailing ships here. This is pretty much it.

More info:
http://en.wikipedia.org/wiki/Nonsuch_(ship)
[This message edited by aesir at 3:02 AM, July 7th (Sunday)]
HUFI-PUFI posted 7/7/2013 06:28 AM
Aesir ... Yes, I know Winnipeg likes to think of itself as being in the middle of Canada, dry and dusty but it does have a rich Naval history.
http://www.navy.dnd.ca/winnipeg/1/1-s_eng.asp
http://naval-museum.mb.ca/2011/06/27/prairie-sailor-statue/

[This message edited by HUFI-PUFI at 6:34 AM, July 7th (Sunday)]
Pages: 1 · 2