SurvivingInfidelity.com
®

> Fun & Games

You are not logged in. Login here or register.
2019 Christmas Card Exchange
Pages: 1 · 2 · 3 · 4 · 5 · 6 · 7 · 8 · 9 · 10 · 11
Muggle posted 12/8/2019 12:13 PM
The Christmas poem was cute, and funny! I loved it, and appreciate all the wonderful people that made this happen.
As we all travel this highway together, this has been ONE thing I've looked forward to since it was announced. It makes me feel ALIVE, Loved, appreciated, and it's FUN. It has been a beacon of hope for me and given me something very special...a dose of happiness.
Thank you for all those that spent countless glittered hours, trying to remove the evidence from their cars, pets, homes. I can tell you I have numerous reminders of my Christmas card apocalypse still hanging around.
Now to reveal what I put in the envelopes the caused so much trouble. I went to the Dollar Tree and found these tiny styrofoam balls designed to imitate snow in ornaments. I thought it would be funny to fill the envelopes with these. Little did I know it made the envelopes too thick. You may all get a card with a few still in them, but I had to cut open the envelopes and drain the contents out until they were more flat. I had of course added copious amounts of glitter so both were glitter bombing my entire kitchen.
The dog made an appearance and they stuck to her fur, and she then traveled to all corners of my house. I had them on my clothes, shoes, and pretty much everywhere. My adult kids complained terribly about glitter on their butts from chairs, wayward Styrofoam balls in places you didn't expect, like your coffee cup, but it was great fun.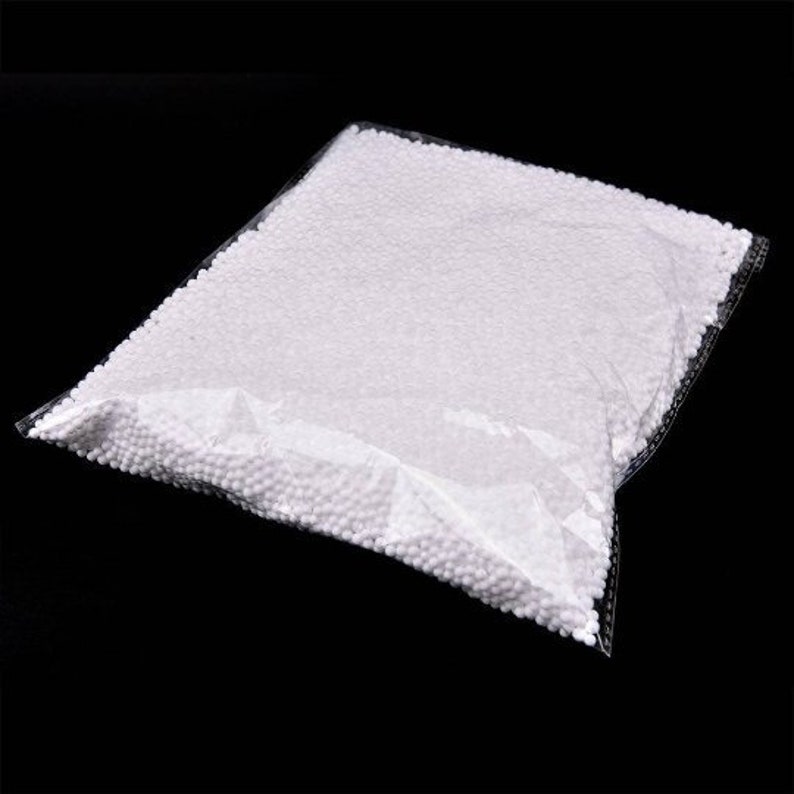 [This message edited by Muggle at 12:14 PM, December 8th (Sunday)]
EllieKMAS posted 12/8/2019 12:45 PM
OMG muggle!! While hilarity would have ensued with my furkids being covered in styrofoam ballies, I am glad it didn't work out for you to send them with that LOL
Cus I imagine it would look something like this

[This message edited by EllieKMAS at 1:13 PM, December 8th (Sunday)]
Muggle posted 12/8/2019 13:02 PM
YES! A minor version of THAT. I never would have imagined that Styrofoam mini balls would cause such issues in an envelope.
My dog kept trying to lick them off the end of her nose when she would get under my table and get some stuck to her wet nose. It was comical for the first thousand, then it became more of a nuisance the following week. LOL
I have learned my lesson. No Styrofoam next year.

EllieKMAS posted 12/8/2019 13:14 PM
Oh em geeee Muggle - I am getting such a visual



FusedGlass posted 12/8/2019 15:06 PM
Thank you so much to all the elves for their hard work! Just knowing these cards are coming has given me something positive and fun to look forward to this Christmas.
LOL, Muggle and EllieKMAS, about the styrofoam!

BearlyBreathing posted 12/8/2019 15:33 PM
Muggle




Skoochnski posted 12/8/2019 16:02 PM
*snort!*
😂
That sounds like something I would have done!
PinkJeepLady posted 12/9/2019 14:47 PM
😂😂😂Muggle! I bought 2 bags of that crap myself!!! I donít have a clue what I am going to do with it but thought it was so cute!
So looking forward to the cards and glitter! Yay! 🎄🎅🏻🤶🏻
Muggle posted 12/9/2019 21:27 PM
Muggle! I bought 2 bags of that crap myself!!! I donít have a clue what I am going to do with it but thought it was so cute!
I bought some plastic clear ornaments. I'm going to make them into "melted snowmen" ornaments. I get ideas from Pinterest and I can't think of anything else to do that won't have consequences.
My daughter wants to send her dad a mug I found in the Goodwill that says "King of what's left" to him filled with the styrofoam, but I told her she has to do that completely on her own.
***Disclaimer*** I would silently applaud her if she has the guts to do it, and think it would be AMAZING considering his OCD wife. She would have a meltdown if he opened that in her apartment.
PinkJeepLady posted 12/10/2019 23:46 PM
Your daughter is funny muggle!!!
Thatís a cute idea with the ornaments - I may try it. I am into one inch scale miniatures and might scatter it around the porch of a mini house. Or put some in a weird mug and send it to someone deserving a prank!!!

3kids30years posted 12/12/2019 16:27 PM
Anyone getting cards yet? I wanna warn the mail carrier!


















EllieKMAS posted 12/12/2019 16:42 PM
I haven't gotten any yet... Feel like a kid on Christmas eve waiting for santa to show up!!
WalkinOnEggshelz posted 12/12/2019 19:00 PM
I got mine today! In fairness, they didnít have to travel far.

lieshurt posted 12/12/2019 20:12 PM
I got mine too.

ChewedMeUp posted 12/13/2019 07:55 AM
I got two yesterday, but BSR's envelope was a bit torn on the bottom, so it seems USPS got a bit more glitter than they should've!

nothisfriend posted 12/13/2019 09:33 AM
There are some in my Informed Delivery. Can't wait to get home after work!
Thislife posted 12/13/2019 15:34 PM
Yay...
I received a bunch of cards today and now I have a bucket of glitter (planning on regifting the glitter in some unsuspecting family cards that Iím sending out soon)....
I couldnít wait to open these cards (tried to- for like 5 seconds) ... made me giggle, laugh out loud and ....muggle, I knew your card before I opened it (all the tape).. heehee!❤️
Today was a bad day (just Friday the 13th bad) but now, itís awesome because you are all pretty freakin awesome!!!
Thank you, SI peeps and Happy Holidays!

thebighurt posted 12/13/2019 16:11 PM
29 envelopes glitterfied my mailbox today! I'm pretty sure who three of them are from..... one with lots of tape on the bottom...


, one with a (SI) name on it, and one with a particular red sticker where the return address would be...



A good way to rescue a Friday the 13th from the terrible weather and cold.
Thank you all, especially the Elf crew!! Hope it was a fun sorting party (fueled by shots and fellowship!)
WalkinOnEggshelz posted 12/13/2019 16:30 PM
37 envelopes should be expected, however I am concerned that a couple of cards may have needed extra postage.
It was sadly our largest year of people signing up but not sending cards in.
Thank you to all that participated this year!
DesertLily posted 12/13/2019 17:33 PM
The glitter is falling at my house too!
I can't wait to open and read them all!
Thanks everyone, for the smile.
Pages: 1 · 2 · 3 · 4 · 5 · 6 · 7 · 8 · 9 · 10 · 11