SurvivingInfidelity.com
®

> General

You are not logged in. Login here or register.
If you have stayed for what ever reason what has it cost you
16forever posted 7/12/2020 22:58 PM
Iam terrible at punctuation but I need to get this out so bear with me . Today is one of those days I feel sorry for myself for what others have and I donít . In a relationship in a family. All of his affairs ones kept secret for 10 yrs the one I was discarded for and the emotional one while my best friend my dad was dying and I was trying to grieve that. It cost me or rather took from me thinking there really true love . It cost me my mental health trying to understand how someone could do this to someone else they said they loved so much.
It has cost me a happy family he was never the father I hoped him to be and now my kids think of him as dad nothing warm and loving even as a papa he has failed his daughter in that her wanting him to something he isnít. Some short answers are my trust is gone in almost any human I have seen someone lie repeatedly and not bat a eye.So why would anyone aside from my kids be truthful.
Laughing , having fun , enjoying life with friends my world revolved around him he always wanted me home when he was.I donít even know if I can go out with friends I donít think I could relax. It cost me believable snuggles , playing with my hair I feel like itís all to get me to have sex . Itís also cost me one of the most simple things I should enjoy I hate sex itís not beautiful,special , or even fun anymore and I want this my sex drive is high but with him i almost never orgasm.
It cost me the best friend I thought I was getting when I married him . It cost me birthdays I will never get back , 18 ,21, even 40 was not what I hoped it would be . He is jealous of my dogs, my kids,my grandbabies so if is home it has cost me enjoying these things always worried he will be mad . It cost me the proper amount of time to grieve over my dad , I was grieving another affair.
He knew what my childhood was like , addicted parents who chose the drink over me every time and yet he broke me almost as much if not more

What has it cost you.
The1stWife posted 7/13/2020 05:28 AM
You may survive this stronger and wiser and happier.
I can see how much if your life was stolen and you have regrets. Understandable.
But there are positives. Kids and grandkids. Happy memories you have made with them.
Keep the perspective. You have 60 years to redefine your life. With or without him.
Emotionalhell posted 7/13/2020 06:10 AM
I understand what you are asking. I have had days like that.
I went through depression, withdrawing from ppl, my health went down hill. I gained weight. My job suffered.
The father of my children cheated. They are grown and barely have a relationship with their father bc of his actions.
All that being said, I am stronger today. I can smell bs a mile away bc of what I have been through.
Only look behind you to see how far you have come not how far you have to go. Also when you have such thoughts pinch yourself and repeat ďforwardĒ
LadyG posted 7/13/2020 08:01 AM
I let him stay, or rather he forced me to accept it happened and I rug swept after Dday 2003 and 2004. He just wouldnít leave.
It cost me the next 16 years of my life.
It cost my children even more. They have never known me. I was a shell of myself. I lived in fear for most of our 32 year marriage.
sisoon posted 7/13/2020 11:06 AM
16forever, I am so sad for you.

Trapped74 posted 7/13/2020 11:50 AM
Feeling special.
My "Happily ever after.
A good chunk of my hair.
My health to an extent.
crazyblindsided posted 7/13/2020 13:25 PM
Staying cost me my mental health now I am trying to save myself and get better.
This0is0Fine posted 7/13/2020 13:33 PM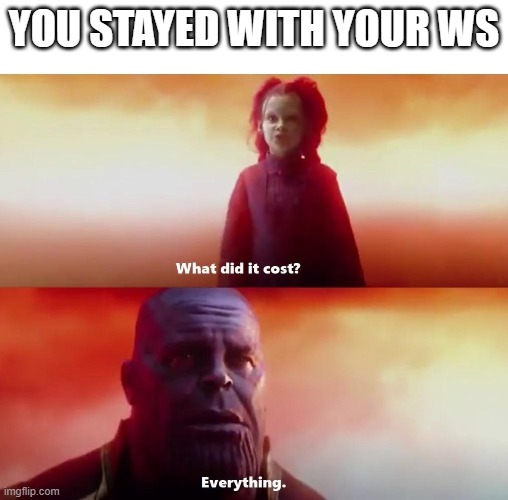 Chaos posted 7/13/2020 13:52 PM
Staying cost me everything. But then again, so would leaving.
Because in either situation - I'm still the Betrayed Spouse.
landclark posted 7/13/2020 13:59 PM
16forever, my heart breaks for you. :(
I would say staying cost me the feeling of being a team, the feeling of being with somebody who has your back no matter what, who loves you unconditionally. I no longer have such romantic delusions.
But as Chaos said, leaving would also cost me a lot. I would lose half the time with my son, I would lose my house, I may lose my stepkids and grandkids, etc.
So either way, I lose something because of this shite situation my WH put us in.
RidingHealingRd posted 7/13/2020 22:18 PM
It cost me the dream of having a husband that I could respect and admire.
GoldenR posted 7/13/2020 22:32 PM
I tried to stay. Cost me years of false R until I kicked her out.
JanaGreen posted 7/13/2020 22:37 PM
I'm divorced now but probably only because he eventually moved out. We had almost divorced prior to that but he had never moved out and I let him fool me into reconciling. I wanted so much for my kids to not have to grow up with divorced parents, but once he moved out, I knew I could never live with him again. I digress. I did have the satisfaction of politely turning him down when he started talking about going on a date with me, seeing "what was there," but it humiliates me to this day that I stayed for SO long and put up with SO much. I hate seeing the people we hung around with when we were married. The mommies at the school who know exactly what a foolish doormat I was. I stayed for 6 years after d-day and it cost me my dignity. I wouldn't have my 5yo son if I hadn't stayed, so I would not change anything, but if I could have had the same exact children under different circumstances, that would be preferable.
[This message edited by JanaGreen at 10:38 PM, July 13th (Monday)]
16forever posted 7/14/2020 00:20 AM
I love this place and knowing I am heard and understood means the world to me itís hard for us who stay for me waking up and looking at the person who destroyed me is awful.
To have home tell me Iloveyou your beautiful and for me to not believe a word hurts . I am still trying to make a secret exit . I just donít want to waste any more time Iam 41 I could still have a great relationship with someone who is all the things I want and believe the things they
DragnHeart posted 7/14/2020 00:38 AM
Staying has cost me my youth, I've aged horribly over the past few years. I lost myself, my goals, dreams. But I gained three more amazing children including a set of twins that I always wanted. I have my dream farm and horses and goats and other livestock. I have a huge garden. I'm starting to find me again despite him...